How to spot a toxic house plant
If you're brightening your home with an ever-expanding collection of greenery, be wary of toxic house plants that could be dangerous to pets or children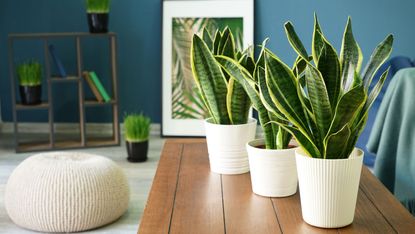 (Image credit: Aquarius Studio – Shutterstock)
There are so many positives to house plants, from the aesthetic to the atmospheric, bringing a burst of fresh greenery to any corner or shelf and improving the quality of the air in the home.
The best indoor plants can be satisfying to nurture, particularly when they blossom or thrive enough to propogate and have little plant babies. Research has even revealed that plants improve concentration and aid productivity – as if we need any encouragement to fill our new home offices with leafy memory boosters!
However, for all the benefits they can bring, there are some popular house plant picks that can pose a danger to pets and small children if they should be tempted to eat any part of it. While that might sound unlikely, if there's one thing you can guarantee it's that pets and young children will always head straight for the one thing they're not supposed to touch as soon as your back is turned!
So waste removal company Clearitwaste.co.uk has created a guide to which potted flora can sometimes be toxic to animals or children, and would be better bought for a pet-free home or positioned out of reach of four-legged nibblers and curious toddlers.
Once you're ready to add some more greenery to your home both indoors and out, find out where to buy plants online with our guide to the best online garden centres.
Peace Lily
The Peace Lily has detoxifying qualities for the home and is beautiful to look at. One of the most popular flowering house plants due to its dark leaves and because it's low maintenance, it's a great décor addition to the home. It's not dangerous to touch, however, it is toxic to both humans and animals if accidentally consumed.
Pathos (Devils Ivy)
Devils Ivy, as it's commonly referred to, is an extremely common house plant due to its attractive drape and ease of care. It is also a great house plant for kitting your home out on a budget. It's safe to touch, but it contains insoluble calcium oxalate crystals and is toxic to pets, causing irritation if swallowed and leading to vomiting and swelling.
Caladium or Elephant Ear
Known for its bright, aesthetic colours, this house plant has leaves that are velvety to the touch. But be cautious when around pets and children as it can cause swelling, eye pain, diarrhea, and vomiting when eaten.
Sago Palm
This house plant is a fun addition to the home due to its unusual spiky looks. However, it can be highly toxic. All parts are poisonous, but the seeds or nuts pose a particular risk to animals as they are easier to eat. If ingested, the plant can cause vomiting and diarrhea.
Calla Lily
Although this plant is typically cared for outdoors, it's becoming increasingly fashionable to style indoor spaces with it. But like it's family counterparts, this lily is harmful to humans and pets if ingested due to calcium oxalate crystals which can cause swelling, irritation and pain in the mouth. Liquid from the plant can irritate the skin, resulting in burning or swelling. Symptoms range from mild to severe.
Philodendron
A spectacular looking house plant originally from the South American rainforests, its Greek name of 'loving tree' comes from its heart-shaped leaves. Like ivy, philodendrons have a trailing habit, so keep far from the floor. Poisonous to humans and pets if ingested, consuming it can cause burning and swelling of lips, tongue, and throat, as well as sickness and diarrhea. Potentially fatal to dogs – if they eat a significant amount take them to a vet immediately.
English Ivy
English Ivy is probably one of the most well-known plants – and one most people would be instantly familiar with. Known for its pointed leaves and climbing abilities, if eaten it is also known to cause weakness, vomiting, throat swelling and ataxia. It can cause an allergic reaction in some with symptoms including a rash, swelling and shortness of breath.
Snake Plant (Mother-in-Law's-Tongue)
This plant is primarily known for its long sword-like leaves as well as it being slow- growing, making it incredibly low maintenance. And while the Snake Plant may be known for its air purifying qualities, it is moderately harmful to humans if accidentally ingested, causing pain to the mouth and nausea. In pets it can lead to drooling, vomiting and diarrhea.
Dieffenbachia
Dubbed as the Dumb Cane or Leopard Lily, it is one of the easiest indoor house plants to care for. This tropical shrub has hues of cream, yellow and white to brighten the home. However, it contains needle-shaped oxalate crystals as well as a protein found in the plant. If chewed, these crystals can cause a burning sensation. This toxicity is mild and temporary, but can be worse for children and pets than for adults.
Arrowhead
Related to the Philodendron plant, the Arrowhead is relatively easy to care for. Bushy in appearance and with heart-shaped leaves, this plant is mild in toxicity. It contains insoluble oxalate crystals, and if chewed or bitten it can lead to skin irritation and vomiting. The plant sheds leaves and regrows them, so keep an eye out for any that drop.
Read more:
Alison is Assistant Editor on Real Homes magazine. She previously worked on national newspapers, in later years as a film critic and has also written on property, fashion and lifestyle. Having recently purchased a Victorian property in severe need of some updating, she is currently chipping away at a back garden covered in crazy paving, ready to landscape it with a lawn and fruit and veg patch to sow and grow her own.