The indoor gardening trend that is surging in popularity on Instagram
Last year saw the return of the indoor garden, with the trend set to grow even bigger this year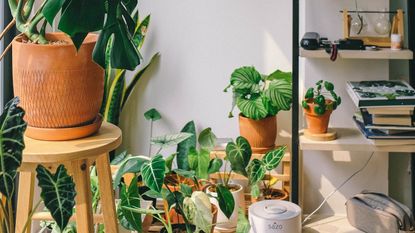 (Image credit: Unsplash)
Indoor gardens were one of the hottest trends of 2020, and the trend shows no signs of subsiding in popularity in the new year. While gardening in general provided many people a respite from the Covid lockdown last spring, with thousands of people flocking to garden centre as soon as they reopened in May, not everyone has the luxury of outdoor space.
Which is not to say that people without a garden didn't make the most of the space they do have – indoors. According to McQueens Flowers, one of the top Instagram interior trends for 2020 was 'Indoor Garden' – growing 52% in 2020 from 2019.
It's no wonder. Indoor gardens are a joy to look at on Instagram. Houseplant-proud Instagrammers have been posting increasingly elaborate and impressive collections of the best indoor plants.
Detroit-based plant lover Carla Baxter has been posting amazing images of her indoor garden, which has transformed her apartment into a tropical paradise. The key to the success of this indoor garden is the combination of large, specimen tropical plants with smaller, younger plants. The effect is very natural, almost like a real rainforest, or perhaps a well-maintained botanical garden.
So, what makes an indoor garden different from just a collection of houseplants? As Instagrammer shannieee's garden shows, more is definitely more in an indoor garden.
Creating one is all about being imaginative about where houseplants can go. Houseplants on shelves, on chairs, hanging from the ceiling and on top of the TV...if a surface is free, then it can fit a houseplant.
Having an indoor garden may even lead you to rethink your home decor, opting for simpler, natural-looking furniture pieces in lighter tones. But of course, the main element of an indoor garden is the plants. The more variety you can introduce, the better. Think combining foliage of different shapes and sizes, as well as mixing and matching plants of different heights and growing habits (upright, trailing, climbing).
And if you want an indoor garden to blend into your existing decor a little more? Try a few large, specimen plants; if you have the benefit of plenty of natural light in your home, try a mature citrus tree for instant impact.
Citrus trees were traditionally grown in orangeries, but we are seeing more and more of them grown in less traditional spaces in the home – in living rooms and dining rooms, and sometimes even bedrooms. Just bear in mind that if you live in a cold climate with dark winters, you'll need to invest in a grow lamp to give your citruses enough light.
There's plenty to inspire your own indoor gardens in our indoor plant ideas feature.
Read more:
Anna writes about interior design and gardening. Her work has appeared in Homes & Gardens, Livingetc, and many other publications. She is an experienced outdoor and indoor gardener and has a passion for growing roses and Japanese maples in her outside space.