Revealed: Instagram's most popular houseplants
Indoor plants are more popular than ever, and these top 5 have been shared in millions of Instagram posts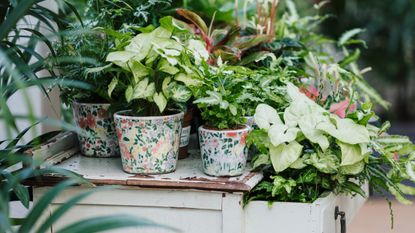 (Image credit: Unsplash)
We're all crazy about house plants, and the trend for growing tropical evergreens indoors isn't about to go away. Sales of houseplants were up 50 per cent year-on-year in 2018 alone, and that was before the pandemic confined most of us to our homes. And apparently we're really enjoying sharing photos of our indoor plant ideas on Instagram, with the number of posts for #houseplants recently reaching four million.
Diving straight into the world of houseplants, home experts HomeHow.co.uk have trawled through thousands of hashtags to reveal the most Instagrammable house plants around the world. These are the top five favourites.
1. Cacti
We'll admit that we were a little surprised that succulents didn't take the top spot; instead, their cousins cacti are officially the most Instagrammed house plant. They do look great in photos, though, and are very easy to grow indoors, so we're not complaining.
Instagrammer tribeandus regularly shares posts of her amazing botanical-themed living room that features mature cacti in a variety of shapes and heights. Cacti have been hashtagged on Instagram almost 24 million times.
2. Hoya
Hoyas have pretty, glossy leaves and a nice climbing habit that make them look amazing in photos. Hoyas come in lots of different variations of colour and leaf size, which makes them an excellent choice for draping all over a room.
Instagrammer theplantygirl has recently showed off a brand new addition to her collection – a beautiful mid-green hoya.
3. Monstera
Monstera, or Swiss Cheese plant, is sublimely photogenic with its intricately cut-out leaves. Monstera also is relatively low-maintenance and thrives in most brightly lit room, so it's quite easy to grow yours quite large over a few years.
This impressively large monstera was shared by plantingpink.
4. Philodendron
Philodendrons are very distinctive plants with striking, heart-shaped leaves – some plump and a lighter green, others sporting rugged edged, like this beautiful Philodendron Xanadu, shared by Instagrammer and yoga instructor rikomalon.
5. Ferns
Ferns are low-maintenance plants that instantly create an exotic look, and many of them can tolerate relatively low light conditions – no wonder they're one of the most popular house plants right now. Boston ferns and asparagus ferns are especially well-loved for indoors thanks to their compact shape – they almost look like mini trees.
This asparagus fern has been shared by Daydream Beleafers.
Read more:
Anna writes about interior design and gardening. Her work has appeared in Homes & Gardens, Livingetc, and many other publications. She is an experienced outdoor and indoor gardener and has a passion for growing roses and Japanese maples in her outside space.