Joe Lamp'l shares his top tip for easy winter seed sowing
You'll be amazed by what the gardening host uses for sowing seeds in winter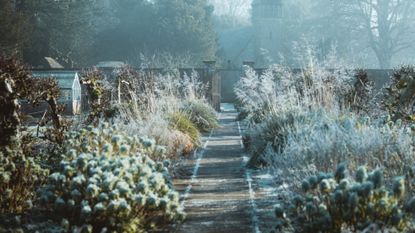 (Image credit: Unsplash)
Seed sowing in winter should always be done indoors, right? Actually, winter sowing can be done outdoors, very successfully, but you do need to choose appropriate containers for your seedlings. Joe Lamp'l, of Joe Gardener glory, has recently shared his method for winter sowing using...empty milk cartons.
Winter sowing, as Joe explains, is the perfect solution for people who have limited indoor space for starting seedlings, or who simply want an easier way with sowing, letting nature take care of the process. It was originally invented by gardener Trudi Davidoff. In his podcast, Joe explains how to use this easy method to start all kinds of plants in your garden without having to raise them indoors, even in freezing temperatures.
In fact, the only potential issue with winter sowing is spells of milder weather that may trick the seeds into germinating too early, with subsequent hard frosts killing off the delicate seedlings. If you live in a climate with unreliable winter weather, you may choose to start you seeds indoors after all.
If you live in a climate that has consistently cold winters, though, winter sowing is too easy not to try. You just need to take some large milk cartons (you need gallon-sized or two-litre ones as a minimum), cut off the tops, make a drainage hole with scissors or a knife, and fill them with your chosen seedling compost. Plant your seeds, replace the tops (without the caps), and take your makeshift greenhouse ideas outside.
And that's it; you don't need to fertilise, water, or take these seeds indoors. Position them on a patio table or another sheltered spot that gets sun, rain, and snow. What will happen is your seeds will freeze, going into winter hibernation, and then germinate at exactly the right time as the weather starts getting warmer in spring. It really is that easy. The plastic the milk cartons are made from will aid germination, while protecting seedlings from excess damp.
When the days begin to get warmer and longer, you can take the tops off, watering the seedlings if the weather is dry. The beauty of this method is that you won't need to keep taking them inside if the weather turns frosty again – they are already hardened off because they germinated outside!
Besides being an easy task to add to your winter garden jobs list, this seed sowing method will save you a lot of money – you won't need to sterilise seed trays, or buy grow lamps (which can be expensive). And you'll be reducing plastic waste by reusing your milk cartons (you can still recycle them once they've done their seed-raising job).
Want more ways to save money in the garden? Our guide on how to take cuttings from plants will show you how to multiply your plants for free.
Anna writes about interior design and gardening. Her work has appeared in Homes & Gardens, Livingetc, and many other publications. She is an experienced outdoor and indoor gardener and has a passion for growing roses and Japanese maples in her outside space.