Lowes is giving out free garden to go kits throughout April – here's how to get one
Register tomorrow to get your hands on a free Lowes garden to go kit this April – here is everything you need to know about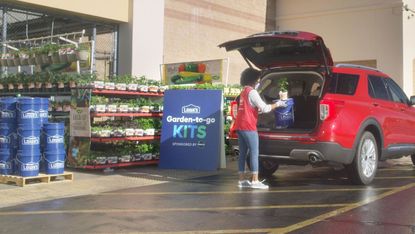 (Image credit: Lowes)
If your gardening kit is due an update Lowe's is handing out free gardening kits throughout April. If you are looking to keep your little ones busy with some exciting garden activities for kids, here is how to get your hands on one.
The project is part of the store's 'SpringFest' celebration to encourage families to make their backyards into the perfect getaway this spring. Lowes will be handing out family project kits at the store on the curbside starting on April 8.
'Over the past year, our homes have transformed and supported us in more ways than we could have imagined. This spring, home can evolve, yet again, to be a creative outlet and the ultimate destination,' says Marisa Thalberg, Lowe's executive vice president, chief brand, and marketing officer.'
'Through SpringFest and our invitation to take a Hometrip, we're making the best of spring available so our customers can transport themselves without ever leaving the sanctuary of home.'
Our outdoor spaces have become incredibly important to us over the last year. Research by Lowes found that 85 percent of people say their home has become their sanctuary as we're spending more time at home. A further 70 percent said they wouldn't be traveling this spring, making it the perfect time to keep busy in the yard or completing home improvement projects.
Plus with the outdoor one of the safest places to meet up with friends and family, 55 per cent of homeowners said they have been inspired to upgrade their outdoor entertaining. The Garden-to-Go kits are inspired by activities you can do together as a family, and reap the benefits for weeks, even years after.
How to get a free Lowes garden to go kit
The gardening kits will be available each Thursday throughout the month of April, starting on April 8. However, you will need to register for the kit. Reservations for each kit opens a week before it is available at Lowes.com. Registration for the first kit opens tomorrow on April 1.
What is in the Lowes garden to go kit?
Each week is centered around a different activity. The first kit is sponsored by Miracle-Gro and includes exclusive recipes from professional cook and food stylist Amanda Frederickson. The second kit, available on April 15, includes a Lowe's Mystery Garden Pinata filled with seed packets. If you do get your hands on one of these, find out how to build a raised garden bed to plant them up in.
In the second half of the month 500,000, tree saplings will be available to pick up in honor of Earth Day. The final kit will have everything you need to help create a butterfly garden with your family to help enhance your wildlife garden ideas.
You better be quick if you want to snap up one of these kits as we expect they will be gone in a flash. If you do miss out take a look at our family garden ideas for fun ideas for your backyard.
Rebecca has worked as a homes and interiors journalist for over four years, and is currently the Deputy Editor on Ideal Home online. Previously, she was the News Editor across the Future homes and gardens brands, including Gardeningetc.com. She lives in a rented flat in South London where she makes the most of window boxes to create small container gardens. Inside she has a jungle of houseplants in nearly every room which she does her best to keep up with regular watering and repotting.