Make your own stylish herb planter in five easy steps
Follow this simple step-by-step project and you'll have a bumper crop of fresh herbs to pick all summer long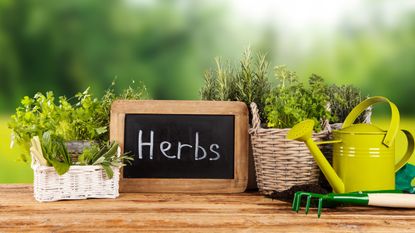 (Image credit: Alamy)
Potted herbs are such a must have for any space. They can grow on balconies, patios and indoors. One of the best things about them is that you will have a constant supply of fresh flavour for your dishes, so make sure you keep a pair of small scissors to hand so you can snip away whenever your cooking up a storm!
It's not only in cooking that herbs are useful. They also make great ingredients in drinks. Mint in particular is the perfect herb as it can be added to cold beverages for tasty cocktails and can be used to make delicious fresh mint tea when crushed in hot water.
When it comes to caring for herbs it's a good idea to think of where the plants originated. For example if you're a fan of Mediterranean herbs like basil and oregano you can assume that they are used to warm climates, so place them in a sheltered spot that gets a fair amount of sun. Try to water them regularly so they don't dry out but try not to water log the soil. Be sure the pots you grow them in have drainage holes and you can improve drainage by adding gravel to the base.
So now you know how to easy it is to care for herbs, here's how you can pot up your very own herb pyramid. Want more advice on growing fruit and veg in your garden? Head to our grow your own hub, then check out our garden ideas gallery for more inspiration.
You will need:
STEP 1: CHOOSE YOUR HERBS
What gets your juices flowing? If you love cooking, choose herbs that go well with lamb, chicken and beef, such as rosemary, sage, thyme and parsley. If you're a cocktail fan, go mojito mad with mint, while lemon verbena is great for teas. If you love a good detox, try camomile – it's a great grower and you only need to pop a few sprigs into a teapot or diffuser to make tea. Pineapple sage is divine for desserts – try it in baking, on ice cream or to make cordials. Herbs are easy to grow from seed on a windowsill, or buy some young plants for instant planting.
STEP 2: PREPARE YOUR POTS
Make sure your terracotta pots are clean and have no cracks. Tip multipurpose compost into the largest pot until almost full, then firm it down with your hands. Sit the medium-sized pot on top and repeat the process, then follow with the smallest pot.
STEP 3: GET PLANTING
Use five plants on the bottom ring of soil, three in the middle and one in the top. Plant herbs that enjoy free-draining soil, such as thyme, near the top of the pyramid, and herbs that like more water, such as mint and basil, at the bottom. Plant several of the same herbs over the pyramid so you don't have to keep picking from the same one. Apply a layer of horticultural grit to the surface for a smart finish and to deter slugs. Add plant labels too if you need help identifying the different herbs.
STEP 4: GIVE THEM SOME LOVE
After planting, water your pyramid, then position it in a sunny spot as herbs prefer warm conditions. Water regularly, but make sure the compost doesn't become saturated. Pick the herbs little and often, taking care not to cut too much from one plant as it'll take a while to grow back.
STEP 5: KEEP IT TIDY
Make sure you pull out any weeds or they'll steal nutrients from the herbs. Dig up and replace the herbs when they're past their best. The mint may overrun the others, so be sure to keep it in check. Herbs are vigorous growers, so if you find you have a glut of them that you can't use, toss them into salads by the handful or freeze into ice cubes to drop into summer drinks.
More grow your own advice: