This Amazon bestseller is the multipurpose garden tool everyone needs – and it's only £12
The bestselling (and for good reason) garden tool you need for spring and summer is right here. Here are 5 ways to use it to transform your outdoor space...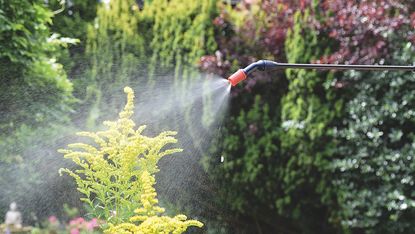 (Image credit: Spear and Jackson)
Longing for the days (and nights) spent chilling in your back garden? Us too. In preparation for warmer months ahead, we've been doing some shopping for our gardens. Our garden furniture has been bought, new garden paving has been laid and a fire pit has been ordered. What else? Whilst doing our shopping, we spotted an Amazon bestseller that you need if you want your garden to look the part come spring and summer. This garden tool – okay, it's a pressure sprayer! – is versatile and anyone can use it. Whether you have a large garden, small terrace or acres of land – hosepipe connection or not. In fact, it can pretty much transform your garden if you intend to make the most out of its several uses.
A pressure sprayer? Tell us more you say. Much like a pressure washer but with a little less oomph, a pressure sprayer can be used to do everything from clean your garden furniture to water your plants and even to paint your fence. The model we found, the Spear and Jackson Pump Action Pressure Sprayer, is no exception – and it's just over £12 at Amazon today. If you are only planning to buy one thing to add to your garden arsenal this year, let it be this multipurpose tool – you won't regret this purchase.
Buy this bestselling pressure sprayer now to spruce up your outside space before we are *hopefully* allowed to have guests over to enjoy it. Ready for spring and summer garden parties, movie nights in the garden or just in time for your summer veg to start sprouting. Here are five things you can do with your new pressure sprayer – and keep scrolling for a link to buy it from Amazon.
Looking for something with a little bit more power? Check out our best pressure washers guide – for deep cleaning patios, furniture and more.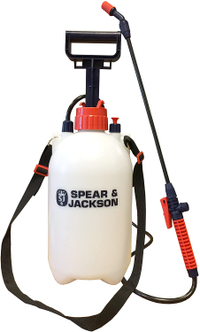 Spear and Jackson Pump Action Pressure Sprayer | From £13.35 £12.97 at Amazon
This pressure sprayer comes in a five-litre version or an eight litre – you can also buy a five-litre twin pack, too, depending on your garden size. It has a fully adjustable wand nozzle that can let out spray or mist, and it has a shoulder strap for carrying around your garden. With a 1.3m hose to reach corners and beds without ruining your garden, you can use it with water, fertilisers, pesticides and other water-based products.
1. Use this pressure sprayer to water your plants – fast
If you have quite a few garden plants to water and come spring and summer you know that they will need to be watered frequently, then this pressure sprayer would be a smart investment. Simply fill it up with water (and some plant feed, if need be) and put the strap over your shoulder. Set it to the mist setting and start walking around those beds of yours. No more filling up that watering can, spilling it over the floor and having to go back and forth to your kitchen every few minutes.
2. You can also use it for cleaning your garden furniture before the sun comes out
If you have some garden furniture that will need a proper clean before sitting on it this year, then you needn't spend your money on an expensive pressure washer. Fill this sprayer with a mix of water and your favourite cleaner – we suggest Zoflora – and get spraying.
You may have to lightly scrub your furniture to remove stains (if any) but this method is a lot easier than connecting to a hose, and it's a lot kinder on your garden furniture, too. You can also do this with any garden toys you may have, as well as furniture covers – essentially, anything you own that lives outside year-round. Leave it all to try in the sun after...
3. Or, if you want to give your garden a refresh, use it to spray your fences or decking
One way to give your garden a glow up is with a little bit of paint. Whether you are thinking about your fencing, your decking or a shed, don't do it by hand – it will take days. Instead, pop your paint in a pressure sprayer and spray your garden until it looks new. This sprayer will work best with thinner paints, and you'll need to make sure you thoroughly clean the machine afterwards, but other than that this will save you heaps of time. Put that roller brush back in your cupboard...
Alternatively, you can put fence or decking treatment in this pressure sprayer to get this job done quicker, too.
4. Got weeds? Use this tool to quickly, easily (and safely) spray them away
We all know how frustrating patio weeds can be – especially if they are spread over a large area. One way to rid your patio of weeds, and quick, is to pop the best weed killer in a pressure sprayer. Walk around your patio, spray it on the weeds and wait. Go back over it with some water and then get that weeding tool out if need be. Easy as pie.
5. Give a new lease of life to your patio by giving it a clean with this pressure sprayer
More focus on your patio, because it's what guests will notice when they come into your garden – and these places tend to get grubby, fast. Pop your favourite patio cleaner into your pressure sprayer (with some water) and start soaking your patio as per the instructions. Go back and give it a good scrub, then spray it again if need be, and to finish, spray with clean water.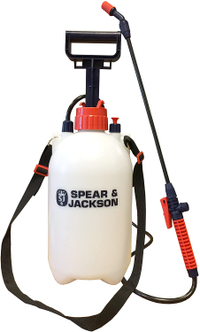 Spear and Jackson Pump Action Pressure Sprayer | From £13.35 £12.97 at Amazon
Buy this pressure sprayer now, before everyone else gets the same idea. It's a bargain at just over £12, as well as being simple to use and easy to store since it's small in size. Choose a capacity based on how large your outdoor space is – and don't forget about your front garden.
Annie is our Deputy Ecommerce Editor at Gardeningetc. With 4 years of experience when it comes to sales events, from Amazon Prime Day to Black Friday, she is our deals guru if you are after something specific, but are on a budget (aren't we all right now?). She also spends her time reviewing garden essentials for us, think everything from hot tubs to pizza ovens, patio cleaners and even BBQs. With a sizeable terrace to decorate and fill, Annie is always on the hunt for garden buys to make her life easier, and her South London space prettier.