Pizza oven recipe: try this delicious caramelized red onion pizza this weekend
This pizza oven recipe is so easy to do. Give it a try this weekend – nothing beats freshly baked pizza!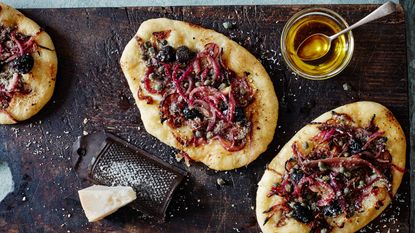 (Image credit: Photography by Mowie Kay © Ryland Peters & Small )
This is one of our favourite pizza oven recipes. It uses a basic pizza dough to make the typical Neapolitan style version that's soft and chewy with a crisp crust, just as we like it. A delicious topping of onions are cooked until soft and caramelized, before being scattered generously over a good layer of mozzarella. Olives, capers and anchovies (replace with tuna if preferred) add savouriness to the sweet onions.
Having one of the best pizza ovens is the ultimate buy for the truly serious pizza aficionado. One of these will heat to the right temperature and give that all-important smoky taste to the pizza, which comes from the burning wood. A pizza cooked in one of these ovens will take just minutes as the temperature in the oven is so hot and will taste amazing.
Tips for success include remembering that 'the wetter the dough the better the dough' (always have olive oil on hand to prevent the dough sticking), not overwhelming the dough with too much topping (this will prevent it rising) and using a baking stone to get a good crisp crust (always pre-heat it). Read on for the recipe, which makes between 6 and 8 pizzas depending on how big you make them.
This recipe was taken from Craft Pizza by Maxine Clark published by Ryland Peters & Small. Head to the end of the recipe for details on how to buy it.
CARAMELISED RED ONION PIZZA WITH CAPERS AND OLIVES
Ingredients for the basic pizza dough:
75g compressed yeast, 3 tbsp active dry yeast, or 6 tsp fast-action dried yeast
1½ tsp sugar
750ml hand-hot water
1.5kg Italian '0' or '00' flour or unbleached plain flour, plus extra to dust
3 tsp fine sea salt
3 tbsp olive oil
For the topping:
1kg red onions, finely sliced
freshly squeezed juice of one lemon
4 tbsp olive oil, plus extra to drizzle
2 tsp dried oregano
1 large mozzarella, drained and thinly sliced
2 tbsp freshly grated Parmesan cheese
12 anchovy fillets in oil, drained (optional, use tuna if preferred)
15 black olives, stoned
2 tbsp capers, drained
sea salt and freshly ground black pepper
Method
1 In a medium bowl, cream the compressed yeast with the sugar and beat in the hand-hot water. Leave for 10 minutes until frothy. For other yeasts, follow the manufacturer's instructions.
2 Sift the flour and salt into a large bowl and make a well in the centre. Pour in the yeast mixture, then the olive oil. Mix together with a round-bladed knife, then use your hands until the dough comes together. Tip out onto a lightly floured surface, wash and dry your hands, then knead briskly for 5-10 minutes until smooth, shiny and elastic (roughly 5 minutes for warm hands, 10 minutes for cold hands). Don't add extra flour as a wetter dough is better. If you feel the dough is sticky, flour your hands, not the dough. The dough should be quite soft. If it really is too soft, knead in a little more flour.
3 To test if the dough is ready, roll it into a fat sausage, take each end in either hand, lift the dough up and stretch the dough outward, gently wiggling it up and down. It should stretch out quite easily. If it doesn't, it needs more kneading. Shape the dough into a neat ball. Put in an oiled bowl, cover with clingfilm or a damp kitchen towel and let it rise in a warm, draught-free place until doubled in size (about 1½ hours).
4 Uncover the dough, punch out the air, then tip out onto a lightly floured work surface. Divide into 6-8 and shape into smooth balls. Place the balls well apart on baking parchment, cover loosely with clingfilm/plastic wrap and let rise for 1-1½ hours.
5 When you're ready, fire up your pizza oven and preheat the baking stones just before you start cooking the pizzas.
6 Meanwhile toss the onions in the lemon juice to coat them thoroughly. Heat the oil in a large, shallow saucepan and add the onions. Cook over a gentle heat for about 10 minutes, stirring occasionally, until they are beginning to colour. Stir in the dried oregano.
7 Uncover the dough balls, punch out the air and roll or pull each one into a thin circle or oval directly onto separate sheets of baking parchment. Slide these onto rimless baking sheets.
8 Cover the pizza crusts with the mozzarella leaving a 1cm rim around the edge. Top with the onions and sprinkle with the Parmesan. Scatter the anchovy fillets (if using), olives and capers over the top. Drizzle with olive oil, then season, but don't use too much saIt as the capers are salty.
9 Working quickly, slide the pizzas onto the hot baking stones and bake until the crust is golden. Remove from the oven and drizzle with olive oil. Eat immediately!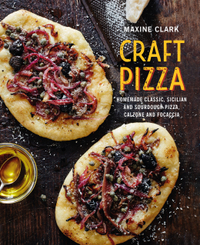 Craft Pizza by Maxine Clark | £17.26 on Amazon
With just a handful of fresh ingredients you can make luscious handmade pizzas, calzones and focaccia. If you're a fan of the classics you'll find a recipe for Margherita, but if you fancy something a little different, why not go for the Pulled Pork Calzone. Once you master the basics of how to do doughs and sauces, you'll be amazed at how easy these recipes are to make.
More outdoor entertaining ideas: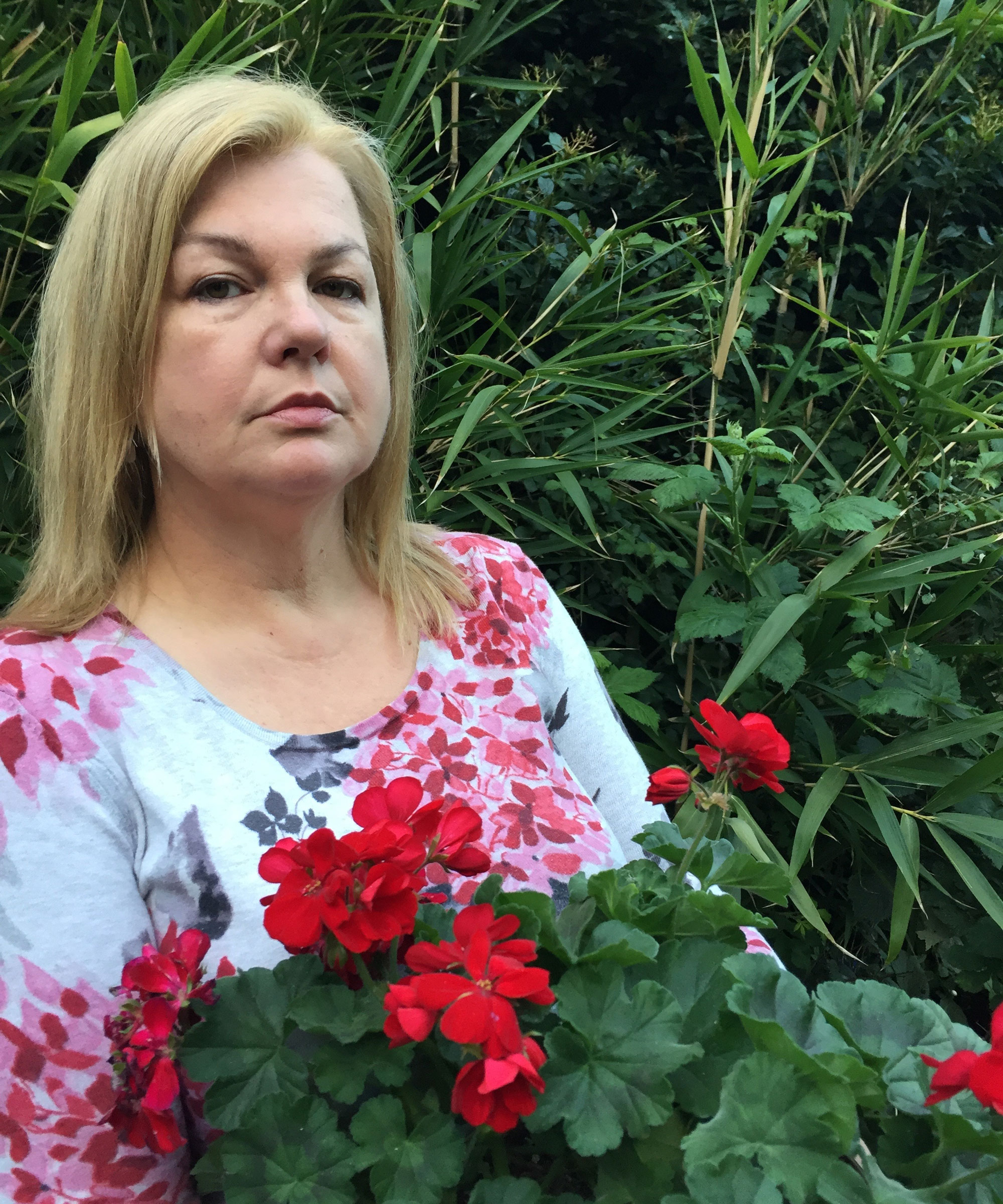 Lifestyle journalist Sarah Wilson has been writing about gardens since 2015. She's written for Gardeningetc.com, Livingetc, Homes & Gardens, Easy Gardens and Modern Gardens magazines. Having studied introductory garden and landscape design, she is currently putting the skills learned to good use in her own space where the dream is establishing a cutting garden.