The one thing you should never do with your poinsettia, according to Monty Don
Received a poinsettia as a gift this year, or treated yourself? Follow Monty Don's poinsettia care tips to keep it healthy for longer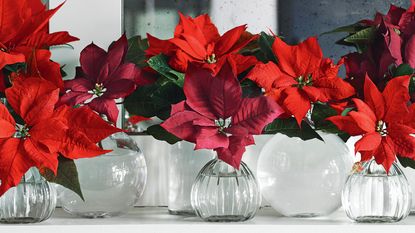 (Image credit: Future)
Poinsettias are a popular Christmas present – and many of us also like to buy one or more for ourselves to bring extra colour to our homes for the festive season. Other shades are available, but it's poinsettias with a red hue that are such a seasonal favourite, creating a brilliant indoor display.
Funnily enough, it's not actually the poinsettia's blooms that make it such an eye-catching addition to our homes at Christmas, but its large leaf bracts. The flowers are small and yellow and they're what you see at the centre of the bracts.
Follow our poinsettia care tips and it needn't be a great feature of your interior for the Christmas period alone, though. In fact, no less an authority than our favourite gardener and broadcaster Monty Don says they can last and look good for months with the right know-how.
Want to learn the secrets of long-lasting healthy poinsettias from Monty? Just scroll down. Looking to green up your home year-round? Use our guide to the best indoor plants.
Monty Don's top tips on caring for poinsettias
1. The number one thing you should never do with your poinsettia, according to Monty Don? On his website, Monty revealed that you should never deprive a poinsettia of damp warmth.
That means no to leaving it in a room that becomes cool overnight, Monty explains; instead, keep it at a constant average temperature. Bear in mind the 'damp' part when it comes to location as well. In other words, your poinsettia won't like a room that's hot but dry, Monty cautions.
2. There are other rules you need to keep in mind for a healthy poinsettia, according to Monty. They are: no draughts; and no very bright spots that could get hot in the middle of the day.
3. What about watering a poinsettia? Monty's advice is to give one of these beauties plenty of water, but let the compost dry out between waterings. When it is time to water, Monty says to stand the pot in a sink of water for 10 minutes, then let the excess drain out.
A poinsettia will also benefit from being misted every other day. Make sure you use water at room temperature.
4. Poinsettias originate from Mexico and grow at the margin of the forest, Monty says, which explains their preference for damp warmth. You might be surprised by the fact that there they grow to become 10ft high shrubs. You don't need to do anything to stop yours getting big, though. The poinsettias we bring into our homes have been treated with growth retardant to give them their familiar shape, Monty says.
5. Not bought a poinsettia yet, but want to add one to the array of Christmas foliage you have in your living space? Follow the advice of top gardener and broadcaster Alan Titchmarsh and ensure it's well wrapped up when you bring it home. The native Mexican plant can suffer badly if it gets cold, losing its leaves.
6. It's also worth feeding your poinsettia to help it stay healthy for longer. You don't need special food – just use your standard indoor plant food once a month.
There's plenty more advice on caring for indoor plants in winter in our dedicated guide.
Read more:
Sarah is a freelance journalist and editor writing for websites, national newspapers, and magazines. She's spent most of her journalistic career specialising in homes and gardens and loves investigating the benefits, costs and practicalities of home improvement. It's no big surprise that she likes to put what she writes about into practice, and is a serial house revamper.