Gardening expert Richard Jackson launches a grow your own range
Richard Jackson's new grow your own range is designed to help you grow tasty produce even if you have no experience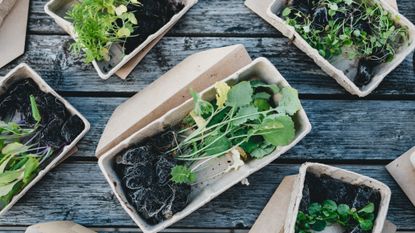 (Image credit: Unsplash)
Lockdown life has come with few silver linings for most of us, but those of us lucky to have a garden have embraced growing new plants and especially the joys of growing your own. Whether it's learning how to grow garlic or trying your hand at growing fruit such as strawberries and raspberries, it can be incredibly rewarding.
There is something very special about serving vegetables and fruit you've grown yourself, and it's good for us in so many different ways. For one, gardening is guaranteed to get you off your couch – which is exactly the aim of a new campaign by gardening expert Richard Jackson, best known for his Flower Power range of garden products.
Richard has created the Couch to Five a Day Challenge to encourage even more people to grow their own, even complete novices. Many people want to grow their own but don't know where to start, while others have tried before but had poor results and gave up, often simply because they hadn't picked the best varieties or didn't have the right information. This is what led to the creation of the challenge and the launch of two products kits to get people growing.
The first 'from couch to five-a-day' kit will become available in March and will contain five top varieties of fruit and vegetable seeds and plants, complete with easy-to-follow growing instructions. The pack will include Swiss chard 'Rhubarb' seeds, five Charlotte potato tubers, three Malling strawberry plug plants, one Autumn Fruiting Raspberry cane, and one Blueberry Bluecrop plant in a 1.5 litre pot. You'll also get an easy growing guide, containing full instructions from Richard on how to get the best from the crops. You'll find more advice on how to grow potatoes and how to grow strawberries in our guides too.
The beauty of the challenge is that growers don't even need a big garden or vegetable plot – growing vegetables in pots on the patio or balcony is simple to achieve and harvesting can start just a few weeks from planting. It is easy, fun and the perfect way to start growing your own.
The May kit will contain five different crops, selected for the warmer time of year. Gardeners will be able to plant climbing French beans, perpetual spinach, patio tomatoes, patio peppers and Malling strawberry plants.
What sets Richard's range apart from the many other gardening kits available is that they have been developed from professional market formulas, allowing everyone to grow healthier, more resilient, and bigger crops. There's also a selection of gardening tools, lawn care products, and pest and weed control option, for a more holistic approach to gardening.
Richard Jackson says: 'We are really excited to launch our Couch to Five a Day Challenge, and to spread the message that growing your own food is simple, fun and delicious! All that is needed is the right plant, and a positive attitude. We want people to have a go, get involved and help us to motivate even more people to get their hands dirty.'
He adds that growing your own really is for everyone, not just people with large gardens: 'There are many varieties that can be grown in pots, and even a window box is big enough for some fruit and veg.' You just need to make sure you have the right type of container – one that has drainage holes – and to use good-quality compost.
Richard emphasises that a large part of this challenge is enjoying the process, 'as there is nothing more rewarding in gardening than charting the progress of a seed, to a plant, to a vegetable, to the plate!' We couldn't agree more.
Anna writes about interior design and gardening. Her work has appeared in Homes & Gardens, Livingetc, and many other publications. She is an experienced outdoor and indoor gardener and has a passion for growing roses and Japanese maples in her outside space.