Shed office fires have risen dramatically in the past year, garden office owners are warned
Data reveals that the rise of the garden home office is putting garden owners' health at risk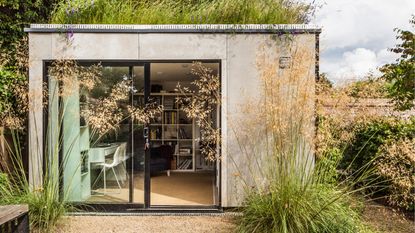 (Image credit: Anthony Coleman-VIEW / Alamy Stock Photo)
The rise of the garden office has been one of the defining features of working from home during the pandemic. However, recent data reveals that this trend is not without its dangers. Shed and garage fires have increased by a fifth over the past year, and the stats are directly linked to the rise in garden office conversions.
Garden office ideas are incredibly popular at the moment, but UK garden owners are being warned that DIY-ing the garden office can result in a fire.
Why the increase in shed office fires?
What's behind this sudden increase in fires? The increase in garden office planning permission applications. According to Zoopla, planning applications for garage conversions alone rose 25 per cent last year, and there has been a 7.5 per cent rise in people seeking permission for garden buildings and works.
Sheds and garages are the most popular buildings to convert into garden home offices. There is even a special term for a shed office now – the shoffice. The potential problems with setting up an office in a wooden shed are obvious, especially if flammable materials such as decking paints or paint thinners are stored in or near the shed, or if the shed is right next to a potential source of fire such as a fire pit.
Then there is the question of heating. Many people who moved into their garages or shoffices for the working week have needed portable heaters during the unseasonably cold winter and spring of 2020-21, and, when left unattended, heaters can easily cause fires.
The best way to prevent a shoffice fire
Phil Ost, Head of Personal Lines at insurance company Zurich, gives a top tip for preventing a shed office fire: 'If your shed or garage has power and you are running electrical appliances, make sure you do as you would in your home. Turn them off if you are out or have gone to bed and do not leave appliances running overnight. Also regularly monitor for damage to cables and faulty appliances.'
And if you're a proud owner of the best BBQ, remember to always allow it to completely cool before storing it inside your shed, as well as placing it as far away as possible during use.
Anna writes about interior design and gardening. Her work has appeared in Homes & Gardens, Livingetc, and many other publications. She is an experienced outdoor and indoor gardener and has a passion for growing roses and Japanese maples in her outside space.