6 snow removal tools to back up your snow blower post-blizzard
Driveway under a few feet of snow? You need these snow removal tools to add oomph to your snowblowing technique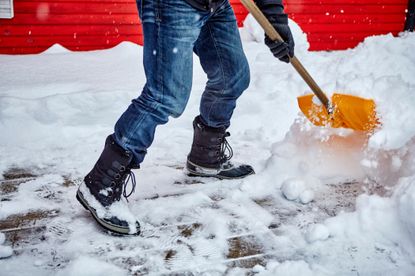 (Image credit: Getty Images)
Growing up in Connecticut, I learned a lot about snow. Afterall, the odd blizzard is a given in a north east winter. And the most important lesson I've carried into adulthood is when it comes to snow removal (and snow removal tools), there's the wrong way, and there's my dad's way.
My dad's method is formulaic and precise — snow blow, shovel, repeat — and his error-proof approach has survived some of the harshest snowfall to date, but as my father has gotten older, the one thing I've also noticed? He has added a few snow removal tools to help him along the way for when even the best snow blowers can't cut it.
See, when we were younger, he had two brothers (or myself) to help him when snow accumulated and was too overwhelming for one person to handle on their own. But since I've moved to New York City and my brothers moved into their own homes, he's in dire need of some additional pieces of equipment to help fill the void.
Sure, you'll still catch him up at the crack of dawn, reaching for his favorite pair of waterproof gloves and revving up his snowblower, but you know what else he has now added into this routine? A strain-reducing shovel to help alleviate aches and pains, as well as a snow brush to help remove pesky ice and snow from his windshield wiper, and that's to name a few.
Now, in the event, you can relate, and my dad's struggles sound similar to yours, we don't just understand them – we're here to help alleviate them.
Whether you're living in the suburbs or living in a city like me, we've rounded-up six snow removal tools to make your winter mornings painless and snow-free. Give them a go (we have followed up with some top tips for snow removal, too) and you might be less panicked next time a blizzard rolls in.
1. A strain-reducing shovel
Prepare your next snowstorm by adding this Snow Joe shovel to your shopping cart. A good snow shovel is surely one of the most essential snow removal tools, but finding one that doesn't put your back out for the rest of the day is key. We hunted down this one that has a lower handle to assist your hold and reduce the need to bend as far. After all, the last thing you need in a blizzard is a bad back, too.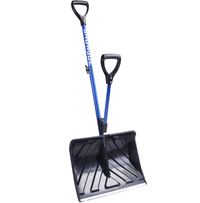 Snow Joe SJ-SHLV01 Shovelution Strain-Reducing Snow Shovel l $29.99 now $19.99 at Amazon
Designed to reduce the effort, strain, and potential injury previous shovels inflicted on your back, this durable, impact-resistant 18-inch blade allows you to lift greater loads with ease. While the ergonomic design improves posture and reduces the need to bend.
2. A snow brush
You DO NOT want to be using that snow shovel to clear your windshield – unless you want a load of scratches of course. Instead, get your hands on a firm but gentle snow brush to clear the bulk of the snow. It can be used on other delicate things around your driveway and yard, too.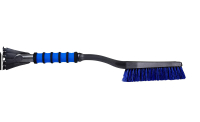 Hopkins 532 Mallory 26" Snow Brush with Foam Grip l $12.45 now $7.98 at Amazon
The Mallory 532 26" Cool Tool Snow Brush comes equipped with a comfortable and easy to use the curved handle, comfort foam grip, and unbreakable scraper blade. At 8" long and 1.5" wide, the thick bristles will make removing snow and ice off your windshield simpler than ever.
3. This 2-in-1 scraper and broom
This revolutionary device combines a broom, ice scraper, flashlight, and emergency blinker to create the most convenient and compact tool. It is just what you need when a snow brush isn't quite enough and perfect in the dark, so great to keep in your trunk to aid snow scraping in a poorly lit parking lot.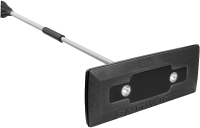 Snow Joe SJBLZD-LED-BLK 4-In-1 Telescoping Snow Broom + Ice Scraper l $19.99 now $18.58 at Amazon
Designed to safely sweep snow and scrape ice off your car morning, day or night, this telescoping pole extends from 30 to 49 inches to easily access snow piled up on your car's roof and trunk and will remove it without damaging paint, trim, or glass.
4. A de-icing cable for your gutter and roof
Prevention is better than cure as they always say. Designed to stop your roof from damage and leaking, this de-icing cable will keep excessive water flowing into your gutter and downspouts while preventing ice build-ups from forming. Not only is this good for your property, but reduces the risk of dangerous icicles forming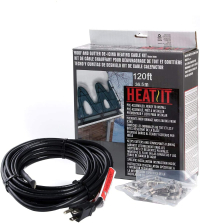 HEATIT HIRD 100 feet 5 Watts Per Foot Roof & Gutter Snow De-Icing Cable | Starting at $49.99 at Amazon
Perfect for inclined roods with noncombustible shingles, this cable is CSA and ETL approved and comes ready to install. You can get it in various lengths from 30ft to 240ft and comes pre-assembled and ready for installation.
5. This electric snow shovel
Part shovel, part snowblower, this lightweight and powerful electric shovel will be revolutionary come snowfall. If you are short on space and time, this cordless two-in-one is the way to go.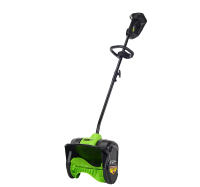 Greenworks PRO 12-Inch 80V Cordless Snow Shovel | Starting at $238.98 at Amazon
Measuring 12inches, it has the shoveling width and power to throw even the heaviest of snow out of your way, and is best for snow depth up to 6". To achieve peak performance, use batteries stored at room temperature and warm indoors for up to 10 minutes prior to use.
6. A pair of snow gloves
Last but certainly not least, to successfully remove snow from your driveway, porch, or patio, you're going to need a pair of snow gloves like this pair. Without, you will spend more time warming your hands than clearing the snow – so do it in comfort with a pair of waterproof, insulated gloves.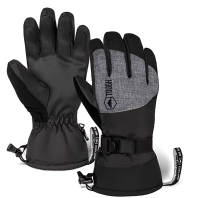 Waterproof Ski & Snow Gloves | $21.95 at Amazon
These gloves have improved thermal insulation for higher performance in warmth and breathability, as well as three-layers of composite fabric that's windproof and waterproof. Factor in the TPE breakable memorable to wick out moisture rapidly and ensure dry hands? Consider us sold.
How to clear snow
Safety first
Remember to stay indoors in a blizzard unless absolutely necessary. Our tips can clear snow, but remember to head out to do so when it is not snowing heavily to prevent injury.
Wrap up warm, protect your hands and wear warm head gear. Also, keep an eye out for snow-laden branches on trees that can be a falling hazard.
When you shovel, lift from your legs rather than your back to prevent back strain.
When you know a blizzard is due, you can take measures to protect your property. Delicate plants, flowers and shrubs will need a layer of insulation if possible – we have tips on protecting your garden in winter. Also think ahead and put grit or rock salt on your drive to help thaw snow and ice. Move cars and bikes into a garage if you have one to keep them clear from snow.
However, we can't always get ready in advance – snow can come as a surprise even if we do expect it every year. So here are four tips for clearing the snow.
1. Clear between falls
Don't let it stack up beyond the possibility of being cleared manually. There will be occasions where so much falls in one go, or overnight that you have no choice. But when there is a good break in bad weather, clear what you can to prevent it becoming a bigger job.
2. Use a snow blower for soft, light snow before you shovel
First get to it with your snow blower. Angle at the snow to blow onto the edges of your paths and drive. With the bulk out of the way you can start to shovel. This will reduce strain on your back and limit how much snow becomes impacted on the ground as you slide the shovel over it.
3. Use a stiff broom for the remnants
As stated before, shovels get most of the snow out of the way but you tend to have a thin layer that quickly becomes frozen. Use a broom to brush as much of this away as possible to prevent patches of ice. You might need to go over sections a few times for the best results.
4. Finish with rock salt or grit
After clearing the snow, sprinkle some rock salt or grit to help melt any last bits and to create some grip on the surface. This is also handy prep for the next snow fall.
Still, want more? Check out additional snow removal tools below:
Brittany Romano joins the Gardeningetc team as the U.S. Shopping E-commerce Editor, based in New York City. From her start as a fashion market assistant at Marie Claire to building highly profitable commerce vertical at Us Weekly and AMI brands, Brittany has produced award-winning content covering everything from celebrity beauty hacks to must-have items from online sales. She is a graduate of New England College. When she isn't writing, you can find Brittany indulging in yet another DIY-project or cheering on her beloved Boston Bruins. Find her on Instagram at @Rammmyyy.