Sofa.com garden furniture is on our patio wishlist for 2021 – see the latest range
Just launched for 2021, the Sofa.com garden furniture range sold out in just two months last year, so now's your chance to snap up the brand's super stylish seating in time for summer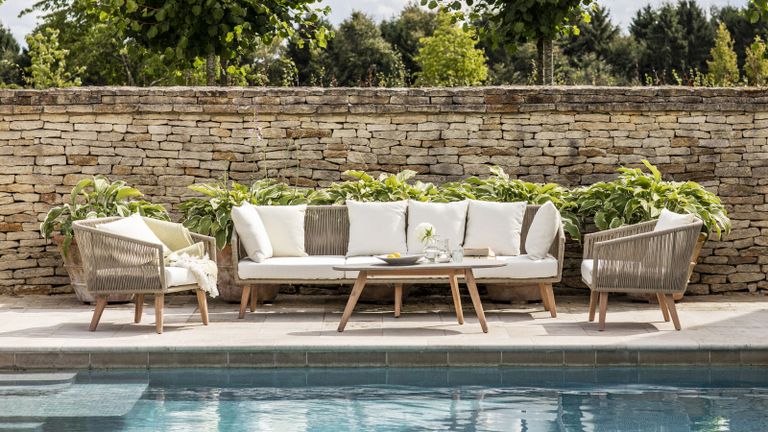 (Image credit: Sofa.com)
By mid-April last year, having been confined to our homes and gardens for nearly a month, garden-related buys – from gardening kit and lawnmowers, to outdoor furniture and even trampolines – were top of everyone's shopping lists. Of course, the main thing we were all after was the best garden furniture for those summer staycations.
Launching just before the UK's first lockdown last year, Sofa.com's first foray into garden furniture couldn't have been better timed.
'We debuted Sofa.com's garden collection in March last year and it had such a sudden increase in demand around the first lockdown that we were completely sold out by May!' recalls Patricia Gibbons, from the Sofa.com design team.
Fast forward to 2021 and Sofa.com's garden furniture range for this summer has brought back some of last year's sold out models, with the addition of a brand new design, called Skala.  
'To avoid last year's rather short-lived launch, we are better prepared for it and have lots of pieces to cater for all the garden parties and outdoor lounging that will no doubt be a core activity for the rest of the year,' says Patricia.
Comprising of four outdoor designs all in muted, neutral shades, the Sofa.com garden furniture collection oozes quality, with a timeless elegance that won't date. All of the cushions are showerproof – so can be left out in light rain, but the brand recommends that you store them indoors in harsh weather. 
Same goes for the furniture – made from all-weather rattan or wood, they'll keep looking their best if covered up at the end of summer.
Read on to discover the complete collection of Sofa.com garden furniture and when you're done, take a look at our garden furniture deals page for more great offers on outdoor sofas, loungers and more, from a wide range of top brands.
1. Skala sofa set
2. Amberley sofa set
3. Selbourne double lounger set
4. Colwell sofa set
What are Sofa.com's plans for next year?
Now in its second year of producing garden furniture, we asked Sofa.com if the brands plans to expand on the range in the future. 
Patricia Gibbons, from the Sofa.com design team says: 'Spring Summer 2022 will be an even bigger season for us! We will be launching bespoke outdoor living sets from various outdoor seating pieces and garden loungers through to our debut in garden dining sets.'
'The collection will combine beautiful, ergonomic design and functionality with clever technical foams and fabrics – to provide optimal comfort with weatherproof style.'
We can't wait!