Stop mowing your lawn, gardening experts including Monty Don urge
You should stop mowing your lawn at least for a month this season, according to gardening experts – here's why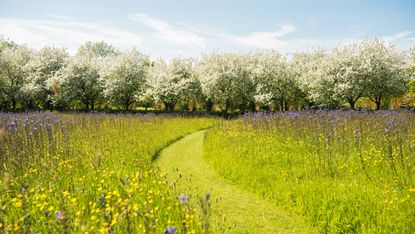 (Image credit: Yeo Valley Organic)
You should stop mowing your lawn this spring, a growing number of professional gardeners are saying. The BBC Gardeners' World presenter Monty Don is leading the trend by calling on gardeners to take a more relaxed approach to mowing their lawns to allow nature to thrive. In an interview with Radio Times, the gardening guru was unequivocal in his aversion to neatly mowed lawns: 'Cutting grass burns lots of fossil fuel,' he explained, also adding that it 'makes a filthy noise, and is about the most injurious thing you can do to wildlife.'
The no-mow trend is gaining momentum across the gardening community. The wildflower conservation charity Plantlife runs an annual No Mow May challenge, which encourages people to share their experiences of letting the grass and wildflowers grow, or even learning how to plant a wildflower meadow in the process.
And while Monty Don's impassioned warning against over-mowing has attracted some criticism on social media channels, gardening experts wholeheartedly agree with the presenter: letting your grass grow is one of the best wildlife garden ideas there is.
'If you only do one thing this year to improve your garden's value for nature, be more like Monty and cut your grass less, or not at all,' says Sarah Mead, Head Gardener at Yeo Valley Organic and creator of the Yeo Valley Organic Garden in Somerset. 'Monty is absolutely right to highlight our obsession with keeping our lawns neat and tidy, and frankly I was shocked to read how much negativity he has faced as a result of his recent Radio Times interview. Come on gardeners, would a little less cutting really be such a bad thing?!'
The UK's climate is perfectly suited to allow grass and the many species of beneficial plants that share our lawns to thrive, but regular cutting deprives essential pollinators of an important food source. According to PlantLife, allowing your lawn to grow naturally for just a single month can provide enough nectar for 10 times the number of bees and other pollinators than a regularly cut lawn.
Sarah concludes, 'Global biodiversity is in decline, and our climate is warming. It's essential that we all recognise the small changes we can make that have a huge collective impact on our environment. Putting your feet up instead of getting the mower out is top of the list!'
Sarah makes an important point: not mowing your lawn this spring may help redefine your relationship with your garden, making it more about relaxation and quiet – and watching bee friendly plants grow. If you do like keeping active in the garden, you can always give yourself a challenge by growing a new plant, starting a vegetable patch, or building a bird box or a home for a hedgehog.
Anna writes about interior design and gardening. Her work has appeared in Homes & Gardens, Livingetc, and many other publications. She is an experienced outdoor and indoor gardener and has a passion for growing roses and Japanese maples in her outside space.