Gardeners are being warned about a garden furniture shortage
A garden furniture shortage may interfere with your garden update this summer; here's what you need to know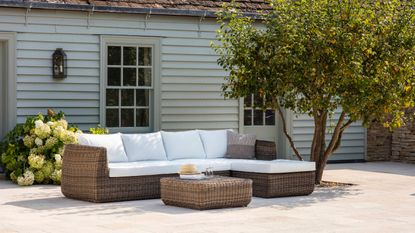 (Image credit: Garden Trading )
UK gardeners are being warned about a garden furniture shortage this year, which is likely to impact many people's plans to update their garden seating or dining sets for the summer.
There are early indications that getting the best garden furniture will be difficult this season, because even the biggest furniture manufacturers are experiencing supply problems. Here's what you need to know if you're planning to buy garden furniture in the next few months.
Why is there a garden furniture shortage?
In a recent article, the BBC spoke to a range of garden furniture retailers, including the furniture giant IKEA, who all confirmed that an unfortunate combination of several factors means that shortages are highly likely this year. IKEA, however, said that it hoped to have resolved all issues by the time its stores reopen later in spring.
The main problem that's causing the shortage is the with the soaring costs of importing furniture, with China drastically raising shipping quotas. Some garden furniture businesses are reporting transportation cost increases of several thousands of pounds per container.
Garden furniture retailers order stock on an annual basis, because demand fluctuates and is difficult to predict in advance. This was the case this year more than at any other time, with many retailers holding off placing orders until they knew where they stood with the lockdown. Now, delays are almost likely, and some retailers may not be able to get stock on some ranges at all.
Will I be unable to buy garden furniture this year?
No, but you may be unable to get your first choice, and are more likely to get what you need if you are more flexible on the exact design/brand. However, we strongly advise to start thinking about getting any outdoor furniture now, before the Easter rush begins. As garden furniture experts at Furnitureco explain, 'contrary to what most people seem to think, the peak buying time for garden furniture isn't in the middle of summer, it's actually towards the end of Easter.'
So, without much further ado, go and browse where to buy garden furniture and don't wait too long to decide. Or, you can simply shop today's top deals at the best prices below.
sub-category
Brand
Colour
Price
Refine ☵
Sort By
Anna writes about interior design and gardening. Her work has appeared in Homes & Gardens, Livingetc, and many other publications. She is an experienced outdoor and indoor gardener and has a passion for growing roses and Japanese maples in her outside space.