Here's why you need a rain garden this winter
Rain gardens look great and are exactly what you need this wet winter. Here's why...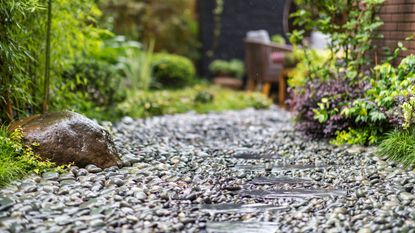 (Image credit: Getty)
It's late winter, and our gardens are getting seriously soggy. With heavy rainfall and flooding becoming an increasingly common winter experience for many, gardens are getting wetter, with some even becoming waterlogged.
However, while some gardens will be excessively wet because they have drainage issues, most can be improved with a simple and wildlife-friendly solution – a rain garden.
Rain gardens are becoming increasingly more popular for two reasons. One is that the weather is becoming less predictable, with heavy rainfall and floods increasingly common. The other is that rain gardens are an underused, yet incredibly effective way to increase biodiversity in any garden – without having to do an expensive garden redesign.
Quite simply, a rain garden is an area in a garden that's been dedicated to collecting rainwater. It is essentially a form of water channelling, but with the additional benefits of providing water and habitat for wildlife.
Typically, building a rain garden involves diverting rainfall from the roof of a house or outbuilding via a downpipe into a shallow depression that's been filled with pebbles and absorbs water gradually, over a period of 12-24 hours. The surrounding area is then planted up with flood-tolerant plants such as grasses.
The benefits of having a rain garden are difficult to overstate. Not only will it help prevent excess rain water from pooling in undesirable places in the garden, but you will start seeing an increase in beneficial insects and animals in your garden.
Who can have a rain garden? Almost every garden can have one, unless it has poor drainage or an incline of more than 10 per cent.
Wendy Allen, an award-winning garden designer specialising in rain gardens, said in an interview with the BBC that rain gardens serve a really useful purpose: 'they cut down on water use, they reduce flooding, they filter the water, and overall they're a brilliant benefit to both the people who look at them and to rivers.' Sounds like a great idea to us
Like the idea of doing your bit for the environment and want to try more quick wins? There's lots of simple solutions in our guide on how create an eco friendly garden.
Anna writes about interior design and gardening. Her work has appeared in Homes & Gardens, Livingetc, and many other publications. She is an experienced outdoor and indoor gardener and has a passion for growing roses and Japanese maples in her outside space.