These are the worst garden trends that we'd like to see the back of this year
If you're looking to spruce up your garden design this spring, avoid these out-of-date garden trends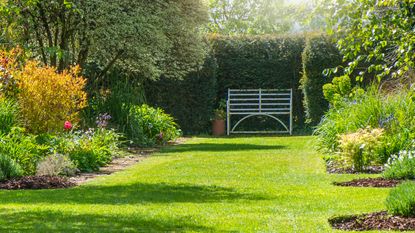 (Image credit: Getty)
There are garden trends that will give your garden an instant refresh, and then there are garden trends that will instantly age it. Some elements of garden design are best consigned to history, even if they are still popular.
We've asked garden designers about the garden trends they'd like to see less of in our gardens – and what alternative design solutions will look better.
1. Fake grass
This is a trend that has no place in a smart contemporary garden at a time when we're all increasingly concerned about the many threats to biodiversity, especially pollinators. BBC Gardeners' World presenter Carol Klein has expressed her aversion to artificial grass in no uncertain terms: 'The only green thing about fake grass is its colour. I hate it. It is really awful ecologically. It's just horrid.'
If you're not up for regular lawn mowing, why not plant a wildflower meadow in your garden instead? It's very easy, requires almost no maintenance, and is really good for bees, butterflies, and other wildlife garden ideas.
2. Orange-stained decking
It's a bit like the decking equivalent of a fake tan: looks good in some instances, but often is just too much. This isn't too say that all decks have to be blond or painted white – a warm wood tone can look lovely as part of a natural-looking garden scheme.
There's quite a bit of difference between warm brown and orange, though, so if you want to go warm, invest in a high-quality decking stain and try it out on a small area first.
Find great-looking decking ideas in our gallery.
3. Garden gnomes
We're a bit torn about this one – if a garden gnome makes a garden owner happy, where's the harm? Unfortunately, it is true that they just don't look very good as part of a smart garden design scheme.
If you do want a garden statue, stick to natural materials (stone always looks good) and an unpainted finish, so that the ornament blends in with the rest of your garden.
4. Too much hard landscaping
Much like fake grass, impermeable hard landscaping is bad for biodiversity and is just not a very wise way to use precious outdoor space. Gardens that have been completely paved over or turned into a driveway look dated and neglected.
Instead, consider gravel paths interspersed with plants for a more natural (though still practical) design.
You'll find more inspiring ways to get from A to B in our garden path ideas.
5. The plain lawn-with-borders layout
While it is true that most gardens are essentially square patches of land, there's almost infinite potential for creating a one-of-a-kind design within that space. It can still be low maintenance, but it doesn't have to have the traditional central lawn with borders layout.
Garden designer and Your Garden Made Perfect presenter Tom Massey says: 'Think beyond the basic layout where you have a lawn in the middle of the garden and a thin strip of planting pushed out to edge. Be bold and think about creating intimate spaces rather than just keeping it all open and flat. Why not scrap the lawn altogether and plant a wildflower meadow?'
Anna writes about interior design and gardening. Her work has appeared in Homes & Gardens, Livingetc, and many other publications. She is an experienced outdoor and indoor gardener and has a passion for growing roses and Japanese maples in her outside space.