Cobra MX41-40V lawn mower review
We pushed the cordless Cobra MX41-40V lawn mower to the max to uncover if it's cut out for the job. Here's how it performed…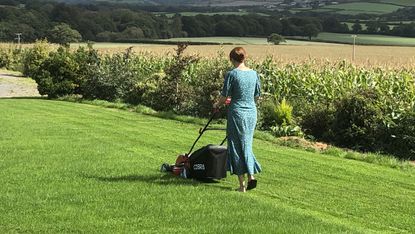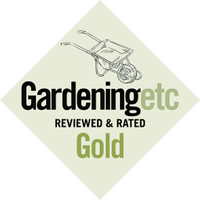 (Image credit: Linda Clayton)
Super easy to use and surprisingly powerful, the Cobra MX41-40V makes light work of grass cutting without annoying cables or smelly petrol refills – and it's oh-so-quiet, perfect for early Sunday starts without upsetting the neighbours
Reasons to buy
+

Long battery life

+

Comfortable handle

+

Folds down to store

+

Quiet
Reasons to avoid
-

Cheap looking wheels

-

Unwieldy grass box
Why you can trust Gardeningetc Our expert reviewers spend hours testing and comparing products and services so you can choose the best for you. Find out more about how we test.
Cordless technology is big news in gardening, so I was keen to try the Cobra MX41-40V lawn mower. Cordless products promise to make strimming, hedge cutting and leaf blowing a breeze, but you'll be forgiven for thinking a battery could never have the oompf to tackle anything beyond the most bijou lawn.
With its Lithium-ion 40V rechargeable battery, the Cobra MX41-40V is not just powerful but keeps soldiering on for a lot longer than you'd think. Our lawn is a little over 1,000 sq m (approximately quarter of an acre), and we usually use a big old ride-on for the bulk of it. Then follow up with a petrol mower to do the parts the ride-on can't easily reach – like around the girls' swings, trees/bushes and awkward narrow sections around pathways.
For this review, I really put the Cobra MX41-40V lawn mower through its paces by ditching the ride-on and using it for the whole lawn, which hadn't been cut for well over a week. And, just to be thorough, I did a mulching run four days later!
Keep reading for the results of our test, and if you want to check out which other designs are on our best lawn mower list, make sure you head to our buying guide.
Cobra MX41-40V lawn mower: key product specifications
Lawn size: Small to medium
Battery: 40V Samsung Lithium-ion Battery 4.0Ah & Charger (included)
Drive type: Hand Propelled
Cutting width: 41cm / 16"
Cutting height: 25 - 75mm
Grass bag capacity: 50ltr
Charge time: Approx. 90mins
Weight: 18.26kg (without Battery)
Warranty: 2 years
First impressions of the Cobra MX41-40V lawn mower
The box was reassuringly heavy, but I could just about (wo)manhandle it into the kitchen to assemble. It was all shiny and clean and neatly packed but easy to remove. Nothing worse than doing battle with packaging for 10 minutes before you can get started. The overall construction looked sturdy enough at first glance. The bodywork is painted metal not plastic, which is always a good sign. The only exception was the wheels, which reminded me of the kind you get on kids' Tonka toys.
How much does the Cobra MX4140V cost?
You can buy the Cobra MX4140V cordless lawn mower on the Cobra site for £340.99 RRP. Cobra do narrower models that are cheaper (see below).
Getting started
The instructions were pretty clear and included handy (albeit blurry) photos alongside written directions. Unfortunately, they are not completely idiot proof as I hit a couple of stumbling blocks.
The first was when attaching the folding handle. The instructions said to use locking knobs (and the picture showed locking knobs) but there was only two supplied and I'd already used them to attach the handle onto the mower. So, I did a quick Google to see what the Cobra MX41-40V is meant to look like fully assembled and realised I needed to use the quick-release lever handles (not pictured or mentioned anywhere in the instructions) supplied instead. I'd have probably reached that conclusion, eventually, but the advantage of Googling a photo was I got to see which way up they should go!
The only other hitch came when putting on the grass box. The instructions don't say to remove the cover caps first. It was only when one fell off as I repeatedly tried to clip the box on that I realized it even had cover caps. See? Idiot!
In my defense, I had never put a lawn mower together before in my life when I did this review. Still, the whole process took no more than 30 minutes (my husband Nick would have done it in 15 or less) and, as the battery arrived almost fully charged and I at least had the good sense to put it charging before I tackled assembly, it was ready to go by the time I'd built the Cobra MX41-40V.
What it's like to use the Cobra MX41-40V lawn mower
Much to my relief, using the Cobra MX41-40V is completely idiot proof. Once the isolator key on the battery is turned to on, you just press the main 'On' button, followed by one of four buttons on the handle (giving you plenty of options on where to hold it).
If you release the handle switch, the motor will stop. Word of warning; don't try and start it on too long grass, nothing will happen (cue more head-scratching). Just move it to a shorter area or adjust the cutting height higher, there are seven heights, and try again.
For mulching rather than collecting grass, there's an easy-to-fit cover on the rear, which pushes the cut grass deep into the lawn rather than into the grass box. I did the mulch test while the girls were at school because I didn't want them dragging cut grass into the house or paddling pool, but I needn't have worried; it disappears. Magic.
How easy is the Cobra MX41-40V lawn mower to use?
Despite its unpromising wheels, the Cobra MX41-40V was very easy to maneuver. It doesn't falter or slow when it meets thicker grass like some electric mowers do, instead you can hear the blades speed up when things get tougher going.
Our lawn is fairly flat and the Cobra MX41-40V was lightweight enough to push along without breaking a sweat. There's a small but steep slope at one end, which would have benefited from self-propelled drive, but I managed fine (get the MX46S-40V if your garden is seriously hilly).
I was very impressed by how well I could push the Cobra MX41-40V up over some of the lumpier parts of the lawn, too (a year of diggers and cranes rumbling over it during renovations has taken its toll).
In terms of battery life, a full charge lasted around 50 minutes, which was enough to do more than half of our lawn – I'd guestimate around 600-650 sq m. If you need to do a larger lawn, it might be worth buying an extra battery (£129.99) and charging both before you begin.
Note to Cobra's R&D department; an extra handle or grip underneath the grass box would be useful. The main handle is fine for taking the grass box on and off, but up-ending it and tipping the grass out would be easier with a second handle. First World problems and all that…
Additional features on the Cobra MX41-40V lawn mower
As mentioned, you can buy a second battery, and an extra charging unit (£44.99) if required – i.e. if your lawn takes longer than 50 minutes to mow. As the battery recharges fully in just 1.5 hours, you could just do it in two shifts. Speaking of batteries, there's a power indicator on the battery itself and also on the handle, so you can easily see how much power you have left to play with.
The quick release levers on the handle makes it easy to fold down, which is great if you're pushed for space in your garden shed. The handle is also easily height-adjustable – I'm 5'9" and the middle setting felt most comfortable but it's nice to have options.
How does the Cobra MX41-40V lawn mower rate?
Online the Cobra MX41-40V rates very highly and appears to have a firm fanbase in the best cordless lawn mower picks. It has earned a Which? Best Buy, and Amazon customers rate it 4.7 out of 5. My appreciation for the Cobra MX41-40V can be best explained by what it doesn't do, rather than what it does.
Unlike our petrol mower, it isn't noisy, smelly or temperamental to start. And unlike any corded mower I've ever used, it doesn't come with the stress of possible death should I accidentally mow over the cable. Instead, the Cobra MX41-40V quietly gets the job done, with minimal effort and zero stress.
Oh, and the results are great, too. It cuts evenly and the grass box does a great job of collecting (nearly) every blade. At 50 litres, it's a reasonable size that doesn't need to be emptied every two minutes.
My husband, a total petrol-head who gave my electric mower to his mother when we met, said he'd happily ditch his petrol Honda for the Cobra – high praise indeed. Not the ride-on though, nobody gets to touch his ride-on. In reality, the 41cm cutting width probably isn't cut out for really big lawns, but for a small to medium lawn the Cobra MX41-40V is a seriously strong contender and offers really good value for money.
About our review – and reviewer
Linda Clayton has been an interiors journalist for 20 years. Since graduating from Cardiff's School for Journalism, she's happily writing about the latest trends, product reviews and giving her expert design advice for the likes of Gardeningetc, Homes & Gardens, Livingetc, Ideal Home and Real Homes ever since.
She currently lives in Devon with her husband and two children, and recently renovated and extended the house. The property was previously a commercial nursery and boasts a half-acre plot, giving her plenty of space to road test the latest lawn mowers, hot tubs and garden tools.
Linda fell for the interiors world soon after graduating Cardiff's School for Journalism and has been happily writing for the likes of Gardeningetc, Homes & Gardens, Livingetc, Ideal Home and Real Homes for two decades. Her current home in Devon was previously a commercial nursery – they grew the plants that garden centres buy. After renovating the house, the garden is now on her radar and she has grand plans to overhaul the extensive outdoor spaces.