Honda IZY HRG 416 XB lawn mower review: a robust mower that delivers power and precision
Want the convenience of a battery mower with the power of petrol? Find out if the Honda IZY HRG 416 XB lawn mower is the one for you…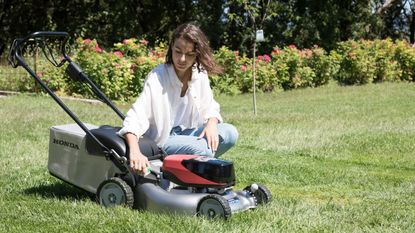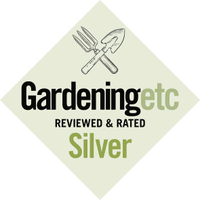 (Image credit: Honda)
Aimed at serious gardeners looking for a robust mower, the Honda IZY HRG 416 XB delivers petrol-grade performance without the emissions.
Reasons to buy
+

Robust

+

Powerful cutting

+

Big grass box

+

Multiple cutting heights
Reasons to avoid
-

Heavy

-

No 'bin full' indicator

-

No handle height adjustment
Why you can trust Gardeningetc Our expert reviewers spend hours testing and comparing products and services so you can choose the best for you. Find out more about how we test.
Petrol Heads generally sneer at cordless mowers, so can the Honda IZY HRG 416 XB lawn mower persuade them otherwise? If anyone can turn them it is Honda, the No.1 big cheese in the petrol mower world – just ask your dad.
Long respected for delivering no-nonsense, rock solid petrol mowers that go on and on, Honda has a rep to protect. So, is the battery powered IZY HRG 416 XB a worthy alternative, or will it leave petrol fans running for their fuel cans?
For this review I tested the Honda IZY HRG 416 XB on a 350sqm area of our lawn, including a slight slope, some fence lines and one teetering edge (where the bank drops away steeply) for good measure. It was mid-March and the lawn had been cut a couple of times so was still a bit shaggy and slow-growing but the worst of the winter length had been dealt with. I did three cuts in total, each at least five days apart.
Read on to find out how it coped with my garden (and how I coped with it), then see more options in our list of the best lawn mowers.
Honda IZY HRG 416 XB lawn mower key product specifications
Lawn size: small-medium (up to 350sq m)
Battery: 36V 6.0AH Li-ion battery and charger (not usually included – do check)
Drive type: hand propelled
Cutting width: 41cm
Cutting height: 20-74mm
Grass bag capacity: 42 litres
Charge time: 55mins
Weight: 22.5kg
Warranty: Two years
First impressions of the Honda IZY HRG 416 XB lawn mower
Immediately upon taking delivery of the Honda IZY HRG 416 XB lawn mower it was clear I wasn't dealing with your average battery powered mower, which tend to be pretty light and at least 60% plastic. For one thing I couldn't lift the box. At all. For another, it looked almost exactly like the 12-year-old Honda petrol mower lurking in our garden shed that works perfectly but I never use on account of not being able to start it (my fault, I'm feeble with a pull cord).
Turns out the Honda IZY HRG 416 XB is the cordless version of our faithful old petrol mower and is the spitting image in terms of hardcore metalness and solidity. No wobbly handlebars or flimsy wheels here. Only the battery pod and lack of noxious petrol fumes gives the game away.
Getting started
The review model I tested arrived with the handle attached but the instruction book suggests newbie machines will need minor assembly. Just screwing a couple bolts on, no tools required. The grass catcher was box fresh, so, like any new purchaser, I had to connect the net to a frame, which wasn't easy at all.
After breaking a couple fingernails, I utilised a kitchen skewer to help drag the stiff clips over the metal frame. Happily, the battery was supplied partially charged and it didn't take the Fast Charger base long (about 10 minutes) to whip it up to full power, then I was good to go.
What it's like to use the Honda IZY HRG 416 XB lawn mower
Once the battery is locked into place and isolator key engaged, you just press a satisfyingly big yellow button and push the cutting lever up to meet the main handle. Similar to the petrol model, this skinny handle is also a safety device as the mower will automatically stop once released.
Considering how gutsy the Honda IZY HRG 416 XB looks, its quietness comes as a surprise. A nice one, particularly if you have close neighbours who like to lie-in on a Sunday.
Pushing the Honda IZY HRG 416 XB along and I soon realized that its robust construction comes at a price – namely, my energy levels. I found it really quite heavy to manoeuvre, particularly going uphill (our lawn slopes at a reasonable gradient of around 20-30%). It would be sexist to suggest this mower is 'not for girls' but it would be fair to say you need to be reasonably fit. If I was buying for my mum, I'd go for the propelled version (the IZY HRG 466 XB). However, my husband took a turn and said it was noticeably lighter than our petrol version and, basically, I was being a wimp. Nice.
How easy is it to use the Honda IZY HRG 416 XB lawn mower?
Wimpiness aside, using the Honda IZY HRG 416 XB lawn mower is a low-stress, speedy experience. It blasted through the grass with ease and following the wheel tracks resulted in nice, neat lines with no annoying tufts to retrace. The blade is a decent width, which reduced the number of passes and overall cutting time.
There is height adjustment on the front and back, which I've not seen on a cordless mower before. The theory (I think) is that you have the front higher than the back when cutting longer grass to help prevent clogging. Our grass wasn't overly long, so I kept both adjustment levers level, playing it safe with the mid-way 40mm setting. Joy of joys, I only needed to empty the grass box four times, which saved time and effort as the compost pile is a fair stomp away. However, the only indication of fullness is when grass starts dropping out in clumps so do keep an eye on that. Also, I learnt to pull the grass out of the chute if I'd let the box get too full otherwise it would, understandably, block.
I was particularly impressed with how close it got to the fence line and it also did well alongside the almost, not quite, level path. The Honda IZY HRG 416 XB did feel a little unwieldy going downhill though, with a tendency to slide that required extra muscle power to maintain those neat lines.
Additional features
Sometimes it's the simplest things that prove the most useful, which is the case with the battery power indicator button. Positioned on the side of the handle, it lets you know how much juice is left. Handy if you're deciding whether to whiz round the front garden or call it a day.
The battery can also be used on Honda's other cordless garden tools, so while it's not cheap (the 6.0Ah one I used costs £200), you can also use it on the Honda cordless brush cutter, hedge trimmer etc.
How does the Honda IZY HRG 416 XB lawn mower rate?
The Honda IZY HRG 416 XB lawn mower is undoubtedly the most robust cordless mower I have encountered to date and, with its steel deck and chunky wheels, is definitely on par with petrol-powered counterparts.
It cuts neatly, without stalling over lumps or bumps, and the battery lasts a decent 40 minutes per charge. The super-speedy 55min recharge means minimal waiting if you do need to keep mowing, but it comfortably covers 350sq m on a single charge.
Yes, it is heavy and feels like a mini workout on hills but it's still considerably lighter than a petrol mower and heft is the payoff for solid construction. Just think of the calories you'll burn!
The handle isn't height-adjustable, which might be an issue if you're very short or very tall but at 5' 10" I found it perfectly pitched for comfort. Admittedly, the Honda IZY HRG 416 XB lawn mower boasts very few flourishes or whizzy tech for the price tag. However, that does mean there are fewer things to go wrong in years to come. With a machine that looks and feels like it could possibly outlive you, that's got to be a bonus.
About our review – and reviewer
Linda Clayton has been an interiors journalist for 20 years. Since graduating from Cardiff's School for Journalism, she's happily writing about the latest trends, product reviews and giving her expert design advice for the likes of Gardeningetc, Homes & Gardens, Livingetc, Ideal Home and Real Homes ever since.
She currently lives in Devon with her husband and two children, and recently renovated and extended the house. The property was previously a commercial nursery and boasts a half-acre plot, giving her plenty of space to road test the latest lawn mowers, hot tubs and garden tools.
Linda fell for the interiors world soon after graduating Cardiff's School for Journalism and has been happily writing for the likes of Gardeningetc, Homes & Gardens, Livingetc, Ideal Home and Real Homes for two decades. Her current home in Devon was previously a commercial nursery – they grew the plants that garden centres buy. After renovating the house, the garden is now on her radar and she has grand plans to overhaul the extensive outdoor spaces.