Caring for indoor plants in winter: how to help your houseplants thrive in the colder months
These top tips on caring for indoor plants in winter make it easy to keep your houseplants healthy and looking their best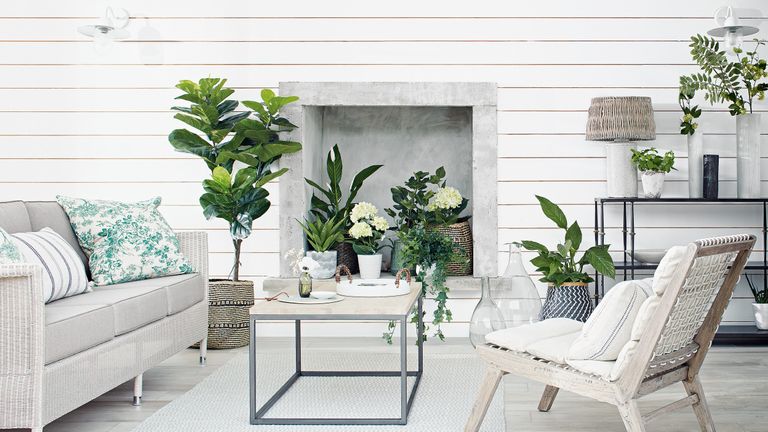 (Image credit: Future)
It's just as important to be caring for indoor plants in winter as it is at any other time of the year. They may be slowing down their growth during the winter months, but they still need some TLC to ensure they stay healthy.
Research suggests that the plants we nurture indoors can do wonders for our mental and physical wellbeing too. The sight of green growth and the sensory pleasure of touching the leaves, especially on textured plants such as ferns, is a real mood booster and reduces stress too. The best indoor plants are also known to help clean the air by removing carbon dioxide and toxic particles. They are also a key look when it comes to how we style up our homes now, with the houseplant revival still going strong.
So far so good. But the key thing at this time of year is looking after those indoor plants in winter and making sure you keep them thriving. Read on for our top five tips to make sure your houseplants have the best possible chance of looking their best over the winter months and beyond. And for inspiration on how to style and display your treasured plant babies, check out our indoor plant ideas for all the latest looks.
Deadhead indoor plants regularly in winter
The more plants you collect, the greater the benefit for them – and you too! Some of the easiest indoor plants to grow are spider plants, weeping fig, ornamental ivies, Boston fern, mother-in-law's tongue, peace lily and money tree. Pile them high. You can never have enough houseplants and now's the time to go big indoors when there's so little action in the garden. Keep on the case with them though. Cut off any brown leaves and deadhead regularly (especially new, flowering plants) to keep them healthy and looking good.
Give houseplants lots of natural light
As the days gets shorter, move your indoor plants to where they can make the most of available natural light. Don't leave them on windowsills overnight, however, especially if they're stuck behind closed curtains, as cold air will be trapped there, which does them no good. They will be happiest somewhere with a steady temperature, away from sources of direct heat such as radiators, and out of direct light and draughts.
Mist your indoor plants as they love humid conditions
Mist house plants with water every few days to create a healthy, humid atmosphere around their leaves. Wiping leaves with a soft, damp cloth also removes dust and dirt, helping them maximise daylight. Pests love a snug, centrally heated house so watch out for them too when you're doing the beautifying regime. Check leaves over every week or so for any pests and either wipe the leaves clean if you spot anything or use an organic spray. Stand them on damp gravel as they like it and it helps keep roots healthy too.
Cut down on water and food in winter
Watering and feeding regimes change as plants go dormant at this time of year. Most need hardly any water and no food at all when they're not growing. Stop feeding and watering in winter to avoid exhausting house plants, as too much care now will encourage weak, spindly growth. Only water when the compost is almost dry to the touch when you test it by seeing if you can push in your fingertip.
Indoor plants that need some extra attention during winter
The exception to the rule of cutting down on food and water is plants that are growing or flowering, generally African violets, orchids, indoor cyclamen and anything in bloom that's given as a Christmas gift. These will need regular feeding and moisture, but always check the instructions as some, such as orchid and citrus plants, have specific feeds that are widely available online.
Read more: