Best mouse trap
These are the best mouse traps to help stop rats and mice in their tracks.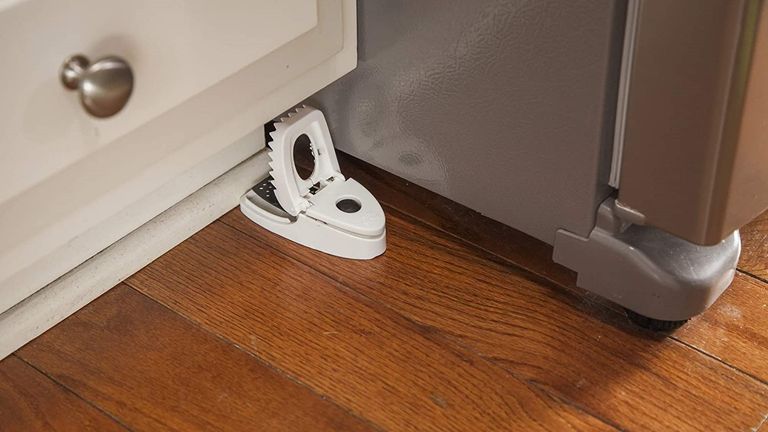 (Image credit: Tomcat/The Scotts Company LLC)
The best mouse traps are essential for dealing with a mouse problem. The pesky critters can sneak into your home, chew through anything from food to electrical wires, and leave behind unsightly droppings and a pungent urine smell. While there is no shortage of mouse traps on the market, the real problem lies in finding one that actually works. Here are some great options to stop these elusive rodents.
Best overall
Best glue option
There's no need for bait with this sticky set.
Pros:
Pre-baited
Non-toxic
Huge catching surface
Cons:
Only works for juvenile mice
This set of Catchmaster traps includes 36 peanut butter-scented glue boards that you don't have to bait or struggle to set. They are great for both indoor or outdoor use and sleek enough to fit into small spaces. Each board measures about 8.5-by-5.25 inches, which is big enough to hold more than one mouse at a time. Note: always keep them out of reach of children and pets because they're quite sticky.
Snap trap
These can be reused a number of times
Set up these unbeatable traps with your favorite bait to lure mice in.
Pros:
2 and 14-trap sets
Easy to use
Grab-tab for no-touch disposal
Cons:
May misfire or spring early occasionally
The Tomcat Press 'N Set mouse trap takes the guesswork out of trapping mice. After baiting the trap and placing it in a mouse's path, simply press down on the round pedal until you feel some resistance. The spring-loaded trap door instantly activates and snaps shut once the rodent takes the bait. Thanks to a built-in release tab and carry handle, you can easily dispose of your catch with no mess.
Cruelty-free
Safe around kids and pests
These units use a catch and release mechanism, so you can capture rodents without inflicting any harm on them.
Pros:
Reusable multiple times
No-kill option
Safe around pets and kids
CaptSure mouse traps are a humane alternative to traditional mouse traps that use poison, glue, or electricity. All you need is a little peanut butter to lure the rodent into the trap. Besides caging mice, they also work great for voles, gophers, hamsters, and other similar-sized rodents. And, the traps offer no-touch disposal of the catch, perfect for protecting you and your family from any disease-carrying rodents.
A classic
Simple and effective
Pedal-operated springs have been around for ages, and I must say they still work just fine.
Pros:
Reusable
Simple yet effective
Pretty affordable
Cons:
Could misfire on select occasions
The Victor metal pedal mouse trap may not be the most humane way of catching mice, but it does work fast and effectively. The unique bait pedal releases the bar when pressure is applied for an instant snap, leaving no chance for the mouse to escape. Since no chemicals are used with this trap, it can be used in food processing areas with a mouse problem. This pack includes four.
Marvelous reliability
Patrol the house with Thanos
A little electric trap that gives you a competitive advantage in the war against mice and other small rodents.
Pros:
No-touch disposal
Rechargeable battery
No-escape design
Battery life indicator
Cons:
Electric shock if mishandled
With the Thanos electric rat trap, you get to exterminate mice and other pesky rodents in a rather humane way. Simply bait the trap and position it strategically. Once a mouse enters and steps onto the metal plates, electricity will travel through the metal plates and shock the mouse. It runs on a rechargeable battery that can last for 20 to 30 uses. The trap is pretty accurate and includes a no-touch disposal mechanism.
Bottom line
The truth is, there are so many mouse traps on the market. Considering how elusive mice are, you need one that actually works. Glue boards or sticky pads like the Catchmaster 72MAX pest traps are some of the most effective options. You get 36 boards with a decent holding capacity, great for nabbing rodents and pests without the need for chemicals.
If you prefer the traditional snap traps, look no further than Tomcat Press 'N Set mouse traps. They feature a press-to-set design for easy setup and a grab tab for fast, no-touch disposal.
Unlike its older name-sake who thrives on apocalyptic destruction, Thanos electric rat trap has a knack for friendlier resolutions. It's a reliable electric mouse trap with a no-see and no-touch mechanism, perfect for winning the war against rodents.
Why trust us
At GardeningEtc, we recommend the best products to enhance your life. As expert curators, we handpick products based on quality and usefulness to positively impact your day-to-day, from cart to doorstep. We take our responsibility seriously — testing products, reading reviews, and sourcing knowledgeable outlets to ensure our selections are worthy of your time and money. We deliver detailed product overviews, balancing objective information with subjective opinions, so making the best choice for your home and lifestyle is as easy as possible.
Grace Monene is an avid writer with an eye for home and office improvement. She's got a knack for finding the best little things that will improve the quality of in and outdoor living. If she's not writing, she is reading or testing out new technology.