Autumn lawn care tips: how to get yours looking its best this season
Need some autumn lawn care advice to revitalise your lawn for the months ahead? Here's what you need to do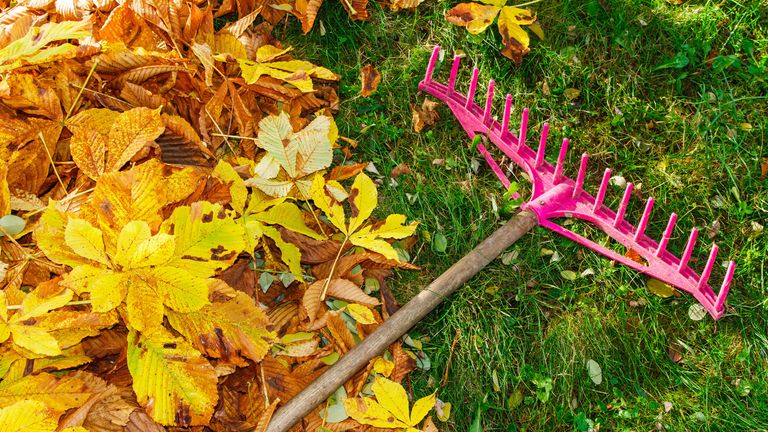 (Image credit: Alamy)
By Sarah Wilson
On the hunt for autumn lawn care tips? You've come to the right place. Chances are your lawn is probably in need of some TLC after the long hot summer, especially as everyone was at home far more this year so there was more wear and tear on the lawn than usual. Autumn is the best time to revitalise it with some easy maintenance that will give it a boost ahead of the winter months. 
While there's still time to make use of one of the best lawn mowers this year, there are three other main things to do: repair any bald patches by reseeding or returfing, remove any build-up of moss and dead grass (known as scarification), and improve drainage by spiking the lawn with a fork (known as aeration) then top dressing it with a sandy topsoil mix. You can feed the lawn too with a fertiliser designed especially for autumn. 
In addition, make sure you also keep on top of removing leaves from your lawn. If you let them build up this can result in a proliferation of damaging pests, plus mould and lichen build-up that can become a real problem. Follow the below autumn lawn care tips and your lawn will soon be in top shape. Not that technical after all!
Top autumn lawn care tips
First look for any 'bald' patches. It's easy to sort out. Loosen the soil with a fork and fill the area with a scoop of potting compost. Then thickly sprinkle over a grass seed mix. Be sure to choose the right one as there's a huge range available including for shady lawns, as well as hard wearing and drought-tolerant mixes. Water well and protect the area from birds and pets with a piece of chicken wire. If a bigger area needs replacing use fresh turf from the garden centre. You will need to cut out a square or rectangle for each area that needs attention and level the soil to fit the depth of your new turf. Ease each section in and firm down so there are no gaps, then water it in well.
Should you scarify your lawn in autumn?
The build-up of moss and dead grass that accumulates on the surface of the lawn is known as thatch. You can remove it by raking the surface of the lawn. At the same time this will let in light to improve the appearance. 
Want something more heavy duty? Scarifiers are also good for tackling this as they have rotating blades that lift out the thatch to save you the job. They often have an aerator attachment too that makes small holes in the ground for better air circulation and water and nutrient absorption. You can find more expert tips on how to scarify a lawn in our in-depth feature. 
What to put on your lawn in autumn
From October to mid-March the aim is to keep the lawn in good condition but not encourage it to grow as any tender new grass will be damaged by frost. It's the right time to treat your lawn to a one-off liquid feed rich in potassium such as Plantura Organic Autumn Lawn Feed that's formulated especially to toughen up the grass for winter. Water the feed in well so it gets to the roots where it's most needed, or even better schedule this for a day when rain is forecast later on. 
How to aerate and top dress a lawn in autumn
The surface of a lawn is often hard and compact by the end of summer, which means that rainwater can't soak in and this leaves things looking dry and brown. Drive in a fork 10cm deep at regular intervals (10cm or so apart) all over the lawn, then gently rock it to loosen things up and get air to the roots. This is known as aeration. To help drainage and keep your lawn healthy, scatter over a top dressing that is a mix of sharp sand, compost and topsoil (you can buy these ready mixed from garden centres) to fill the holes then sweep over with a brush to keep things looking spick and span.
More lawn advice: