Lawn decoration ideas: 13 creative ways to make your plot stand out from the crowd
Discover our lawn decoration ideas and transform your garden's turf into a show-stopping display with sculptures, mowing and more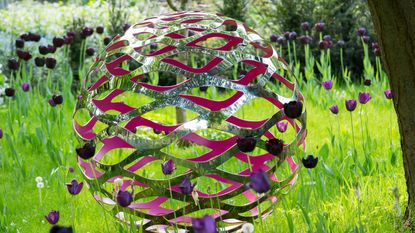 (Image credit: David Harber)
Fancy adding a bit more oomph to your plot? Then our lawn decoration ideas are the perfect solution. Because, as we all know, a lovely lawn often takes centre stage in our gardens – so all the more reason to give it a jazzy update.
You may already tend to your turf to get it bright, luscious and green. Perhaps you're handy with the best lawn mower, too. But a verdant lawn can be elevated even further with a few decorative features. Plus, garden ornaments and lawn patterns are a fabulous way to add character, contribute to a theme, create a focal point, and put your own individual stamp on your plot.
As Justin Williams, Director of Cavendish Stone says, 'Garden ornaments bring personality to green spaces – the perfect complement to the seasonal changes of the garden.' Playing second fiddle to the array of colours in the summer and standing proud as a focal point in the winter months, lawn ornaments really do bring something to the garden all year round, he adds.
So keep reading for expert tips on how to create your own fabulous mowed designs, plus lots of gorgeous lawn ornament ideas that will add instant charm.
1. Bring life to your lawn with a duo of birds
These steel sandpiper bird sculptures from Garden Art and Sculpture will add an instant update to any lawn. In the wild, sandpiper birds are often found near the shore, so why not position the sculptures near a pond or water feature to recreate an authentic effect?
We love the curvaceous yet minimal lines which are oh-so pleasing to the eye. And the natural, rusted finish with its beautiful, deep colouring offers a lovely accent.
Whether you opt for just one, or a few clustered together, these make the perfect lawn decoration for bird lovers.
2. Add a woodland feel with a striking stone statue
Give your lawn a whimsical, woodland feel by introducing a wildlife stone statue. The natural materials will blend beautifully into the rest of your plot and provide a magical view from all angles.
Something like this will look truly stunning across all seasons – whether surrounded by snow (a wonderful addition to our winter garden ideas), or in blazing sunshine. If you don't quite have the space for a full-blown stag, opt for smaller creatures. A stone rabbit or hare will create the same enchanting effect.
3. Add a show-stopping sphere
If you'd love to add something extra special to your lawn, then a super-shiny contemporary feature such as this will do wonders.
The spherical piece is created by David Harber, and is made from 316 marine grade mirror polished stainless steel. The inside of the design can be custom painted in whatever hue suits you and your garden.
It adds an other-worldly feeling of depth and space as it reflects the light and nearby flowers and foliage. We love how the example above elevates a slightly wilder area of lawn and complements the nearby tulips.
You could invest in one of the best cordless lawn mowers or best robot lawn mowers too, for a totally modern update.
4. Cosy up a corner of your lawn with an outdoor fireplace
If you thought fire features were just for patios, then it might be time to reconsider. As this example above demonstrates, an outdoor gas fireplace can be a sophisticated style statement for a lawn, too.
By keeping the flame sheltered inside sturdy glass, you don't need to worry about safety, and there are many different finishes to pick from. It's a wonderful focal point for evenings spent alfresco.
You could also add one to your outdoor seating area, or why not take a look at our best fire pits for more inspiration?
5. Create a cottage garden feel with an antique staddle stone
Staddle stones were traditionally used to elevate structures such as granaries and barns up off the ground, to deter mice. Nowadays, you can sometimes find them second hand online (or you can buy new, concrete versions), and they make lovely lawn ornaments.
This example shown above is under-planted with early spring favourites: Narcissus 'Tête-à-tête, Primula, and grape hyacinths. It adds a vintage feel to a plot – perfect if you love our cottage garden ideas.
6. Use straight lines to lead to a focal point
Large lawns can sometimes feel a little...empty. Of course it's lovely to have the space, but if you're lucky enough to have one, you might feel it's lacking a certain something.
But don't worry, for there's a straightforward solution to give your lawn the focal point it needs.
First, learn how to mow straight lines (practice makes perfect) which will draw the eye down the lawn's length. Then, at the bottom of your plot, add a feature point. You could try a classic stone temple such as the one above, but a summer house, one of our she shed ideas, or even a water feature idea all make good alternative options. Your lawn will instantly feel balanced and more enticing.
7. Opt for a timeless armillary sphere
The beautiful, old-time instruments of armillary spheres and sundials, also known as 'shadow clocks', make a wonderful addition to a plot. You don't have to be a fan of ancient history to appreciate the look.
This one is created by Cavendish Stone, but you can also find ready-made options from Lowe's, and The Home Depot.
8. Introduce a year-round companion
This sweet robin ornament is an affordable and stylish way to bring cheer to any plot.
'The design has been a big hit, with customers buying for themselves, and as gifts,' says Rusty Rooster's co-owner Sara Raven. Sara explains that the robin is known as the bird of remembrance, which is why they've seen additional sales during lockdown. 'Customers have sent the gift to family and friends as a means of reminding loved ones that they are in their thoughts, even though they can not be together.'
'Our designs are made from mild steel. We encourage the rusting process by applying a special solution that we have developed. We love that the rusty patina complements any garden space.' We couldn't agree more!
Want to welcome more (real-life) feathered friends to your plot, to keep your garden ornament company? Follow our advice on how to attract birds into your garden.
9. Add a traditional air with a plinth and vase combo
'Garden ornaments, including classically-inspired urns and vases, often benefit from being raised up on a pedestal or plinth,' says Tim Redwood of Redwood Stone Folly and Garden. Their Ashmore vase and plinth (shown above) adds an elegant focal point to a garden, making a traditional statement amongst a flower-rich lawn.
It would look equally gorgeous in a wilder, meadow-style space as it would on a formal, pristine plot. If you love the idea of the former, check out our guide on how to plant a wildflower meadow.
Although it looks fabulous as is, you could also fill it with your favourite blooms, just be sure to add plenty of grit or gravel to improve drainage.
10. Go bold and contemporary with colourful angles
Want to bring a shot of colour to your lawn? Then take a look at this bright red, powder coated, steel wonder created by sculptor Gareth Griffiths, titled 'Burbank'.
'Burbank, like much of Gareth Griffiths' sculpture, is inspired by the post war Googie architecture of Southern California,' explains Ian Hay, Director of the Saul Hay Gallery. 'Googie itself was inspired by automobile design, jets, the Space Age, and the Atomic Age.'
'The boldness of form and the streamlined shapes may not immediately evoke visions of nature,' Ian continues, 'but in Griffiths' hands the ingenious use of asymmetric construction brings a naturalism reminiscent of pine forests, jungle vines or even delicate falling petals.'
'In the context of a garden setting these qualities brilliantly contrast and complement the surrounding natural elements and provide a striking focus to any garden design.'
If you love a contemporary look, check out our advice on how to make a garden feel modern.
11. Embrace larger-than-life blooms
These sculptural interpretations of cow parsley are created by Garden Art and Sculpture and make an eye-catching feature for any lawn. They will draw the eye with their beautiful rusted patina and look lovely arranged in groups.
You could dot them around your borders too, for added interest.
12. Light up your lawn with fairy-tale features
For a whimsical dose of fairy-tale charm, opt for light-up lawn decoration ideas. They will cast an enchanting glow come nightfall, to be enjoyed from the patio or through a window.
A delight for adults and children alike, opt for mushrooms or illuminated woodland animals for an Alice in Wonderland vibe. And, if you're looking for more inspiration, head over to our garden lighting ideas guide.
13. Boost the fun factor with a hippo sculpture
If you're looking for something out of the ordinary, then check out these charming hippo sculptures. Created using the cold cast iron method, these beauties are made from iron powder mixed with resin to create a durable, weather-resistant decoration for your plot.
They look almost identical to traditional cast iron ornaments but are much more affordable. Plus, as an extra bonus, they are lightweight, meaning you can move them around with ease when it's time to mow the lawn.
The pieces are finished with a spray-on patina solution. This produces a lovely rusted coating that develops over time, adding even more character. A fun addition for all the family – check out our family garden ideas for more inspiration.
Do lawn decorations need maintenance?
Whether lawn ornaments need maintenance or not depends on the material that they're made of, but we have some top tips below.
Rusted metal
Rusted metal is made to be weathered – so maintenance isn't necessary. 'Unlike other decor, the rustic designs need no protection from poor weather, and can be enjoyed all year long - rather than having to be stored away in the winter,' says Sara Raven, Co-owner of Rusty Rooster. Pieces made from this material can be enjoyed year after year, as 'the rusty patina only gets better with age,' she adds.
Bronze
Justin Williams, Cavendish Stone's Director, says that it's 'difficult to give a definitive answer as to how a sculpture will age and over what period of time', due to the range of different environments and types available. However, 'the gilding of a bronze sculpture should hold true for several years, before needing any touch ups,' he says. 'People often like the slow ageing of a sculpture so we encourage people to assess for themselves, every few years, if the sculpture has the feel they are looking for.'
'We don't recommend lacquering bronze to try and maintain the bronze patina. In an aggressive environment, such as an exposed coastal area, the lacquer will peel and create a real problem.'
'We generally wax the finished patina, then let nature take its course,' Justin continues. 'You can continue to wax the sculpture, say two to three times a year, and this will slow down the ageing considerably,' he adds.
Stone
Generally speaking, an antique stone ornament can be left alone, to let natural patinas develop – the more weathered the better. In fact, cleaning can actually reduce its value, should you one day decide to sell it.
New stone items generally don't need cleaning either, even if they've been made to look older than they are. 'Redwood Stone has perfected a technique of producing aged stone that looks hundreds of years old. Exactly how we do it is a closely guarded secret but one great advantage is that they age more with time and cleaning isn't a chore you'll have to worry about!' says Tim Redwood of Redwood Stone Folly and Garden.
Mirror polished stainless steel (or other fine art sculptures)
When cleaning mirror polished stainless steel or other fine art sculptures, the team at David Harber recommends a gentle touch. 'Periodic cleaning will help preserve the beauty of any David Harber artwork,' they say. 'We would recommend our sculptures be cleaned at least once a year with only warm water and a soft cloth to remove any detritus. Use of any abrasive cleaner will damage the finish and must be avoided.'
'Sculptures with gold leaf gilding should be washed gently with a garden hose – avoid high-pressure jets which can damage the delicate paintwork,' they add. 'Our core advice is to be gentle and take care.'
However if in doubt, it's always a good idea to check with the artist or sculptor who created the piece. David Harber products come complete with maintenance instructions which are issued to customers upon installation.
Fancy giving the rest of your plot a spruce? Then you can find more advice about how to clean wooden outdoor furniture, how to clean a patio, or how to clean decking in our guides.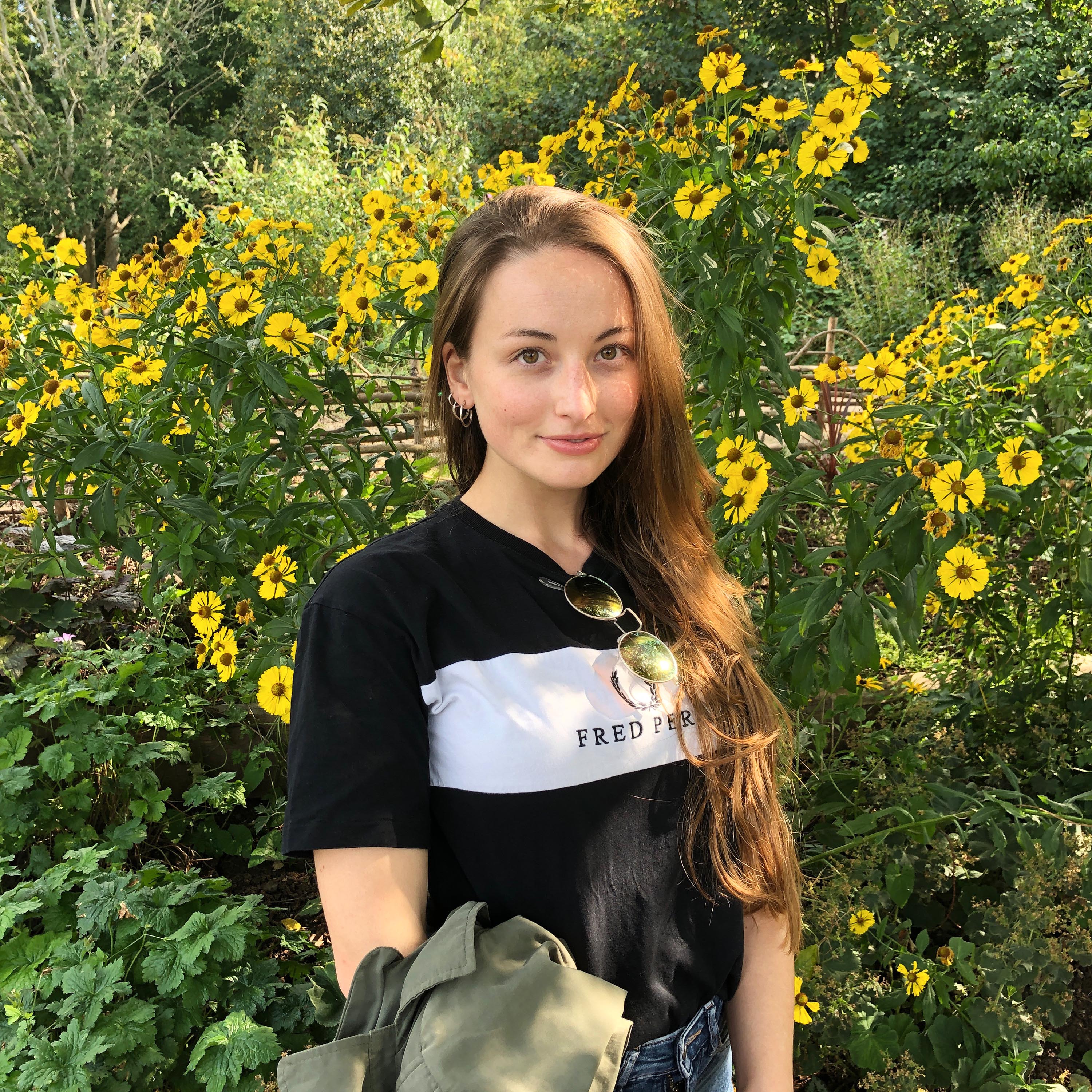 The garden was always a big part of Holly's life growing up, as was the surrounding New Forest where she lived. Her appreciation for the great outdoors has only grown since then. She's been an allotment keeper, a professional gardener, and a botanical illustrator – plants are her passion.