The best plants for seed heads: 8 ways to add interest to your garden
Decorative seed heads add much-needed form and texture in the winter garden and look great arranged indoors too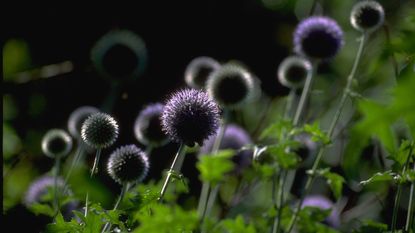 (Image credit: Future)
Decorative seed heads and pods bring interest to the autumn and winter garden as they add height and detail at a time of year when everything else is fading or finished. A sprinkling of frost or snow highlighting them in the winter sun just adds to their simple perfection. Even better, they're a gift to wildlife as birds love snacking on their seeds, while insects make a home in them.
You can double the wow by bringing them indoors to arrange in vases and jugs that will last right round to spring. Displaying dried seed heads and grasses indoors is a real trend at the moment. Arranging three or four stems simply in a tall, modern vase makes a statement look, or mix them together with other dried flowers for more drama. Many seed heads also look stunning with a quick spritz of silver spray to turn them into fuss-free Christmas decorations.
We've rounded up eight of our favourite decorative seed heads that tick the box every time when it comes to looking good inside and out, plus there's plenty more ideas for adding interest to your garden all year round with our advice on how to grow ornamental grasses.
1. Allium
The airy seed heads of alliums rise high on spiky stems to float above other plants and add a strong vertical accent. The bobbing heads give a touch of geometry to your garden design. Whether planted in a drift or bursting up at random, these pretty spheres create an eye-catching feature in the autumn garden. For maximum wow factor dry the huge spherical heads then spray them silver for Christmas. Our guide on how to dry flowers is packed with useful tips to help you get maximum enjoyment from your garden flowers.
2. Clematis
The long-lasting silky-tasselled seed heads of some varieties of clematis last right through autumn into winter to add visual interest to the garden. If you love this look and want to learn how to grow clematis, try brilliant yellow 'Bill MacKenzie', a vigorous grower that will add something to your garden all year round. The fluffy seedheads often appear at the same time as the large starry flowers with their inky stamens to double the standout factor.
3. Love in a mist (Nigella)
When the lovely blue flowers of nigella damascena fade, the decorative striped seed pods with their delicate 'horn' detail take centre stage. With their green and purple stripes these balloon-shaped seed pods look good both in the house and out. They can be left in the garden to add a striking winter detail or used indoors to add an interesting note to a vase of fresh or dried flowers.
4. Echinacea (coneflowers)
Once echinacea sheds their purple and pink or bronze and red petals the magnificent cone-shaped seed pod is revealed. It's because of this shape that they get their common name of coneflower. These distinctive seed heads are just as lovely as the flowers they replace. Having worked as one of the top bee friendly plants all summer, now watch the birds descend on them as they love eating their seeds.
5. Teasels
The big guns of the seed head world, dramatic teasels are all over web shopping pages as they're a florists' favourite for dried flower arrangements. A fine architectural plant in the summer garden, the seed heads really come into their own in autumn as they tower above rosettes of prickly leaves. Teasels dry to an attractive golden colour and look great either mixed in with other flowers or on their own.
6. Eryngium (sea holly)
With a ruff of finely etched bracts surrounding a shapely cone, sea hollies are a bold statement if you like the idea of Mediterranean gardens. The deeply cut, blue or grey-green bracts turn to silver-grey as the season progresses, and the spiky seedheads add a stunning silhouette to the winter garden. Try the variety 'Silver Ghost' if you want one that's silvery-white all year round. Sea holly also makes a great addition to dried flower arrangements and can be sprayed silver for Christmas.
7. Poppies
The attractive seed heads of poppies are a perennial favourite and still look good in the garden when everything else has faded. Don't forget to gather some seeds from a couple of the pods. The seeds are dry when you hear them rattle when you shake the pods. Cut a hole in the top of each pod and pour the tiny black seeds into a glass jar with a tight-fitting lid. Label and store in a cool dry place for sowing next year.
8. Echinops (globe thistle)
Popular for their pompoms of metallic blue flowers that attract hordes of insects and graceful silvery branching stems, plant these in a drift to add a lovely architectural detail to the garden that lasts from summer into autumn. The butterflies, bees and birds love their distinctive seedheads too. A fabulous dried flower, hang them up indoors to dry then make good use of them in indoor arrangements. Head over to our indoor plant ideas for more brilliant ways to bring the outdoors into your home.
Read more:
Lifestyle journalist Sarah Wilson has been writing about gardens since 2015. She's written for Gardeningetc.com, Livingetc, Homes & Gardens, Easy Gardens and Modern Gardens magazines. Having studied introductory garden and landscape design, she is currently putting the skills learned to good use in her own space where the dream is establishing a cutting garden.