Christmas wreath ideas: fabulous ways to decorate your door for the festive season
Decorate your door with the latest Christmas wreath ideas and create a stunning festive welcome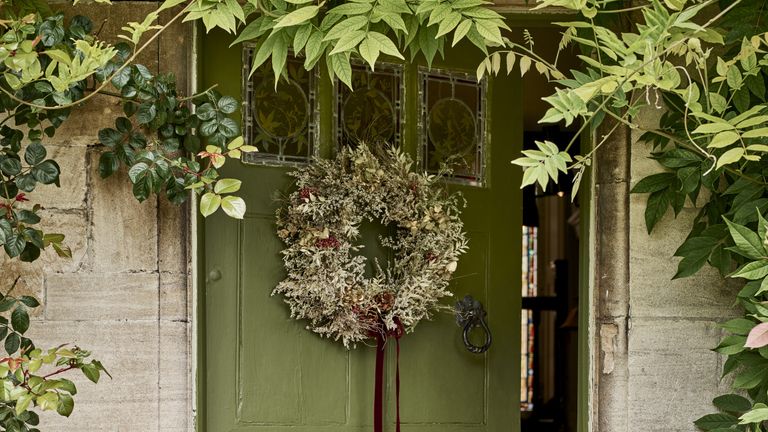 (Image credit: Neptune)
Looking for original Christmas wreath ideas to add a stylish touch to your front door for the festive season? Not only will a beautiful wreath welcome your friends and family to your home, but it will brighten up your door and bring a guaranteed smile to your face whenever you come home.
Whether you love the idea of a low-maintenance faux design, want to try the latest trend for dried flowers, or prefer to add some sparkle with lighting, we've put together the top looks you should try this year.
Keep scrolling for our favourite Christmas wreath ideas, and if you're feeling crafty, make sure you check out our easy step-by-step guide on how to make a Christmas door wreath.
1. Go for a classic colour scheme
There are times when the classic red and green colour scheme of Christmas is a winning choice for your front door. These rich colours work particularly well when set against the dramatic backdrop of a dark painted front door. Whether you go for real foliage or berries, or a faux design such as the one pictured, you could even bring it indoors on Christmas Day and turn it into a centrepiece for your Christmas Day table. Place a selection of battery-operated candles in the middle of it and you'll have a stunning focal point for your festivities.
2. Give the dried flower trend a go
Dried flowers are a big trend right now and will continue to be going into 2021, and it's easy to see why. They are oh-so-natural and look fabulous on front doors. The best bit? You can keep them for months afterwards too as they will still look lovely as they naturally age – just remove the festive ribbon after Christmas is over and you could leave it on the door to brighten up your home for the rest of winter. Want to learn how to dry flowers yourself? Head over to our guide for expert tips.
You could even learn how to make a Christmas wreath using garden foliage with stems from some of your favourite plants, or foraged finds that you pick up on your walks. There's plenty of dried fern about right now, so simply add in some ivy, berries and fir and you could whip up your own in no time.
3. Go faux for a low-maintenance option
If you want to enjoy your wreath this Christmas and beyond, then opt for a faux design. The latest designs look incredibly realistic, and the best bit is you can store it away after Christmas and unpack it again the following year. This classic design has berries and fir cones with snow effect fir, which is another top trend for this year. Add your own ribbon to it to personalise the design and make it stand out from the crowd.
4. Choose fresh foliage for a stunning scheme
Nothing beats a fresh wreath – the scent of the spruce and eucalyptus foliage conjure up all of our Christmas memories! There are so many different designs to choose from and you'll see berries galore in various colourways, pine cones, feathers, lotus heads and even cinnamon sticks. If you're after a traditional look, go for one that has dried fruit like apples, limes and oranges attached.
5. Add lights for some extra sparkle
Not everyone is a fan of the classic spruce wreath with all the trimmings, but there are plenty of modern alternatives to choose from. Why not choose a design with LED lights for some added sparkle too? A rattan design like this will work for a contemporary home, plus you could add a bold ribbon to it if you want an extra splash of colour.
6. Go for maximum scent
Scent is important to us all year round, but at Christmas it's key. Aside from the usual wreath scents like spruce, dried fruit and cinnamon sticks, you can invest in one that comes with deliciously scented roses. This stunning wreath features nine highly scented roses that have a vintage colour palette. It will smell stunning as your guests arrive for festivities this Christmas.
7. Keep it simple for a Scandi vibe
Want something more simple and streamlined? By choosing a metal wreath as the base of your design, you could decorate it with just the right amount of foliage to suit your chosen style. You could of course cover the wreath base with lots of foliage for a fuller effect, but we love the simplicity of adding just a few sprigs of eucalyptus to bring it to life. With its stripped back Scandi feel, this Christmas wreath idea would look just as beautiful inside your home as it would on your front door.
Read more: