Outdoor Christmas decor ideas: 32 fabulously festive looks for your backyard
Our edit of outdoor Christmas decor ideas will help transform your garden into a winter wonderland this holiday season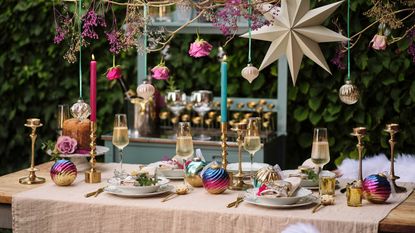 (Image credit: Wayfair)
Are you on the lookout for show-stopping outdoor Christmas decor ideas? Then you've come to the right place. We've brought together plenty of gorgeous looks to give your space a holiday-season makeover that is bound to get everyone in the festive mood.
Although the weather may be a little chillier, there's no reason to overlook your garden when it comes to decorating your home for the holidays. After all, not only will a twinkling outdoor tree, a beautiful wreath, or a cluster of outdoor Christmas lights provide a warm welcome to visitors, it will instantly boost your home's curb appeal and can be admired through a window, too.
What's more, giving your outdoor living area a festive update will entice you to make the most of the space, despite the cooler temperatures. We think most people would agree that cozying up around a fire pit – a hot chocolate or mulled wine in hand – is a wonderful way to while away an afternoon with loved ones.
Outdoor Christmas decor ideas that will give your plot plenty of festive sparkle
There are so many options when it comes to outdoor Christmas yard decor. So, whether you're after a simple-yet-chic theme that's budget-friendly or you're looking to create an extravagant winter wonderland, you can guarantee there's a style to suit.
1. Layer up the string lights
Illuminate your garden with some of the best outdoor Christmas lights. That way, the space will be transformed into a magical winter retreat once night falls.
It's one of the quickest ways to create a welcoming glow in time for Christmas. Just remember that at this time of year, mains or battery-operated lights will give a brighter and more intense glow than solar lights (unless you live in a warmer region, of course).
The trick is to layer up the lights on lots of different levels. For instance, wind fairy lights around tree trunks and overhead, and then place uplighters around borders at ground level, or use them to highlight feature trees or shrubs. You can also hang twinkling lights from pergolas, or glow up a greenhouse or even a camper van, as seen here, for a cozy nook.
2.
These waterproof curtain lights are perfect for glowing up a pergola or garden wall. What's more, there are eight lighting modes, so you can set the right mood for the occasion easily.
3.
100ft outdoor festoon lights
Not just for the festive season, festoon lights are one of our go-to lighting options for illuminating a patio. These outdoor ones have a vintage charm, and are made from shatterproof PVC.
4.
Outdoor Christmas light net
Lighting up your hedging plants for the festive season couldn't be simpler with these LED nets. With a green wire, they'll blend into the foliage during the day, then create a show-stopping impact at night.
5. Decorate doors and walls with festive wreaths
Christmas wreaths are a classic decoration and will instantly elevate an otherwise blank wall or door.
There are so many options to choose from, from glitzy light-up designs to natural foliage looks. Of course, if you're feeling crafty, you could even make your own: we love a DIY pampas grass wreath for its modern appeal.
Just ensure you choose one that ties into the rest of your outdoor Christmas decor ideas. This frosted, red-hued style, for instance, pairs well with the vintage-inspired ornament and pine cones that decorate the windowsill.
6.
Add a touch of modern glamour to your Christmas front door decor with this handmade metal design. With its delicate botanical details, it's a wonderful twist on a classic wreath.
7.
Faux frosted berry wreath
Featuring frosted pine cones, twinkling lights, faux foliage, and jolly red berries, this traditional wreath will greet all your guests with a warm welcome.
8.
Preserved poppy fields wreath
Prefer a natural, rustic look? Add instant charm to your Christmas porch with this wreath made from aveba oats, saltese grass, flax, ammobium, bunny tails, and poppy pods.
9. Curate an enchanting tablescape
'Weather permitting, embrace outdoor dining this winter, creating a glamorous picture-perfect setting,' suggests Wayfair's Resident Style Advisor, Nadia McCowan Hill.
'Hang spray-painted branches above your table and adorn with decorations of your choice for that extra-special statement look,' she continues. We love the paper star, the pink roses, and the combination of gold and ribbons in this display.
'Candles, fairy lights, and cozy faux fur throws will transport your garden dining experience into a truly magical winter wonderland,' Nadia adds. Add one of the best patio heaters nearby to keep everyone feeling warm and comfortable.
10.
Twigs and berries cotton napkin
Made from organic cotton and screen-printed by hand in Delhi, these patterned napkins will make any festive table feel extra special. Pair with homemade place cards.
11.
Zaza lustered coupe glasses
Celebrate the holiday season in style with this set of four glasses. With their coupe shape and sparkling gold rim, they're the perfect vessel for your favorite Christmas tipple.
12.
Curate a woodland theme for your tablescape with these adorable, unscented, pine cone candles. Edged with glittering gold, they're a subtle yet stylish way to embrace the season.
13. Cozy up your patio
A covered deck or patio is a useful space for entertaining friends at Christmas. Canvas sail shades or awnings are great for a temporary fix. They can be attached to walls, trees, fences, and posts using easy-to-install ring and loop fixings. Choose a tight-weave fabric that's waterproof.
You can then style your covered space as an outdoor 'room'. Keep the color scheme neutral and add plenty of natural textures – think rattan, potted evergreens, and pine cones – for a Scandi-chic feel. You'll need some twinkling lights, too, to enhance the inviting ambiance as the evenings draw in.
Don't forget to keep it comfy with seat pads, cushions and throws draped over metal chairs and wooden benches, and of course to place over your knees to keep snuggly, says Chrissie Rucker, Founder of The White Company.
14.
Handwoven Zandra indoor/outdoor rug
Give your patio an extra layer of textural interest with this handwoven rug. The neutral tones will complement all sorts of schemes, and there are multiple sizes available.
15.
Add a flickering candle and this elegant lantern will instantly cozy up an outdoor or indoor space. There are two sizes available – why not buy one of each?
16.
SOHO HOME wool-blend throw
Keep warm outdoors by snuggling up in the luxurious Sima wool-blend throw. We adore the abstract pattern, rich colors, and tassel details.
17. Keep it timeless and traditional with potted trees
Potted types of Christmas trees, whether real or fake, provide the perfect greenery outdoors we well as indoors at this time of year.
Buy one especially for your garden to add an instantly festive vibe, then add sparkly outdoor-suitable lights and even some hanging ornaments. It's a great idea whether you're planning on using your outdoor space right through the season or simply wish to admire it through the windows from indoors. Pop your tree into a galvanized planter for a rustic-chic style. Our guide has lots of tips on how to grow your own Christmas tree for the best results.
If you're looking for a quick and low-maintenance fix, invest in a faux, pre-lit, pre-potted tree just like this one shown above that can be used indoors and outdoors year after year.
18.
Artificial unlit glittered balsam fir
At 2.5ft in height, this faux tree is well-suited for dressing up a small and sheltered porch or patio. A burlap bag adds a rustic touch, and we love the snow-effect finish.
19.
Try something a little different this year by opting for this magical light-up faux birch tree. With 1,000 LED lights, it'll give any lawn or patio an ethereal glow.
20.
Flank your doorway with this duo of small, light-up, potted faux trees. Leave them as they are for an understated look, or decorate with colorful baubles or elegant stars.
21. Stick to a color scheme
Picking a garden color scheme and sticking to it is a simple but effective trick that can be applied to any sort of garden decor. It also helps to narrow down your choices, making the planning stage easier.
When it comes to colors for your outdoor Christmas decor ideas, there are a good few options to choose from. Jolly red and emerald green are reminiscent of evergreen trees and winter berries, so are a classic combo. Take a look at this extravagant scene, for example, which also brings plaid into the mix.
Blues and whites offer a modern freshness, while jewel-like tones of purples and pinks will provide a sense of opulence. Or, perhaps a neutral scheme is more your vibe for a sense of understated sophistication. And you can't go far wrong with bringing in a touch of metallic to up the celebratory feel – whether that's luxurious gold, shimmering silver, or rustic copper.
22.
Embrace the festive color-combo of red and gold with this vibrant wreath, decorated with glossy faux berries and a shiny bell. Perfect for your front door.
23.
This durable door mat will instantly give your front porch a Christmassy feel and ties in well with a traditional festive color scheme.
24.
Tinsel bows light-up decorations
This set of three glitzy gift decorations can be used indoors and out, and has an enticing glow. Place in a porch to give your home instant curb appeal.
25. Plant up pretty window boxes
Windowsills provide a brilliant base for Christmas decor, especially if you want to bring some of the best winter plants for pots into your festive scheme.
Plant up narrow containers with evergreens and wintry blooms such as hellebores, heather, and cyclamen for a beautiful living display. Alternatively, you could simply arrange cuttings of evergreen branches alongside pine cones, berries, and faux snow together for an eye-catching feature.
Either way, weaving outdoor microlights into the scene will only elevate it further.
26.
Give your window box displays an upgrade with these jolly red berries – simply push the stems into soil, chicken wire, or foam at the bottom of your container.
27.
Trumble window box planter
We love the cute woven effect of these rust-resistant planters (they come as a set of two). Fill with seasonal plants and add to your window sills or balcony railings.
28.
Add festive greenery to your window boxes with these versatile faux foliage sprigs. You could use these for other Christmas decorations, too, such as DIY wreaths or garlands.
29. Add festive stickers and lights for an effective style
Speaking of pepping up your windows, Christmas window stickers are budget-friendly, easy to install, and very effective. Look for festive designs and arrange them across panes, as seen here, for a smart and seasonal look that can be enjoyed from both indoors and out. Sticking to minimal shapes will set a modern tone, and you can elevate them further by teaming them with some stylish Christmas window lighting.
Artificial snow spray is another option for taking windows from drab to fab easily. Just make sure you read the label first to check your product is suitable and simple to remove.
30.
Featuring 12 stars, eight lighting modes, and suitable for both indoors and out, these curtain lights are a beautiful choice for teaming with your chosen window stickers.
31.
White snowflake window stickers
Turn your windows into a winter wonderland with these snowflake stickers. They're quick and easy to apply and remove and super effective at spreading festive joy.
32.
Give your windows a magical glow by stringing up these indoor, battery-operated pine cone lights. They include a handy timer setting for ease.
How can you decorate your garden for Christmas? More top tips
By now, you hopefully have plenty of outdoor Christmas decor ideas to try this season. But another lovely option to try is to bring in one of the best fire pits – a must for cozy winter patios. Whether it's a chiminea, outdoor fireplace, or a classic bowl design, the warmth and glow will bring instant atmosphere. And the best part is, they're not just for the festive months: a fire pit will help you make the most of your space all year round.
An enclosed fireplace with a chimney will keep things contained and will provide a safe and sociable way to burn logs. Fire pits are suitable for a larger garden with plenty of space to site them safely. If you only have a tiny area in which to entertain, consider a bioethanol-powered outdoor fire. They're suitable for tabletops or patios, you get all the benefits of real flames without the mess, and they're eco-friendly too.
And if you're looking for a great idea for a festive winter garden party, try warming a cast-iron pot of mulled wine over the fire on a cooking grill – just let the heat build and the flames die down before you begin. Looking for a non-alcoholic alternative? Swap the wine for apple juice.
We've already stressed the importance of outdoor lighting, and Chrissie Rucker from The White Company agrees. 'Define the space with light – whether strings of fairy lights or an array of storm lanterns,' she says. 'Smaller candles and tea lights in glass and mercury holders will bounce the light and will also give you bags of atmosphere. A pre-lit tree or wreath will provide a super statement on any terrace.'
How can you decorate your yard for Christmas on a budget?
On a budget? No problem – you can still bring plenty of Christmas cheer to your garden. Here are a few tips to try:
Make the most of natural decor. Think evergreen branches, dried citrus slices, sprigs of berries, pine cones, even twigs and logs. With a bit of creativity, they can be arranged to make beautiful displays. How about trying our DIY Christmas decoration ideas for your outdoor tablescape, or some easy twig decorations?
Ribbons are an affordable material that can quickly boost the look of a garden. Tie red, gold, or silver bows around planters, gates, or fence railings for an easy decorative look.
Flickering candles in lanterns will always create a magical glow when dotted either side of your door or around your patio. Opt for outdoor-appropriate LED versions instead of real flames to keep things safe – they're very affordable.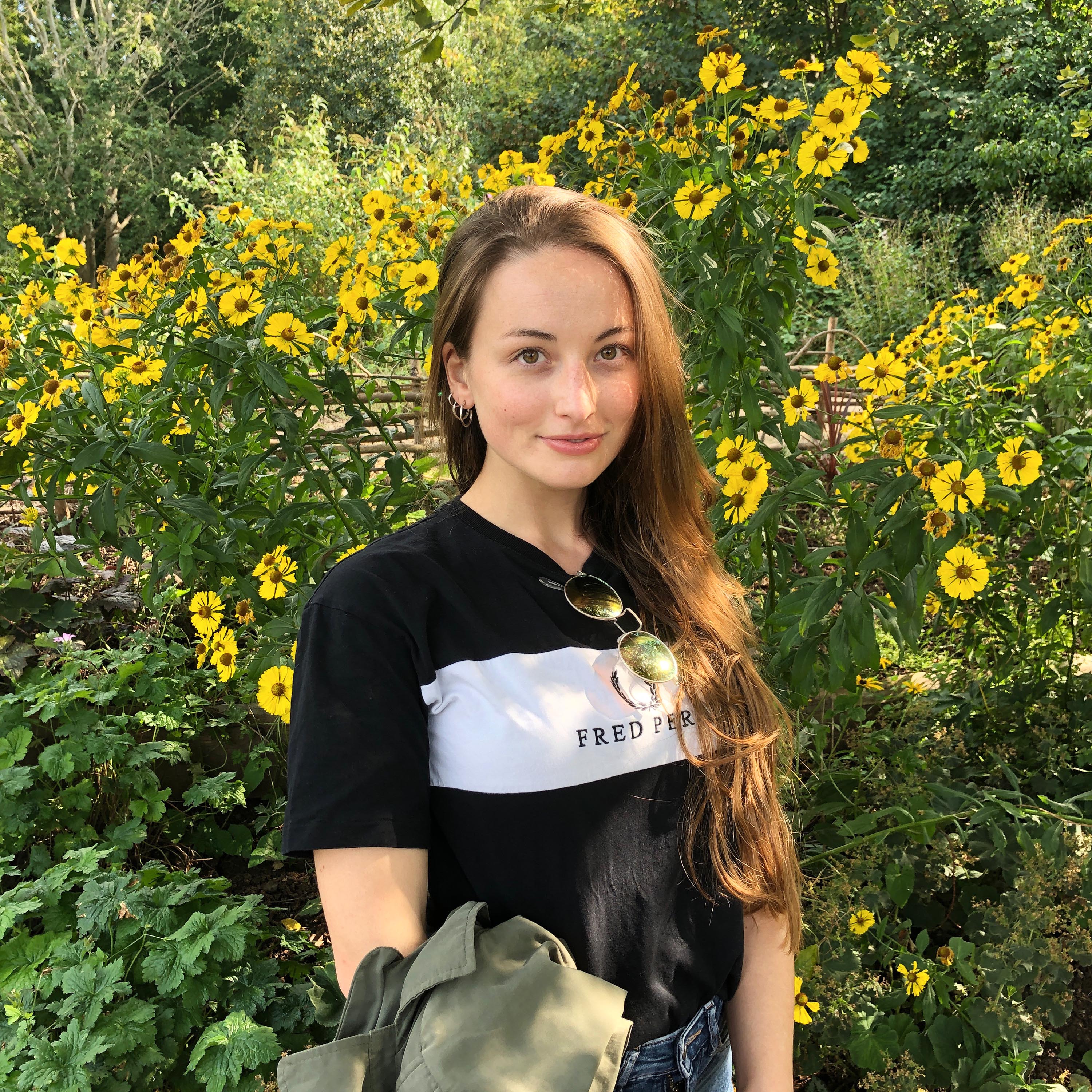 The garden was always a big part of Holly's life growing up, as was the surrounding New Forest where she lived. Her appreciation for the great outdoors has only grown since then. She's been an allotment keeper, a professional gardener, and a botanical illustrator – plants are her passion.