Winter garden party ideas: celebrate outdoors in style this festive season
Planning an alfresco gathering this season? Our winter garden party ideas are just what you need to transform your space into a fabulously festive entertainment zone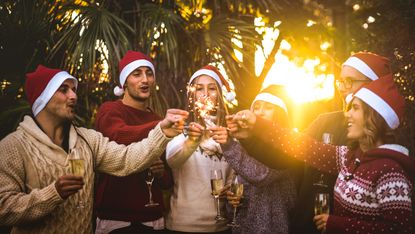 (Image credit: Getty Images)
Hoping to arrange a festive get-together outdoors? Our winter garden party ideas are the best way to give your outdoor space a seasonal makeover you'll love. Create a wow-factor entertaining space this winter and welcome guests with great food, twinkling lights and plenty of festive spirit.
After all, there's no reason why gardens should only be enjoyed for six months of the year. With a bit of thought and some simple tweaks, you can create a stylish, cosy all-weather area which is perfect for spending time outdoors all year long. With the prospect of outdoor gatherings being the safest way to meet up with relatives this Christmas, creating a warm, comfy and welcoming outdoor space is more important than ever too.
So whether you want ideas for fun ways to spend time with friends, great options for cooking outdoors in winter or simple updates to give your patio a little extra sparkle, we've got everything you need to transform your garden into the ultimate winter entertaining space. Keep reading for our top party ideas, the simply grab your best Christmas jumper, get in the festive spirit and you'll be good to go. You'll find plenty more inspiration for your outdoor space in our garden design ideas too.
1. LET THERE BE LIGHT
Iluminating your garden with the best outdoor lights to create a magical glow is not just atmospheric, it's practical, too. It eliminates trip hazards, while creating a cosy, uplifting ambience. The trick is to add light on lots of different levels. Wind fairy lights around tree trunks, place solar uplighters around borders at ground level, or use them to uplight feature trees or shrubs. Hang swags of fairy lights from pergolas or string them along fences. Mains or battery-operated lights will give a brighter and more intense glow than solar lights at this time of year.
2. Gather round an open fire...
Whether it's a chimenea, outdoor fireplace or one of the best fire pits, the warmth and glow of a fire brings instant atmosphere and cheer. What you choose as a heat source may depend on the size of your garden and – in the case of a fire pit – the proximity of your neighbours.
An enclosed fireplace with a chimney will keep things contained, and it provides a safe and sociable way to burn logs. Fire pits are suitable for a larger garden with plenty of space to site them safely.
If you only have a tiny area in which to entertain, consider a bioethanol powered outdoor fire. Suitable for tabletops or patios, you get all the benefits of real flames without the mess, and it's eco-friendly too. Try Wayfair for a wide selection of designs. Alternatively, why not make your fire pit? Our feature on how to build a fire pit has all the advice you'll need.
3. ...and toast marshmallows over the flames
Once you've got your new fire pit, you'll definitely want to make toasting marshmallows a regular garden activity. Provide long toasting forks and piles of marshmallows for guests to cook their own. Set out individual plates on a toppings bar for dipping when the marshmallow is soft and gooey. Try crushed toasted nuts, crumbed pretzels for a salty twist, or chocolate sprinkles. For more fit pit ideas, head over to our feature.
4. Create shelter
Crisp and cold weather is perfect for an outdoor gathering, but nobody wants to be damp and chilly, so a covered area is essential if you're inviting guests to enjoy your garden when there's an unpredictable forecast. Canvas sail shades or awnings are perfect for a temporary fix. They can be attached to walls, trees, fences and posts using easy-to-install ring and loop fixings. Choose a tight weave fabric as this will be waterproof. Arrange garden furniture underneath the shelter, and lay down outdoor rugs to zone the space.
5. Transform your garden shed
If your garden shed is roomy, transform it into a temporary alpine lodge or a charming space with our she shed ideas. Clear out the junk and give it a thorough clean. Add some garden chairs or bench seating, and layer them with sheepskin rugs and blankets. Candle lanterns add a welcoming glow – use LED tealights for safety.
Introduce a table for drinks and snacks. Cover with a white sheet and decorate with a twiggy branch sprayed white or gold in a vintage bottle or a vase, or forage on a countryside walk for teasels, dried grasses and seed heads to make a natural arrangement. Serve food on rustic wooden chopping boards or trays, and add a selection of traditional board games for guests to enjoy. Try a music quiz for everyone to enjoy – or ditch the technology and opt for old-fashioned bingo for multi-generational fun.
6. DECORATE WITH PLANTS AND ACCESSORIES
Evergreen herbs in pots make pretty table decorations – rosemary and thyme are good choices. Snowy white heathers (try 'Springwood White') adds some wintry chic, or plant some big bowls of white pansies with silvery leafed cineraria foliage. Sweet box (sarcocca confusa) is an evergreen shrub with tiny white flowers which have a surprisingly strong and sweet perfume. It can be positioned on a patio in a container. Fresh eucalyptus is always a good way to add some seasonal touches to your space too – use it to decorate outdoor tables and you'll get to enjoy its beautiful scent all evening.
For other ideas, you could create a display of winter florals by grouping pots together and standing them on a wooden sledge. You can find vintage ones on eBay, or try the pretty beech sledge from Garden Trading. Alternatively, hang evergreen wreaths around the patio. Make your own by twisting a metal coat hanger into a circle. Keep the hook at the top, and decorate with trailing ivy, strands of rosemary and eucalyptus around it, securing them with thin florists' wire. Find more ideas in our best plants for winter pots feature.
7. Have a garden pizza night
There's so much more to outdoor cooking than grilling meat on a barbecue. Pizza ovens have proved to be a popular purchase during lockdown (as you'll know if you've tried to get your hands on one), and it's easy to see why.
Some barbecues include pizza stones, but dedicated wood-fired ovens are increasing in popularity, owing to their fast cooking times. Once heated, a process which can take around 15 minutes, pizzas will cook in a matter of minutes (often just 60 seconds) and they can be easily customised for vegetarian, vegan or meat-eating guests. They really lend themselves to autumn and winter entertaining – what could be more fuss free than tucking into a piping hot wedge of pizza with melted cheese and roast vegetables? From large freestanding models to tabletop designs that are ideal for smaller spaces, you can find all the best pizza ovens in our guide, plus we've got plenty of pizza oven recipes to cook in them too!
8. Or cook up a storm with a smoker BBQ
Just like the best BBQs, smokers and roasters are all available at a range of prices. Opt for fuss-free food such as a joint of pork cooked low and slow, carved into buns and served with tangy apple sauce. Delicious!
Weber's Smokey Mountain Cookers are designed to give fish, meat and even cheese a delicious smoky taste, by creating the optimum conditions for food to cook at long, low temperatures, fuelled by charcoal briquettes which can be topped up in a chamber at any time during the process.
Tagines are richly spiced, slow-cooked stews from Morocco, which are ideal for feeding a crowd. They can be cooked outdoors over coals by placing an ovenproof tagine pot on the rack of a grill or over a small fire on the ground. Buy a tagine pot which is designed to be used on a kettle barbecue.
9. BBQ a turkey for a Christmas Day feast with a twist
A Christmas Day BBQ might be a more familiar option for anyone living in warmer climates at this time of year (we're looking at our southern hemisphere friends here), but as increasing numbers of us consider the safest way to host festive get-togethers this year, having a winter BBQ is growing in popularity. So why not grab the best BBQ from the back of the shed and cook Christmas Day lunch outdoors this year by opting for a BBQ turkey?
A charcoal kettle-style BBQ is a good option for cooking your turkey outdoors. You can place the turkey on the grill in the centre of the BBQ with the coals underneath to each side, which allows the turkey to cook through indirect heat. It's also possible to cook it on a gas BBQ, although only use the outer burners rather than the ones in the centre where the bird will sit. As a rough guide, you should allow 20 minutes of cooking time per 1lb of weight. Once cooked, allow the turkey to rest for at least an hour before serving – exactly as you would if cooking it in the oven.
10. Have a garden cinema night
We all love a good festive film at this time of year, but why not up your game with an outdoor cinema experience so you can enjoy watching it with friends too? In colder weather, all you need to do is throw on the woolly jumpers (Christmas themed ones obviously), grab some warm throws and cosy up outdoors on garden sofas or comfy picnic blankets and cushions. Even if it's just you and the kids, it's a fun adventure you can try during the holidays.
Need the right equipment for your outdoor cinema? You don't have to spend a fortune to get your hands on the best outdoor projector, and if you don't have a screen a large white sheet hanging on the washing line or strung across a fence makes a great alternative. Or you can simply use a blank white garden wall as your screen too. Add popcorn and fairy lights and you're good to go.
11. Serve hot toddies
Make the party go with a swing by offering warming winter garden cocktails garnished with freshly picked herbs from your herb garden. Impress your guests with one of these recipes...
Mulled cider
To make mulled cider, combine a litre of cider with one tablespoon of light brown soft sugar. Add a splash (about 100ml) of rum, plus four cloves, two cinnamon sticks, and a chunk of sliced, fresh ginger. Heat gently until the sugar is dissolved. Serve in mugs garnished with orange or tangerine slices and a fresh bay leaf.
Hot buttered rum
You need two parts of rum, two teaspoons of soft brown sugar, a quarter part of butter, one cinnamon stick, grated nutmeg and a fresh bay leaf. Melt the butter with the spices over a low heat. Add the rum and warm through. Strain into a heat proof glass and top up with water to taste. Garnish with the bay leaf and a star anise, if liked.
Delicious hot chocolates
For non-drinkers, set up a hot chocolate bar. Include customising options such as powdered cinnamon, crushed cardamom seeds or shots of caramel syrup. Add a pot of fresh rosemary sprigs to stir. Give our luxury hot chocolate recipe a go for the ultimate indulgent treat.
More outdoor living ideas: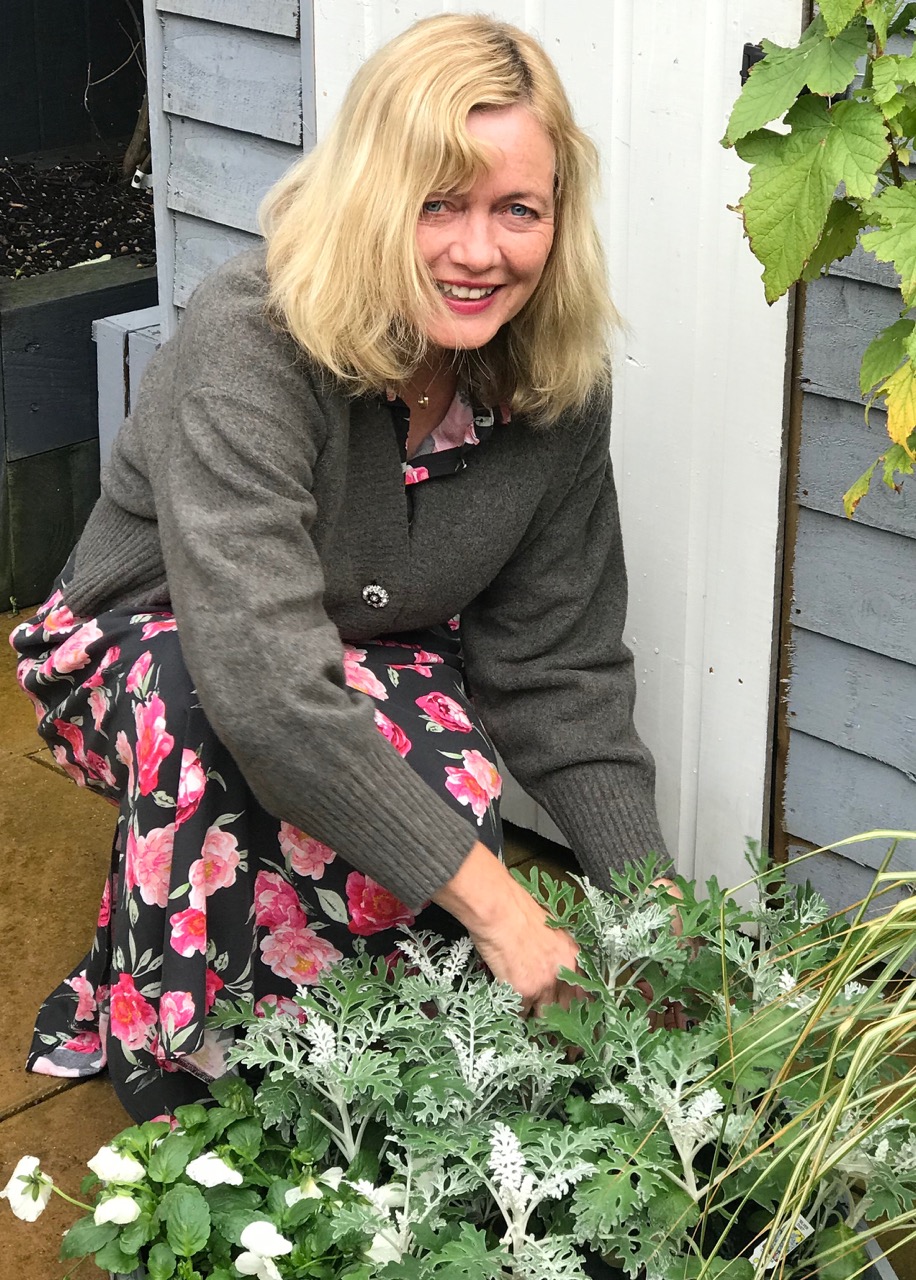 An experienced freelance journalist, editor and columnist writing for national magazines and websites, Fiona now specialises in gardens. She enjoys finding and writing about all kinds, from the tiniest town plots to impressively designed ones in grand country houses.