How much does garden lighting cost? The price of illuminating your outdoor space revealed
How much does garden lighting cost? If you're planning on a garden update, you'll certainly want to know. From prices to advice on saving, find all the answers here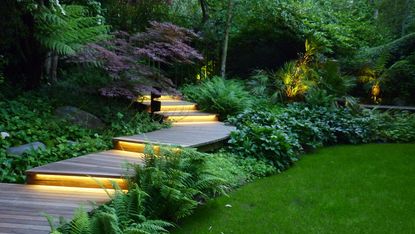 (Image credit: Andrew Wenham MSGD)
How much does garden lighting cost? If you're planning on revamping your plot, you'll certainly be wondering. Because lighting, as we all know, is extremely important in a garden, or any space for that matter.
It boosts the ambience, lets you see what you're doing, it's good for added security, guides the way, the list goes on! Just look at our garden lighting ideas to see all the possibilities on offer when illuminating your plot.
'Lighting makes an incredible difference in a garden,' says Jamie Moxey, Design Consultant at Dusk Lighting. 'Garden lighting enables you to use your outdoor spaces for longer in the evening. This used to be primarily the case in the warmer months, however now with features such as patio heaters and outdoor structures, people are using their gardens into the evening all year round.
'Lighting can be used aesthetically to highlight particular elements in the garden, such as a fountain or a sculpture,' continues Jamie. 'These features can then be appreciated throughout the evening, and their presence contributes to the atmosphere – particularly if you are entertaining guests.'
But, is it expensive? What should you expect? And, are there any clever ways to stretch your budget that little bit further? Read on to find out.
How much should I budget for garden lighting?
The overall cost depends on multiple factors, so it's impossible to give an exact figure without knowing your individual requirements. If you're looking for an instant boost with a string of solar-powered festoon lights or a few LED candles in lanterns, then chances are you won't have to save up for long.
'There are garden lighting ranges to suit virtually every budget, from 'plug and play' lights for subtle sparkle to premium ranges that are perfect for the ultimate wow-factor,' says the team at Lights4fun.
If, on the other hand, you want recessed floor lights in your decking, uplights beneath every tree, and galvanised wall lights along the exterior of your house, then expect to pay more.
How far away the lights are to the property, the brightness, and even the location of your home can also affect prices, so if you're going big, seek an garden lighting designer's or electrician's guidance – they will help you estimate the overall price for your sparkling new update and help you find a solution that's within your price range.
If you're looking to budget for a full lighting scheme, designed and installed by a garden lighting professional, this may help. Ajay Vasdev, Director of lighting designers and suppliers company Asco Lights, has shared his expert advice for useful ballpark figures:
For a small patio, expect to pay around £300/$400 for an initial consultation and lighting design. This will include concept drawings and expert know-how on how to make the very best of your space, as well as accentuating key features. Think a combination of low level lighting, illuminated bollards, and maybe some up-lit shrubbery using spike spot lights. The price of the lights themselves, plus installation will take the costs up to a price range of £800/$1,000 to £1,000/$1,400 overall. And the value it will add to your garden will make it totally worth it.
For a larger garden, say a four-bedroom detached family home, prices will increase. There might be a much bigger lawn, or more borders to illuminate, more walkways, etc. For the full installation, from consultation to execution, budget for £3,000/$4,000 to £4,000/$5,500.
For top-end garden lighting on multi-million-pound homes – we're talking illuminated water features and lakes, large driveways with in-ground lighting, multiple zones, the works! – then you can easily spend £30,000-£65,000/$40,000-$90,000, all in. This can also include more decorative pieces.
Ajay also comments on the popularity of high-end, battery-operated fixtures which resemble indoor lighting, such as floor lamps or large illuminated globes, which are made for outdoor use. These features are perfect for adding depth and drama to a space.
How much does garden lighting cost? A breakdown...
Fairy lights
'Battery and solar fairy lights are perfect for getting started,' says the team at Lights4fun. 'Outdoor micro lights nestle perfectly in trees and shrubs and create the perfect soft glow. Starting at £8.99 there are so many styles and designs to choose from.'
A set of outdoor fairy lights from Target or Walmart start at around the $10 to $15 mark.
If you think fairy lights are all the same, think again – there are tons of fun varieties on the market. 'Micro light flowers are a firm favourite as they add a pop of colour to flower beds,' says the team at Lights4fun.
Don't forget to check out our best outdoor lights guide for more ideas.
Festoon and string lights
We love festoon and string lights – they bring a sophisticated yet laid-back vibe to any outdoor space.
'Connectable festoons and fairy lights are the perfect choice for adding the ultimate sparkle to your space,' says the team at Lights4fun. 'With the ability to connect up to 150m from one plug, the opportunities to make your garden glow are endless.'
In the UK, prices start at around £20 for a string of 20 solar-powered bulbs (try Argos), to long-lasting plug-in varieties for £60 (see Cox & Cox), these are an affordable way to instantly lift your space.
In the US, you can buy a basic set of connectable globe string lights for around $25 (try Walmart) or a stunning 50ft set with 55 LED lights for around $50 from Home Depot.
Take a look at our festoon light ideas for inspiration.
LED candles
Outdoor, battery-operated LED candles are 'a must-have accessory to get your garden glowing. Their timeless design will never go out of style and they can be dotted around your outdoor space,' says the team at Lights4fun.
'As your garden lighting collection grows, you can pair your candles with outdoor lanterns and fairy lights,' they add.
Another affordable option, this lighting solution costs as little as £5 (try Sarah Raven or Lights4fun).
Statement pieces
'Adding statement pieces to balconies and patios such as illuminated fountains or timeless black lanterns will instantly elevate your setting and will add the perfect elegant atmosphere at all levels,' says Lights4fun.
'For gardens, illuminated rattan figures are the ideal choice, place endearing rabbits and toadstools on the grass all summer long, when winter comes swap the bunnies for some festive reindeer figures to brighten your space!'
These are often a little more expensive than fairy lights, LED candles and festoons, but the enchanting effect they will bring to your garden will make it totally worth it. For an illuminated water feature, expect to pay at least £100/$100 or more.
Wall lights and pendants
These types of light are practical as well as adding to the overall look of your garden. The costs vary widely, all depending on the material used and where you buy them from. For example, a beautiful wall-mounted lantern in antiqued brass may cost you around £250 (Jim Lawrence has some stunning examples), whilst pendant lights from John Lewis fall around the £100 mark. Walmart has a wide range of wall light designs starting from around $25.
Don't forget to check out our best outdoor wall lights guide for more ideas.
Cost of an electrician
It's always advisable to hire a professional to connect any mains-powered lighting to ensure it's done correctly and meets all the required safety regulations. And, you may not be using a garden lighting design professional to install your brand new scheme. Instead, perhaps, you're calling on your local electrician.
The work will generally include choosing the best location, connecting any cables, electrical work, and testing. Expect to pay around £40 per hour (or from $50 per hour in the US) for the labour itself and then the cost of the materials on top.
How can I reduce the cost of garden lighting?
1. Start small and do it well
'When planning a more subtle garden display for the first time, it is important to think about the overall style you're hoping to achieve,' says the team at Lights4fun. 'We recommend picking one or two key areas and doing them well for the best results.'
That way, you can sure to love the finished look of your illuminated plot, without having to then spend more money changing things. By adding lights gradually, you can also spread out the costs to make it more manageable.
2. Shop around
Jamie Moxey of Dusk Lighting says, 'Find the lights you would like and do some thorough comparison searching first.'
'Be sure to consider not only the price but also the warranty and quality of the product to determine if you are getting the best deal in the long run.'
Garden designer Andrew Wenham of Andrew Wenham Garden Design adds, 'Make sure the fittings give a high IP (ingress protection) rating. So many lower quality garden lights fail within a few years, either for low IP rating or poor quality manufacture. I prefer to use Hunza light fittings, as a reliable long-lived fitting – I've been using them for 20+ years.'
Ajay Vasdev of lighting designers and suppliers company Asco Lights adds that by using a garden lighting design service, you can benefit from the use of their supplier contacts, who will provide good prices for great quality.
3. Consider your surroundings
Your garden's environmental factors can affect your lighting, as Jamie Moxey from Dusk Lighting explains. 'Check for all factors before investing in some new lights, some might be more surprising! For example, if a customer lives within five miles from the coast, it is important to purchase coastal lighting which can endure the salty air.'
'If you buy without this consideration then they could end up rusty within six months and you will have to purchase new lights all over again,' he continues.
4. Opt for solar lights
Solar lights are a fabulously low-maintenance addition and are much more reliable than they used to be – many promise to charge sufficiently even throughout the cloudy, winter months.
There's no need for wiring (saving you the cost of an electrician), and there are plenty of affordable styles. Festoons, stakes, wall lamps, even motion lights can easily be found online.
Our best solar lights guide is full of ideas.
5. Boost the ambience with candles
Don't forget the classic candle! For balmy evenings spent outdoors, all it takes is one or two candles to create a cosy and romantic setting. Of course, not one for leaving unattended, but they are super affordable, and look stunning in lanterns in the centre of your outdoor table.
If you're prone to mosquito bites in the summer, you could try a citronella candle too – the scent, although pleasant for us, deters pesky insects away! Or, why not keep bugs at bay with this DIY project, using tealights, lemons, and jars?
For a low-risk option (great for having around kids or pets), go for the LED kind.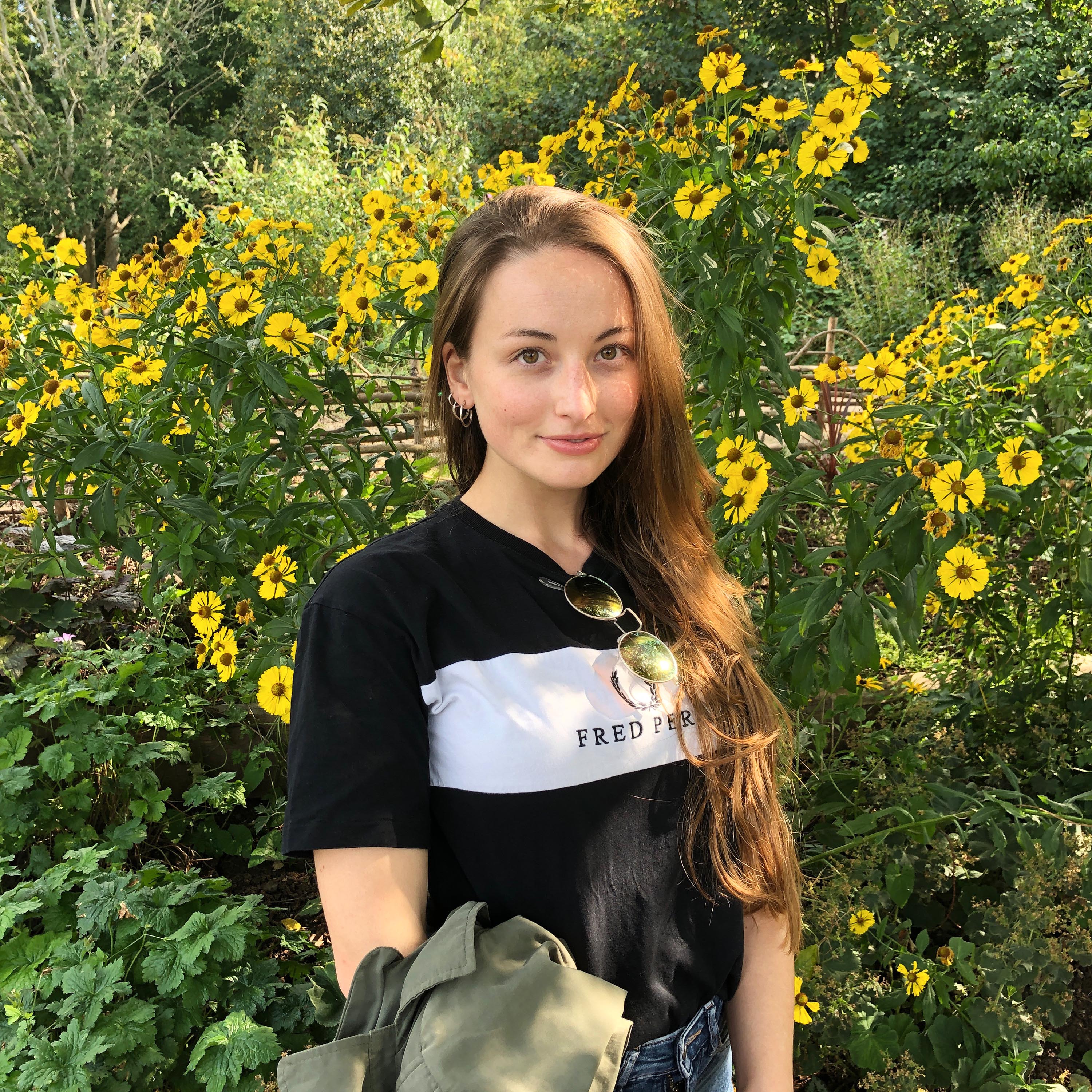 The garden was always a big part of Holly's life growing up, as was the surrounding New Forest where she lived. Her appreciation for the great outdoors has only grown since then. She's been an allotment keeper, a professional gardener, and a botanical illustrator – plants are her passion.