How to grow asters for bright autumn flowers
Find out how to grow asters and these easy-to-grow plants will give you autumn interest and endless cut flowers for your vases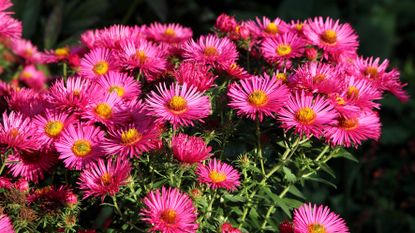 (Image credit: Alamy)
If you're after autumn garden colour, learning how to grow asters is a great idea. Asters, often known as Michaelmas daisies, are essential autumn perennials. They're elegant, colourful and tough – and the name covers a variety of styles and colours. Their peak flowering season is around 29 September, which coincides with Michaelmas day, which is where their name originated from.
Though some varieties range can reach heights of up to 2.4m, most are more manageable at around 60cm-1.2m. They feature vibrant sprays of 1.5-4cm single and double daisies in shades from purple to white, plus pinks and soft blues. The New England asters include some especially vivid colours.
Asters come from the daisy family, known botanically as Asteraceae. The name is said to come from Anglo-Saxon phrase 'Day's Eye', because common daisy flowers open at daybreak. They are some of the best cut flowers you can grow, and they come in a range of colours, flowering from late summer through autumn. Want more autumn colour for your garden? Our guide on how to grow acers is packed with top tips.
WHEN TO PLANT ASTERS
Plant your asters in the ground in spring or autumn. If your soil is particularly heavy it's best to wait until spring. Small plants will establish quicker than large ones. Choose a sunny place in fertile soil, preferably where the plants won't dry out in summer.
When planting in pots, choose a dwarf variety and add a slow release fertiliser to your compost. A sprinkling of liquid feed after mid-summer will ensure a good flush of autumn flowers. Be sure to keep them well-watered.
DIFFERENT TYPES OF ASTERS
There are two main varieties, the traditional Michaelmas daisies and the New England asters, which usually have larger flower heads. One important distinction is that powdery mildew attacks Michaelmas, but is rarely found on New England asters.
HOW TO GROW ASTERS
Prepare soil well by adding well-rotted compost or other humus, and mixing in some general fertiliser; these asters can be hungry feeders. This can be in a sunny spot but plants should also do well when shaded by a fence, although not by overhead tree branches.
Asters make wonderful cut flowers for your vases. Using secateurs or sharp scissors, make a clean cut to the stem. Flowers are best cut in the morning or late afternoon when it's cooler outside. Place in fresh water which you change every day and position out of direct sunlight and away from any heat sources or draughts.
HOW TO CARE FOR ASTERS
Replant young and vigorous shoots from the edge of the clump; discard the old woody growth in the centre. Support taller varieties – especially when grown on rich soil – using canes and twine, steel plant supports, or brushwood if you can get it.
Keep a watchful eye out for mildew and mites. Help prevent mildew by ensuring the roots stay moist and divide regularly, so stems don't become crowded. Some varieties should be deadheaded if you want to prevent self-seeding.
PROBLEMS TO LOOK OUT FOR
Asters suffer from two problems – one of them can be dealt with, but the other one is more difficult. Powdery mildew, a dusty white coating on the leaves, mainly attacks Michaelmas daisies (Symphyotrichum novi-belgii). It tends to be troublesome when the soil dries out and when the weather is hot and dry, with the lower leaves dropping off.
Mites are tiny bugs that feed on the unopened flower buds, which then open to reveal what looks like a cluster of tiny leaves. Plants that are affected also tend to be stunted.
In general, mites are only a problem where many Michaelmas daisies are grown together, and will often arrive on plants bought from messy, badly-run nurseries. To stay mite-free, buy from a specialist supplier, and make sure you scatter your plants through your borders.
PERFECT PLANTING PARTNERS FOR ASTERS
Dahlias
Dwarf, dark-leaved dahlias will mask the lower stems of asters, while adding rich foliage colour as well as a variety of flower shades. You can find out how to grow dahlias in our guide.
Chrysanthemums
Flowering with the asters, these bring a complementary palette of autumnal shades: bronze, yellow and gold.
Japanese anenomes
The airy exuberance of autumn anemones brings an informal attitude to early autumn borders, while their large pink or white flowers look good with asters.
Ornamental grasses
The delicate informality of grasses works well with Michaelmas daisies, and they enjoy similar conditions. Our guide to ornamental grasses is packed with expert tips on how to introduce them into your planting scheme.
BEAUTIFUL ASTERS FOR YOUR GARDEN
Want to try growing asters in your garden? We've rounded up some of favourite varieties for you below.
Aster × frikartii 'Mönch'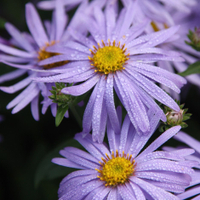 Aster × frikartii 'Mönch' at Crocus
Prized for its mildew resistance and long-flowering period, this superb aster will see you through the end of summer and beyond. The lavender-purple daisy-shaped blooms blend wonderfully with any number of late-season roses.
Symphyotrichum 'Little Carlow' AGM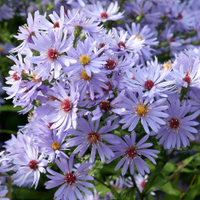 Aster amellus 'King George'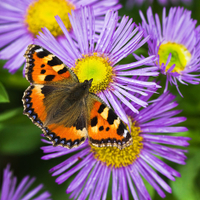 Aster amellus 'King George' at Crocus
Try Aster amellus 'King George', with large yellow-centred lilac flowers. It's a mildew-resistant variety, and ideal for attracting bees and butterflies. It will eventually reach half a metre in height.
Symphyotrichum novi-belgii 'Patricia Ballard'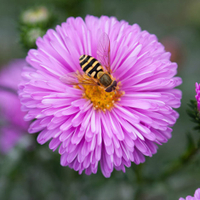 Symphyotrichum novi-belgii 'White Ladies'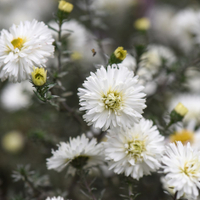 Read more: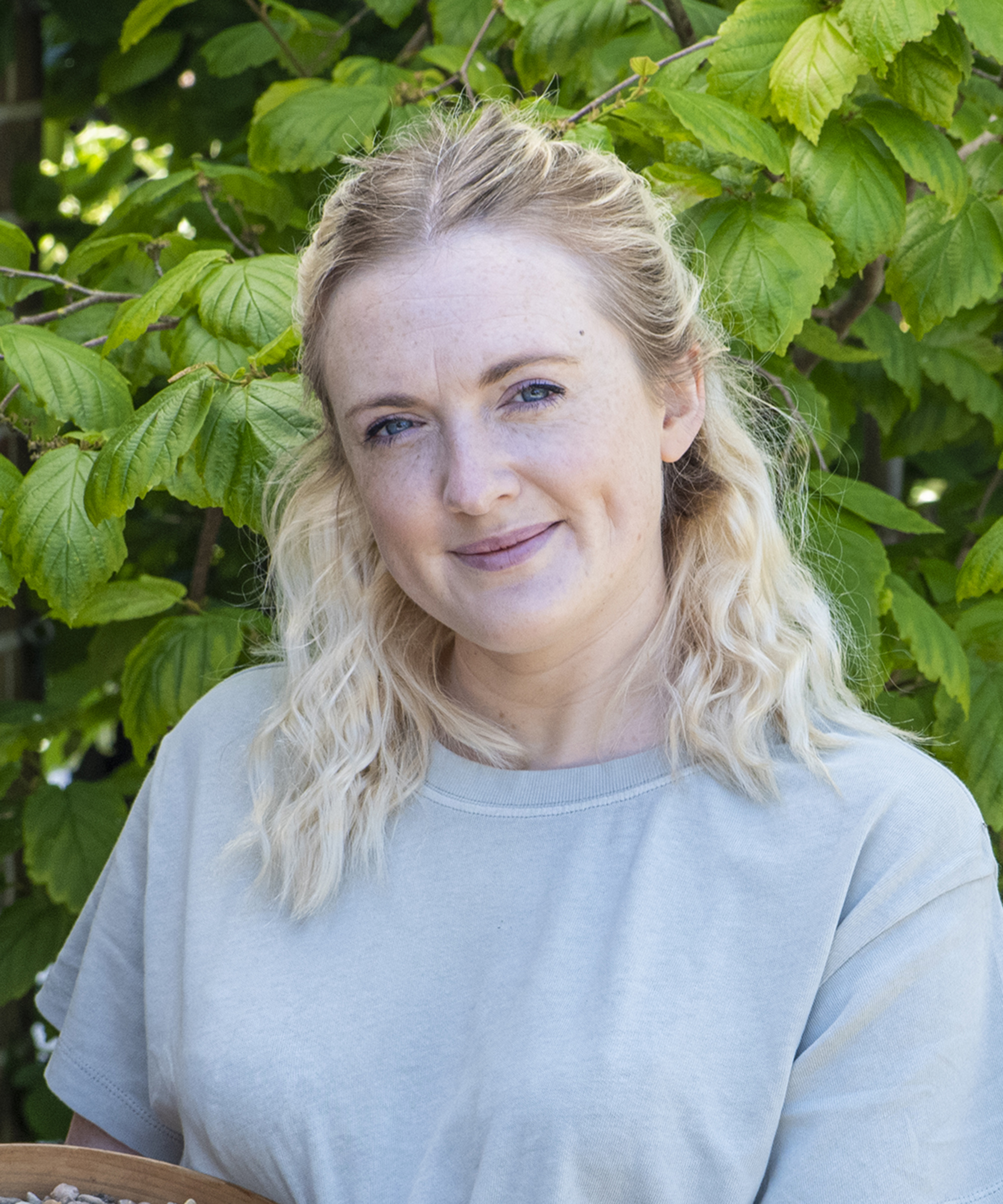 Teresa has worked as an Editor on a number of gardening magazines for three years now. So she is lucky enough to see and write about gardening across all sizes, budgets and abilities. She recently moved into her first home and the garden is a real project! Currently she is relishing planning her own design and planting schemes. What she is most passionate about when it comes to gardening are the positive effects it has on our mental health to grow and care for plants, as well as being great for the environment too and help provide food and shelter for wildlife.