Add autumn colour to your garden: 10 planting and design ideas you'll love
There are plenty of ways to add autumn colour and make your garden sing. Try our favourite ideas and bring your garden to life over the autumn months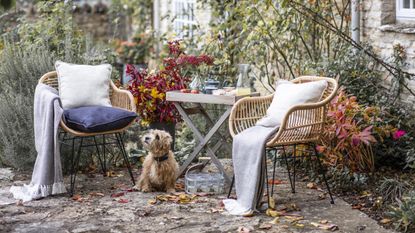 (Image credit: Garden Trading)
If you're looking to add autumn colour to your garden then now is a good time of year to do so. You can think about making changes instantly and for the next few months, but also plan ahead for future autumns with decisions now ensuring you're garden will shine in the season of auburns, golds, and oranges.
However, adding autumn colour to your garden doesn't only come in the form of adding particular plants. You can add colour and interest to your garden in a number of different ways with garden features. Of course, choosing the right plants will always help add intense autumn colour to your garden, so that's where we'll begin.
See some of our top tips for autumn colour below, then head to our garden design ideas for more inspiration.
1. Add autumn colour with trees and shrubs
There are some wonderful well-known – and more unique – plants out there for adding autumn colour to your garden and some of my favourites lie within the realm of trees and shrubs. The Stag's Horn Sumach tree (Rhus typhina), pictured above, is one of my absolute favourite trees for a few reasons, but mainly because of the orange, red and golden colour palette its foliage goes in the autumn months. Liquidamber trees can get big but their intense autumn colour is exquisite, too; 'Worplesden' is always a cultivar I remember fondly and look to recommend.
For something a bit more shrub-sized, you can look to Hamamelis 'Ruby Glow' which burns bright with yellows, oranges and reds in autumn or Abelia 'Kaleidoscope', a variegated shrub offering abundant colours in autumn as well as being a good evergreen option.
2. Arrange your plants carefully
You'll get the most out of your new trees and shrubs by positioning them carefully and putting them in the right spot; there's no use hiding away a lovely specimen plant. With the caveat of it all being dependent on your specific layout, those plants that provide distinct autumn colour or interest should be positioned at focal points, and also spread out to balance the colour and interest across the plot; it'd be a shame to potentially have it all in one area leaving others bare. You'll also want to take into consideration basic plant needs too, positioning plants depending on their preference in sun or shade, for example, to get the best out of them.
3. Use sculpture and features to inject autumn interest
It's not just plants themselves that can bring your garden to life in autumn, there are other ways to do it too. Sculptures and garden art are not just for grand and expensive designs; a little piece can find a home in even the smallest of plots and bring interest. This can take the form of a small water feature to bring sound and life to your garden as it slowly goes dormant, or a small statue hidden around a corner to provide intrigue and a focal point. Adding something like a contemporary Corten steel panel is a great option too – it will feature a natural burnt-orange autumn colour but also provide a space-efficient way to bring year-round interest and style to the garden. Try Screen With Envy for a wide range of designs.
4. Get bursts of texture with perennials and grasses
There are late flowering perennials which give you colour in the autumn, as opposed to traditional autumn colours. For example, blues and purples can be a nice alternative from the expected fiery range we're used to. Plumbago (Ceratostigma plumbaginoides) are great for keeping colour going into autumn, with its blue flowers coming late and its foliage giving an extra bang of red-ish colour too. Salvia 'Amistad' is incredibly popular, but for good reason: its purple flowers can last well into October with dead-heading. Michealmas Daisies (previously known as Aster but now Symphyotrichum) are another flowering alternative that are always near the top of autumn colour lists.
Ornamental grasses may also be at their best in the summer months but can add a great textural quality in the autumn, plus leaving them alone for the autumn – not cutting them back – means their seed heads can provide a food source for wildlife. I always leave my carexes, pennisetums, panicums and miscanthuses alone in autumn, for example, and they still look great wafting in the wind even after their main displays have gone over.
5. Double the colour by using plants in pots
You can combine several elements on this list by carefully selecting plants and pots to go together for autumn. Pot-wise, while you can get containers that will be overtly orange or red, think of textures too to make it really stand out. Particularly at home in pots, and excellent for smaller gardens as a result, are Acers, or maples. Inhabiting pretty much all of the autumn colour spectrum, these trees can be great for small gardens in particular. Cultivars from the Acer palmatum are the most common and house some excellent specimens, like 'Elegans' which will give you a blaze of autumn oranges and golds, and 'Garnet' which will provide a powerful deep red. You can find advice on the best shrubs for small gardens in our guide.
6. Think exotic to add unusual autumn colour
While colour will get the majority of the attention when gardeners look to inject life into their garden during the golden months, adding visual and textural interest in the form of tropical, or tropical-esque, plants can work wonders too. Sword-like Phormiums (New Zealand Flax) often get a bad rap but are great for keeping interest throughout autumn through colour, but also form and texture. We often see the purple Atropurpureum variant but 'Sundance' is a great alternative. Cordylines are also great in this regard, and both these plants provide permanent structure to your planting so reach beyond autumn. Take care in noting each individual tropical plant's requirement for winter, though. Find more ideas in our gallery of tropical garden ideas.
7. Let outdoor lighting do some of the work
Away from stuffing the garden with plants and features – as wonderful as that is – small touches and changes through lighting can work wonders too, looking fabulous as the evenings grow shorter. Careful placement to highlight fences, brickwork and metals can extend the life of autumn-coloured features, while the same can be applied to uplighting feature plants like Acers. You can also choose warmer shades of light to enhance an autumnal warmth, or even coloured lamps or bulbs to bring interest and originality to the lighting. Find more inspiration in our garden lighting ideas.
8. Use furniture and paint to introduce colour
A simple lick of paint will help bring any piece of garden furniture, fence, shed or wall alive no matter the season. Turning an older bench into an autumn-coloured focal point and destination with a warm orange colour, or transform a fence or shed with a colour that will contrast any plants' green foliage but also reflect autumn-ness back into the garden. Or paint some raised beds to simultaneously protect them and change their finish and appearance totally. A tin of paint can, indeed, go a long way. You'll find the best exterior wood paint for your project in our buying guide.
9. Create garden structures to add interest and depth
Autumn may be the perfect time to both create and then enjoy some garden structures or features. In terms of enjoyment, you can always turn a new fountain on, fill up a raised bed with soil to 'finish' it, and even planting can take place in October as long as it's not too cold.
For bigger projects, you could create a pergola or arch, perhaps projecting from your home, that will help link your house to the garden spatially, aesthetically and through materials. As autumn interest and colour comes in many shapes and forms, such features are a great way to make tangible improvements to your garden and still have an autumn aesthetic or impact. Throw in a climber on a wall structure or pergola, such as a Virginia creeper (Parthenocissus) and a new structure will really prove to be an autumn winner.
10. Plan for next autumn with autumn bulbs
Autumn bulbs can provide a simple and straightforward way to ensure your garden will have interest for years to come whenever the days start to shorten after summer. A big player in this area is autumn crocuses. The species Crocus goulimyi is a good one to aim for and is also, helpfully, known as fall crocus. These are hardy, can grow in most soil types and will produce beautiful purple-pink flowers.
Cyclamens are also popular and great choices for autumn bulbous plants, thriving in a number of situations. The common name to look for is ivy-leaved cyclamen and they will produce distinctive purple flowers. If you're a fan of them you can even find some snowdrops that will flower in the autumn: Queen Olga's snowdrop, for example, is a small snowdrop that has green rings around the distinctive flowers which will come out in autumn.
More garden ideas:
Rob Dwiar has qualifications in, and professional experience as both a landscape and garden designer. He has also won an RHS gold medal. He has contributed to a wide range of gardening publications, including the Royal Horticultural Society's magazine, and is also a garden contributor for Homebuilding & Renovating magazine and Gardeningetc.