Late summer garden ideas: 16 ways to pep up your outside space
Is your outdoor space in need of a pick-me-up? These late summer garden ideas will boost its style credentials and lift your spirits too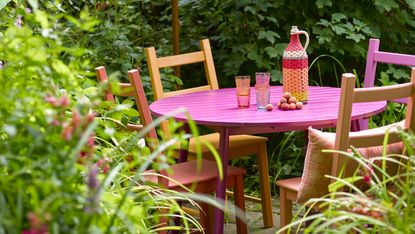 (Image credit: Sadolin)
It's never too late to make the most of your outside space, and a few late summer garden ideas can make a huge difference to its look and feel. A couple of chairs in a stand-out shade, lively new flooring or a vivid backdrop or potted display will perk up a tired patio or garden border that's been blooming tirelessly the whole summer long.
What's more, these changes don't have to be costly either. Just a simple coat of masonry paint or a couple of spray cans can be enough to make a striking new feature that will refresh a key spot and help detract from areas that require longer term improvements. Plus, it's also a chance to have fun and be expressive too. Play with different colour combinations and try out a shade that you've always secretly fancied but have been scared to plump for. You never know, you may just discover a whole new colour palette or dream combo to explore.
Keep scrolling for our favourite ways to update your space, then for more outdoor inspiration check out our garden design ideas.
1. Lay striking tiles
Guarantee a smile whatever the weather with these stunning Formentera floor tiles from Bert & May. Oozing memories of sunny blue skies and seas they will bring a touch of the Med back to your patio and look cheery even under the greyest of clouds. Team with exotic blooms in coral, tangerine and cerise for a true technicolour experience, or use it as the perfect backdrop for accessories in tactile neutrals such as seagrass, rattan and hand thrown ceramic. Check out our paving ideas feature for more outdoor flooring inspiration.
2. Add impact with a screen
Add an arty touch to any seating area with a striking woven screen. Not just for gaining privacy and for reducing the sun's glare, this colourful beauty introduces mesmerising detail and bold, abstract pattern for an edgy, urban feel. Nautical ropes in a trio of different colours are interlaced and wrapped around a coated steel frame to create different densities and effects. Thanks to their hardwearing qualities, the Shades of Venice screens, by Saba Italia from Chaplins Furniture, can be left out in all weathers, so you can enjoy the vivid effect all year round. Choose from four different designs.
3. Dazzle with jewel lights
There's nothing like some brightly coloured outdoor lights to lift a garden scheme as the evenings get darker. And you can't get more colourful than this String of Mosaic Lights from Crocus. Dual powered – by battery or solar – they will add a vivid pop of colour to any tree, fence or wall that's in need of livening up. With ten intricate mosaic spheres they will add interest and character, day and night and even come with an eight-hour timer and sensor so they light up automatically at dusk and turn off at dawn.
4. Choose statement seating
Less can be more when it comes to using colour. Just one piece in a strong shade can transform the most pared-back of settings. Ochre has been a firm fashion and interiors favourite for the past few years, so it is only fair that it's now appearing outside too. Shown in this Bliss Bar Chair from Cuckooland, this bold shade looks absolutely stunning against the red brick, simple paving and woodwork painted in slate grey. What's more, these stackable chairs are made from polypropylene so they are happy outside, come rain or shine.
5. Go for a vibrant rug
Bring some indoor chic outside with a stunning outdoor rug. Made from recycled plastic straws, this eco-friendly beauty instantly adds comfort and a dash of colour to any outdoor living space. Smooth underfoot and easy to care for, pop it under a dining table, beside an outdoor fireplace or use as a central focal point for gathering sofas and chairs. The Nirvana rug is from Green Decore.
6. Play with bright blooms
Saving the best until last, dahlia's are perhaps the most vibrant flowers out there and will continue blooming from August right until the first frosts. With so many different shades, shapes and sizes to choose from they are ideal for trying out new and daring colour combinations. Pot up a few flowering favourites, group them together and display on a reclaimed table painted in a contrasting shade. Think also about the colour of the background – could you paint the wall behind a different tone? Or position the display in front of a distressed wooden door or sheet of rusty steel? Have fun experimenting.
7. Pop in new accessories
Pep up your existing garden furniture by popping in a few new vibrant accessories. Go for maximum impact by choosing pieces in one particular colour group as this will lift neutral tables and chairs and create a chic, co-ordinated look. This crochet covered Otteroen footstool, from Ikea, comes in a choice of four strong colours and looks fabulous paired with cushions and throws in similar tones.
8. String up colourful lanterns
You can't beat a line of colourful lanterns for instant feel-good vibes. Simply tie a cord across the patio or seating area and hook up a selection of these solar-powered Solvinden LED pendant lamps from Ikea at regular intervals. Go for a mix of different shapes and colours for a lively look and add in the occasional patterned shade for extra pizzazz. The polyester shades are wipe clean but are not designed to be left outside long-term in wet weather, so it's best to bring them inside once winter arrives. You can find more of the best solar lights in our buying guide.
9. Paint a single wall
Draw the eye and lift the soul by treating a key exterior wall to a lick of fresh paint. The perfect opportunity to try out a new favourite shade, choose a reasonably sized but defined area of wall next to the house or terrace. Go for a bold or warming shade that you find uplifting (such as this blue from Little Greene) and use it as a dramatic background for your favourite outdoor furniture. You could even heighten the effect by breaking up the wall colour with tall, potted palms and floor lamps. Adding throws and cushions in a similar shade will make the finished spot even more irresistible.
10. Revamp a lounge chair
Fed up with a favourite chair? Then transform it with colour. Easy and inexpensive to do it can give a much-loved piece an edgy new look. This curvy rattan armchair has been given a lick of retro inspired Burnt Orange Exterior Eggshell from M&L Paints. A bold tone that now shows off the intricate, woven design and looks stunning positioned against lush, garden greenery. Head to our guide to painting garden furniture for more expert tips.
11. Line up pots of colour
Fun and oh-so-simple to do – these spray-painted tin cans make surprisingly chic containers for next-to-nothing. Simply wash off the labels, peel off any leftover glue and pierce a few drainage holes in the base, before spraying with PlastiKote Garden paint. Aim to apply several, thin coats for an even finish that is drip free. Leave to dry before planting up. Group together and enjoy mixing colours for a lively effect.
12. Try a surprising colour combo
Be colour confident by letting a simple contrast of colours do all the talking. This beautiful blush pink bench, from Rockett St George, has been given a sophisticated edge thanks to the matt grey painted brickwork and galvanised utility style planters and lighting. Framing the wirework seat between two standard Bay trees adds to its majestic feel without appearing at all fussy. You can find more great garden benches in our buyer's guide.
13. Create an oasis of colour
Make the most of a lush, green garden or overgrown corner by hiding a colourful seating area at its very heart, creating a tropical garden feel in the process. Simple wooden furniture painted in vivid, tropical shades such as Sadolin's Superdec Butterscotch and Rose Smoke appears even more evocative when set against vibrant, green foliage. The result is truly stunning and there's a real element of surprise. Hype the exotic getaway feel even further with an ornate fringed parasol and jewel-toned, pressed glass tumblers and woven wine flagon.
14. Enchant with a colour changing lamp
Light up your twilight garden with a burst of ever-changing colour. This solar-powered LED lamp from Lights4Fun will cycle repeatedly through a whole rainbow of colours, adding a magical touch to any evening gathering. Place centre stage on the table or hang overhead and the ribbed acrylic design will cast a starburst light effect for up to six hours when fully charged.
15. Jazz up a tabletop
Fancy an inexpensive dash of colour in the garden? Then exterior paint is definitely the answer – but it's how you use it, that gives your space its own unique charm. A small concentration of one strong shade can make a huge impact as this tabletop painted with Cuprinol's Garden Shades Sweet Sundae shows. The striking shape and matt black metal frame add to the impact, especially when set off by the monochrome fence and zesty orange beanbag.
16. Add an instant centrepiece
Need a strong hit of colour to brighten a garden table or chair? Then try popping a bright and breezy pot plant such as this sunny Begonia in an eye-catching basket. Line your basket with a couple of strong carrier bags – taking care to tuck in any excess – and carefully place the plant, pot and all, within the bags. Arrange the leaves and flowers so they fall over the edge and put in pride of place. You will need to bring this tender beauty inside before the first frosts but why not replace it with a different basket and plant combo instead?
More garden ideas:
Jill puts her love of plants and all things garden related down to the hours spent pottering around with her Nan and Grandad when she was little. Today she is lucky enough to have a garden of her own in Surrey, England, and spends much of her time writing about them too.