How to grow parsley: it's easy with our expert tips
Learn how to grow parsley by following our simple, step-by-step guide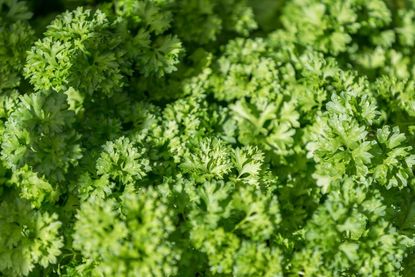 (Image credit: Getty Images)
Learning how to grow parsley is easy, whether you want to grow it in containers or beds. Our step-by-step guide will show you how to grow this fragrant herb successfully so you'll never need to fork out on dried herbs again. Parsley is delicious on all kinds of meat and fish, especially if combined with butter or olive oil and seasoning. It's also an essential ingredient in dishes such as salsa verde and tabouleh.
There are lots of varieties of parsley, including flat and curly-leafed, which can add a decorative garnish to liven up even the simplest of dishes. It's simple to grow parsley from seeds and it will be happy in both containers and beds. Parsley loves well-drained soil in sun or partial shade.
Take a look at our complete guide to growing parsley below, from how long until it's ready to harvest, to varieties to try and how to avoid pests. And if you fancy learning how to grow garlic or any other herbs, you'll find plenty of advice on our grow your own hub.
How to grow parsley
1. Sow parsley seeds outdoors from early spring to early summer. Dig 1cm-deep trenches and sow the seeds along the trench, and then cover in water.
2. When the seedlings are big enough to handle, thin them to one plant every 15cm with 15cm between rows.
3. Make sure your plants are well watered, especially during summer, and feed a liquid fertiliser every few weeks.
4. Make sure you remove any flower heads to allow you to harvest your plant for longer. You can also cut off any lower leaves and shoots that turn yellow.
Want to try growing other useful herbs in your garden, too? Head over to our guide on how to create a herb garden for expert tips.
How to grow parsley in containers
1. Sow your parsley seeds thinly across a 20-25cm pot filled with seed compost.
2. Cover with a thin layer of compost and water.
3. Leave your container in a cool spot and water regularly to keep the compost moist.
4. Once the seedlings are big enough to handle, thin out, leaving 3cm between plants.
The best places to buy parsley seeds online
When is parsley ready to pick?
Parsley is best harvested during June, July and August. You can cut single leaves or bunches using scissors. You can dry parsley out to use at other times of year or freeze it successfully.
Varieties of parsley to grow
Plain Leaved 2 – flat leaves with strong flavour
French Parsley – dark green, flat leaves with great flavour
Gigante Napoletano – large, flat, aromatic leaves
Common problems when growing parsley
Parsley is closely related to carrots and celery, so the RHS says it can be blighted by similar pests, including carrot fly and celery leaf miner.
Carrot fly is a small black fly whose larvae feed on the roots of parsley. Prevent an infestation by sowing seeds thinly and avoid crushing the foliage. You can also cover your plants with horticultural fleece or surround them with clear polythene to stop low-flying female flies. Sadly, there's nothing you can do if your plants do suffer from an infestation.
Celery leaf miners are small larvae that tunnel through leaves, leaving brown blisters and stopping growth. Make sure you pinch out affected leaves and grow your parsley under horticultural fleece or mesh to prevent it.
More grow your own ideas:
Laura has been writing about homes and gardens for 17 years. She joined Real Homes magazine in 2015 as Deputy Editor and then become Editor before taking on her current position as Content Director for brands including Country Homes & Interiors, 25 Beautiful Homes, Period Living and Style at Home. She's currently redesigning the garden of her 1960s home in Worcestershire and will eventually reinstate the swimming pool that's currently filled with mud! Outside of homes, she's a TV presenter for QVC.