How to make a mini DIY herb garden: give this simple weekend project a go
This mini DIY herb garden is easy to make by turning empty jars into handy planters, then mounting them on a wall in your kitchen or garden. Here's how to do it...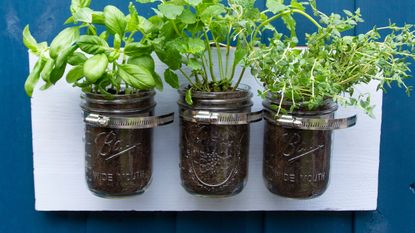 (Image credit: Esme Clemo)
Love the idea of making a mini DIY herb garden so you can grow your own herbs this summer? We've got the perfect project for you to tackle this weekend.
You don't need lots of space for this mini DIY design, and the wooden board means it's easy to mount this on a wall in 
your kitchen, or on a garden fence if you're using 
it outside.
If you've read our guide on how to create a herb garden, you might have already decided what herbs you want to grow in your new design. An alternative option is to put in trailing plants to create more of a living wall effect.
It's best to use a jar with a wide rim for easy planting and you'll need a decent amount of soil depth for the roots. There's nothing to say that you couldn't add more than three jars too. As they're so easy to attach to the board there's really no limit to how many you could have in your mini herb garden. Keep reading for how to make this simple design.
How to make a mini DIY herb garden
You will need:
20x42cm piece of pine or plywood
Pencil
Chalk paint or exterior wood paint
Wax or varnish (optional)
Glass jars with 10cm diameter tops
Three wood screws 
(no longer than the depth of your wood)
Metal hose clips to fit 10cm diameter
Screwdriver
Hanging wire or 
strong twine
Herb seedlings 
or trailing plants
Step one: measure your wood
Measure, then mark to size your piece of wood using the tape measure, set square and pencil. Cut out with the hacksaw and sand 
off any rough edges 
or imperfections. 
We've recycled an old 
pine shelf for this project.
Paint the front of the wooden display with a coat of chalk paint or the best exterior wood paint. Allow to dry and then apply 
a second coat if needed. If you've used chalk paint, apply a finishing wax or lacquer to seal. Position the jars and wind up the hose clips to hold the jars securely in place.
Step two: arrange the jars on the board
Arrange the jars on the wood until you're happy with their positioning. Mark the wood at the centre 
of each jar near the rim. Use 
a bradawl to create pilot holes for the wood screws. Unwind the metal hose clips to find the centre. Align the centre of each hose clip with the three pilot holes. Secure the hose clips firmly in place with the wood screws and screwdriver.
Step three: attach the jars to the board
On the reverse of the wooden board, screw in two eye screws at the top on either side. Tie some strong twine or hanging wire onto 
the eye screws for hanging.
Step four: plant the jars with herbs
Fill each jar with compost and the add your favourite herb seeds or seedlings to create your mini hanging garden. We like the idea of learning how to grow basil, mint, thyme, oregano and parsley.
To ensure your herbs grow well, it's important now to overwater them. Our advice? Regularly feel the soil with a finger before watering and only add a splash 
if it's dry to the touch.
Want more inspiration? Check out the best herbs to grow in your garden for more brilliant ideas.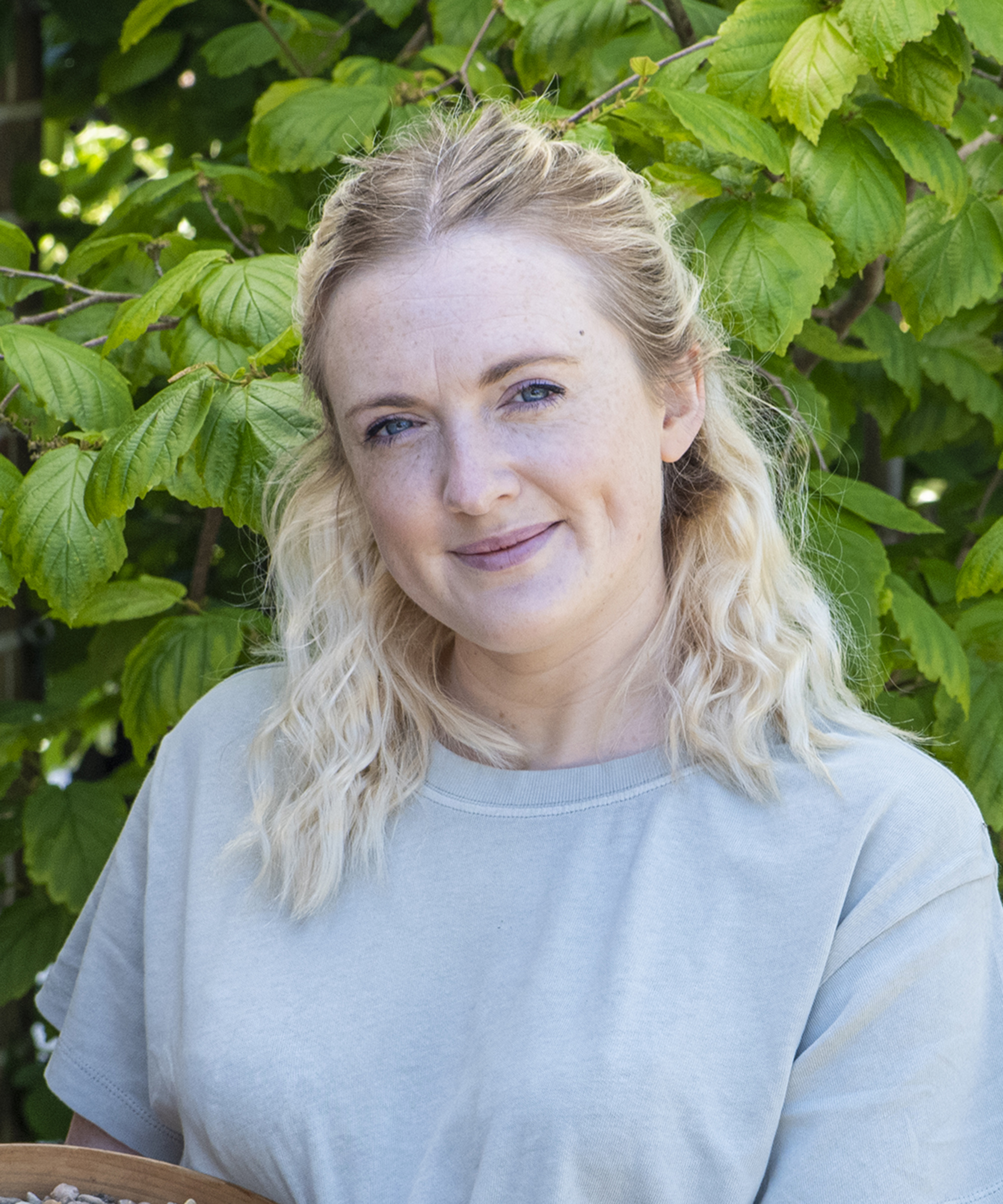 Teresa has worked as an Editor on a number of gardening magazines for three years now. So she is lucky enough to see and write about gardening across all sizes, budgets and abilities. She recently moved into her first home and the garden is a real project! Currently she is relishing planning her own design and planting schemes. What she is most passionate about when it comes to gardening are the positive effects it has on our mental health to grow and care for plants, as well as being great for the environment too and help provide food and shelter for wildlife.