Find out how to mulch your garden with our top 10 natural methods
Autumn is a great time to learn how to mulch your garden once you've tidied up the borders. It will give your plants and soil some much-needed TLC too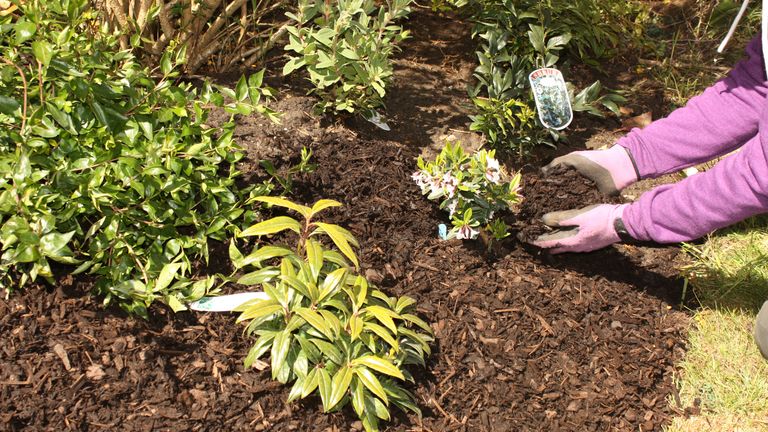 (Image credit: Future)
Follow our advice on how to mulch your garden by adding a protective top layer to your soil and it will bring rewards too numerous to count. If you do one thing before the weather gets too cold it should be this. Mulching will protect plants from winter chills, suppress weeds, nourish the soil and keep your garden looking tidy. It can even keep certain garden pests at bay. And there's more good news – many mulching materials are free. 
There are so many long-term benefits from mulching. Properly applied mulch insulates soil and regulates its temperature. In autumn, mulched soil loses heat more slowly and as the weather gets colder it can protect plant roots from freezing. As it breaks down it feeds the soil with nutrients to give it a rich top-up for spring planting. Choose the right mulch and it adds an attractive element to your hard landscaping too which is much more noticeable in winter when everything's been cut back.
Keep scrolling for our list of the top 10 natural ways to mulch your garden, plus you'll find more useful advice on how to use this invaluable method in your garden in our ultimate guide to mulching. 
1. Leaf mould
Once you learn how to make leaf mould, you'll never throw away garden leaves again. To create a basic leaf mould, all you need to do is gather up leaves, pack them in a black bin bag with holes at the bottom for drainage and wait for them to decompose over a period of several months until you have a rich and crumbly leaf mould to feed your soil. It's one of the best mulching materials around – nothing says autumn quite like the smell of leaf mould, and in terms of what it can do it should become your new best friend.
2. Garden compost
In terms of a rich and beneficial mulch for the soil, compost is hard to beat. Pile it on thickly for the best results. You can also mix in the old compost that's left over from summer pots and containers to make it stretch a bit further. Head over to our guide on how to compost for a step-by-step guide to making your own.
3. Mushroom compost
Great for lightening heavy soils, choose an organic mushroom compost to cut down on any chemicals that may be left in the mix. Get it delivered in bulk then start spreading – it's really easy to handle. It is alkaline though, so won't be suitable for mulching some fruit bushes.
4. Straw
Straw is one of the best mulching materials you can use around your vegetable and fruit plants, especially if you're learning how to grow potatoes or even how to grow strawberries. It's clean, light and breaks down relatively easily. Some straw mulches may be mixed with hay, so look for a supplier that sells guaranteed weed-free straw.
5. Cocoa shells
A good choice for late autumn, these are lightweight and easy to handle, so ideal for working into heavy soil or piling up around plants. They contain nitrogen, phosphate and potash, which add beneficial nutrients to the soil. Used on the surface they remain a very attractive coppery colour that looks great in winter when plants and greenery are few and far between.
6. Seashells
There are times when you need a decorative mulch or one that does not break down quickly. Utilising seashells as a mulch is a great garden hack. It looks good, they add calcium and phosphates to the soil, and are also a deterrent for snails and slugs too as they don't like the sharp edges of the shells. 
7. Gravel
A long-lasting mulch, gravel comes into its own as a way to preserve moisture content in the soil and keep down weeds. When all the leaf mould and compost has decomposed, the gravel will still be going strong and keeping things looking tidy. It's good for mulching alpine and Mediterranean plants.
8. Jute mats
Compostable mulch mats made from recycled jute coffee sacks fit neatly into pots or directly onto beds to protect plants. Just slot them around a plant and leave them to do their thing. Slugs and snails don't like them, and they provide nutrients for plants as they compost down, which takes up to two years.
9. Garden shreddings
If you have a lot of trees and shrubs in the garden it might be worth hiring a shredder (or invest in one our best garden shredders) and loading in all the prunings when you have a large enough pile. Leave them for about 3 months afterwards to compost and that way they don't use up too much nitrogen from the soil when you spread them.
10. Bark chippings
Chipped mulches add a lovely decorative element to borders. They are usually quite chunky and coarse textured. They're easy to get hold of, especially as free mulch from the council. Be careful what you use though as while some mulch products specify the exact ingredients, others do not and you might be getting a mixed bag.
Read more: