How to use a pressure washer
Find out how to use a pressure washer properly and get everything from your car to your patio sparkling clean in no time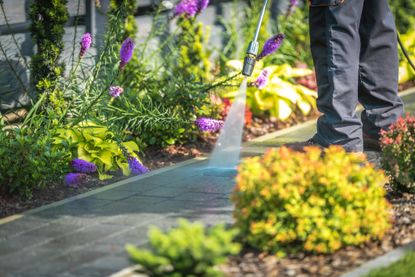 (Image credit: Getty Images)
If you want to know how to use a pressure washer properly, then you've come to the right place. Whether you're on the lookout for a new pressure washer or have had one lurking in the back of your shed for years, it's well worth learning how to use for maximum results with minimum effort. And let's be honest, blasting off a load of dirt with something that looks like a weapon from a sci-fi movie is also pretty fun.
Pressure washers are great for all kinds of outdoor tasks. They use less water than a standard garden hose but are most more efficient at cleaning thanks to the pressure that the water comes out with. Take a look at our guide to using your pressure washer to clean everything from decking and patios to fencing and cars.
And if you're still looking for the perfect pressure washer, take a look at our handy buying guide, which ranks the best models on the market right now.
What to wear when pressure washing
Don't worry, we're not going to tell you your wardrobe is stuck in the Nineties and needs an upgrade, but we do need to give you a few pointers on what to wear.
Firstly, pressure washing is messy, so don't wear your favourite trainers or decide it's the perfect time to try white jeans as they'll probably end up filthy. We'd always recommend having your legs covered to protect them from any stones or debris that fly up, too.
If you're tackling something really grubby, like a patio that hasn't been touched in years, or guttering, pop on some goggles to protect your eyes. See, told you it was like being in a sci-fi movie!
How to get started
Every pressure washer is unique but the general principle is the same. You plug them into an electricity socket to provide power, and then attach your garden hose (and remember to turn the tap on!), to provide water. Always stand your pressure washer on a level surface and use an extension cable if you need to so that you're not pulling on the washer's power lead.
Most pressure washers come with an adjustable nozzle as standard. This is a bit like a wand with a section that you twist to increase or decrease the pressure. You can also buy all kinds of attachments. If you've got a patio, we'd recommend investing in a patio cleaning head, which is circular and allows you to clean a larger area than the jet that comes direct from the nozzle.
How to clean decking and fences with a pressure washer
Use your pressure washer to make cleaning decking and fences a breeze. Just remember not to direct the jet of water straight at your decking or fences as the pressure could wash away your paint or stain and make the wood become brittle.
Instead, keep the pressure on the lowest setting, stand at a distance so the spray isn't too close to the deck, then spray it section by section. Wash it as evenly as possible. If your pressure washer comes with a brush attachment, this use it on fences and decking to minimise any damage to the wood.
How to clean a patio or drive with a pressure washer
Unless you love hard work, a pressure washer is the best option for shifting the grime that can build up on paving, patios and drives over the years. Start by blasting off dried on lumps of moss and dirt using the nozzle on a high-pressure setting. Next, apply detergent or patio cleaner to the surface. If your washer has a detergent bottle, you can use this to apply the cleaner. Then switch your pressure washer to a lower-pressure setting and wash away the suds.
If you can, choose a pressure washer with a dedicated patio cleaner attachment, which is easier to manoeuvre across a large surface and ensures a more even clean than with the standard nozzle.
How to clean a car with a pressure washer
If your car needs a deep clean, get the pressure washer involved. Use a medium pressure and start at the top of the car, working your way down, to shift any stubborn dirt. Then, switch to a high pressure for the wheels and around the doorsills. Once you've applied your car shampoo, wash off with a low-pressure setting for spotless results.
Most pressure washers have a detergent bottle attachment, which will mix the water with the car shampoo to apply it to the vehicle. You could also use your pressure washer's brush attachment to apply the shampoo.
What not to clean with a pressure washer
Don't use your pressure washer on garden furniture as the pressure of the water could damage it
Never use a pressure washer on gravel as it'll fly up and hurt somebody...most probably you
A pressure washer can be too powerful for windows, so you're better off using a sponge and window vac, instead
Check out these related articles:
Laura has been writing about homes and gardens for 17 years. She joined Real Homes magazine in 2015 as Deputy Editor and then become Editor before taking on her current position as Content Director for brands including Country Homes & Interiors, 25 Beautiful Homes, Period Living and Style at Home. She's currently redesigning the garden of her 1960s home in Worcestershire and will eventually reinstate the swimming pool that's currently filled with mud! Outside of homes, she's a TV presenter for QVC.