10 plants with attractive winter bark and stems: add drama with these striking picks
Take your pick from these plants with attractive winter bark and stunning stems to introduce some seasonal joy to your winter garden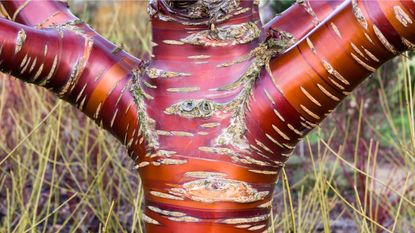 (Image credit: Alamy)
Including plants with attractive winter bark and stems in your garden means that even when the rest of your space is stripped bare of leaves and flowers, there's something that can take centre stage. The twiggy outlines and extraordinary colours and textures of stunning stems and beautiful bark catches the eye and creates a gorgeous focal point. Choose the right trees and shrubs and they will bring your winter garden alive – we promise!
You can plant hardy deciduous trees and shrubs now and throughout winter as long as the soil is not waterlogged or frozen. When planting from pots (rather than bare root), tease out congested roots and make sure they're moist before they go in the ground. When it comes to planting, choose a spot where the winter sun will light up their bark and stems to show them off to perfection.
Keep reading to find out what we think are the best plants for attractive winter bark to add interest to the garden now, then check out our guide to garden borders for more planting inspiration.
1. Salix x sepulcralis 'Erythroflexuosa'
Also known more simply as 'Golden Curls', this versatile ornamental shrub has curling golden stems that twist and turn downwards to add pretty architectural interest at this time of year. In spring there are pretty yellow catkins to look forward to as well. Eventually grows to around 5 metres.
2. Betula utilis var. jaquemontii 'Grayswood Ghost'
Whether planted as one on its own or in a group, the starkly white stems of the Himalayan birch adds an eye-catching luminous touch to the winter garden. The tactile, almost waxy, bark is marked with distinctive raised slashes, and this is preceded by glossy leaves that turn yellow in autumn. Eventually grows to a height of around 15 metres.
Want to plant a tree in a small space? You'll find lots of suggestions in our best trees for small gardens feature.
3. Phyllostachys bambusoides 'Castillonii'
This ornamental evergreen bamboo has tall golden stems patterned with distinctive vertical green-stripes, and glossy, lance-shaped, dark green leaves. Works well for garden privacy ideas if you use it to add height and interest to boundary screening or as a container plant on the patio where you can best see its stripy canes in winter. Grows to around 3 metres in height.
4. Cornus sanguinea 'Midwinter Fire'
For an instant pop the stunning red of the winter stems of this cornus makes it one of the best plants for winter colour. It provides a welcome blaze of colour in the garden when there is little else around. Try planting it against a contrasting background such as a silver birch tree or pale-coloured wall to play on the contrast and create the most spectacular look.
5. Acer griseum
Well known for its peeling, orange-brown bark, the paper bark maple adds interesting texture to the winter garden as it sheds its layers. Spring brings new growth and pendants of small yellow flowers, while autumn delivers fiery leaf tints, so it's a good all-rounder. Grows to a height of around 10 metres. Find out how to grow Acers in our guide.
6. Salix alba var. vitellina 'Yelverton'
Add a fiery splash of colour to the winter garden with this pretty willow, which is tipped with glowing red-orange at this time of year. Also known as the golden willow tree, it's a precious addition to the garden as it adds crucial structural interest as well as colour. Look out for the showy catkins in spring too.
7. Cornus alba 'Kesselringii'
This dogwood adds drama when the dark red stems turn purple in winter. Plant it against paler stems to add contrast. A vigorous grower, this adds year round interest too. In autumn the leaves turn beautiful shades of red and gold, and white berries glow against the leaf tints. In spring cream coloured flowers attract bees and butterflies. Grows to around 1.8 metres in height.
Check out our 5 of the best plants with winter berries if you love the idea of having other showstopping berry plants in your garden.
8. Betula albosinensis 'Chinese Garden'
Choose one of these Chinese red birches for their peeling bark, which is honey-toned with pink and copper shades. These beautiful trees are one of the best choices for adding coloured and textured bark to the winter garden. Eventually this will grow to a height of around 10 metres.
9. Tasmannia lanceolata
Now for something with leaves to add to the mix. The mountain pepper is a neat evergreen with bright maroon-coloured stems that show up well despite their permanent display of dark green, aromatic foliage. Bark and leaves have a strong cinnamon scent, and spring brings fragrant flowers. This one works well in a container too.
10. Tibetan cherry
The coppery-red bark of the multi-stemmed Tibetan cherry (also known as prunus serrula) is wonderful whatever the season. In winter the beautiful shiny mahogany peeling bark is eye catching, then there's the bonus of dainty white flowers that appear in clusters in spring, and narrow sage-green leaves that turn golden in autumn. Grows to a height of around 10 metres.
Read more:
Lifestyle journalist Sarah Wilson has been writing about gardens since 2015. She's written for Gardeningetc.com, Livingetc, Homes & Gardens, Easy Gardens and Modern Gardens magazines. Having studied introductory garden and landscape design, she is currently putting the skills learned to good use in her own space where the dream is establishing a cutting garden.