How to prune lavender: three simple steps to get yours looking its best
Learning how to prune lavender is surprisingly simple, yet will reward you with healthier-looking plants for longer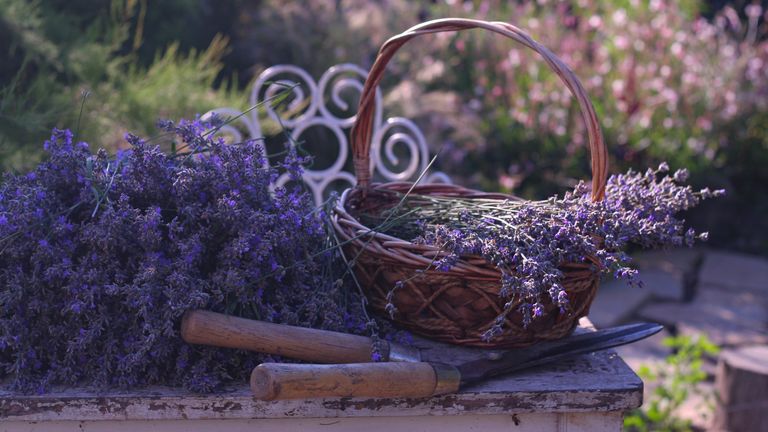 (Image credit: EmilPal/Getty Images)
Are you wondering how to prune lavender? If you have one or two of these wonderful shrubs in your plot, then knowing the best way to give them a trim is a worthwhile skill to have.
It's no secret that this fragrant, evergreen plant with its spikes of purple blooms is a favourite of many gardeners. And if you've been planning an update to your garden borders, then lavender should definitely be on your list of plants to consider.
If you've read our guide on how to grow lavender, you'll know it's a gorgeous choice for cottage gardens and contemporary plots alike, and pollinators adore it. What's more, 'it makes a pretty low hedge, or it can be combined with other drought-tolerant Mediterranean plants like rosemary, Euphorbia and Sedum in a modern gravel garden,' says the experts at Squire's Garden Centres (opens in new tab). It's a great choice for low maintenance garden ideas, too, as 'will grow happily in a sunny pot or border and needs very little water,' they add. But without a little know-how it can turn woody and unruly, and quickly lose its appeal.
As Sarah Squire, Chairman of Squire's Garden Centres says, 'You don't need to do much to keep your lavender looking thick and compact throughout the year.' So without further ado, follow our guide on how to prune lavender – you'll be amazed at how easy it is.
When is the best time to prune lavender?
Typically, the best time to prune lavender is in late August, after flowering has finished. As the RHS (opens in new tab) says, it's best to do so annually. If you don't, the plants can become leggy and misshapen, and may need replacing altogether.
You can also clip over the foliage in spring if it's looking a little untidy or damaged by frost, they add.
How to prune lavender: a step-by-step guide
Take your best secateurs or best garden shears, making sure they are clean and sharp.
Start by removing the spent flower stalks.
Then go over the whole plant, removing around 1 inch (2.5cm) of leaf growth, says the RHS. Make sure you leave plenty of fresh growth on the plant, and avoid cutting back into old wood, advises Sean Harkin of RHS Garden Wisley (opens in new tab). You'll be left with a nice, compact plant ready to flower next year.
More top tips for pruning lavender
Remember to avoid cutting too far back into woody stems, says the RHS. Lavender does not create new growth easily from this point.
The experts at Gardeners' World (opens in new tab) say you can try to rejuvenate woody plants by pruning in mid-August to just above a green shoot. If no new shoots appear within the next month, however, you might need to replace the plant.
Remember that lavender doesn't last forever – it inevitably becomes straggly after a few years, as says the team at Squire's Garden Centres. So don't despair when this happens. A neat look can be maintained simply by replacing older plants. Learn how to take lavender cuttings in our guide and you can get find out how to get new lavender plants for free.
Need more advice to get your borders and pots in tip-top condition? Check out our guides on how to prune hydrangeas and how to prune roses.
The garden was always a big part of Holly's life growing up, as was the surrounding New Forest where she lived. Her appreciation for the great outdoors has only grown since then. She's been an allotment keeper, a professional gardener, and a botanical illustrator – plants are her passion. But, she loves all things digital too. She joined the team at Gardeningetc after working as a freelance content creator for a web agency, whilst studying for her M.Sc. in Marketing. Now she feels lucky enough to combine both digital and botanical worlds, every day.
Sponsored by