Best fire pits 2022: our top picks for summer evenings
Browse the 10 best fire pits and extend alfresco living late into the evening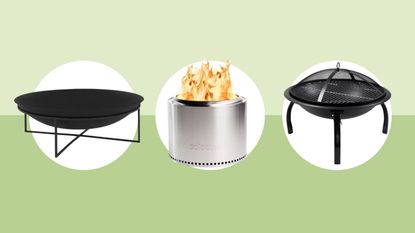 (Image credit: Future)
With one of the best fire pits, you'll be enjoying your outside space so much more. Late night alfresco, relax under the stars or have garden parties that go on after dark, with a fire pit there's no reason to go back inside. They'll keep you warm as the night gets cooler and bring light to your outside. What's more, they offer a place to gather and toast marshmallows. There's nothing quite like the ambient glow, sound and smell of a flickering real fire. It's true! The best fire pit is the ultimate add-on to creating a cosy atmosphere.
As well as being a heat source, many of these fire pits are the perfect stylish centrepiece for your garden, from the best contemporary fire pit, to table fire pits and sleek gas fire pits. If you're looking for an authentic outdoor look with crackling noises and visible flames, then you'll like our selection of steel and cast iron fire bowls.
And if you're in the market for a gas, fuel alternative or even a smokeless fire pit to pack in more power, there are some easy-to-extinguish options too. Looking to double up your fire pit as an impromptu barbecue? Then our best fire pit for cooking and portable fire pits come with an optional grill and tongs. Feeding more than a family of four? Our best BBQ guide will have more cooking options.
That said, the best fire pits are generally more practical and affordable, in comparison to their smaller chiminea cousins. So if style is the deciding factor (and if you have a small garden space), the best chimineas offer a fancier way to stay warm once the sun has set.
The best fire pits 2022
1. Made.com Josper Low Metal Fire Pit, Black
Our favourite fire pit
Specifications
Material: Steel
Size: H30x Dia.87cm
Style: Bowl
Fuel: Wood
Reasons to buy
+
Easy to use
+
Suitable size for all gardens
+
Contemporary style
+
Low design is perfect for sitting around
+
Great value for money
Reasons to avoid
-
Appearance may change naturally following use
Made of durable steel with a sleek matte finish, this Made.com fire pit is our favourite for its stylish silhouette and simple practicality. It is affordable, but sure doesn't look it with its modern design that'll instantly upgrade any outdoor space.
The perfect centrepiece to gather around at alfresco parties, given its size, your guests won't want to leave. What's better, when they leave, the clean up is easy. Simply remove the bowl from its stand, dispose of waste and wipe it out with a damp cloth. As a pre-warning the appearance of the pit may change over time after use. Whilst this may mean a bit of discoloration, we think it'll only get better with age.
2. Pure Garden Steel Wood Burning Outdoor Fire Pit Table
Best fire pit table
Specifications
Material: Steel
Size: H51 x W84
Style: Table fire pit
Fuel: Wood
Reasons to buy
+
Doubles up as a practical table
+
Simple finish to match any outdoor style
+
Great value for money
Reasons to avoid
-
Large size may be too big for smaller gardens
Relax, eat and have a drink around this best table fire pit by Pure Garden, all the while staying warm once the suns gone down. If you have a large enough garden or patio space, it's the perfect pit to set the ambiance for a relaxing evening.
Enjoy the warmth all year round, whether on cool summer nights or crisp fall evenings since this steel fire pit is weatherproof with a sturdy lid and steel materiality. It's a long last design, at a great price too. This best table fire pit is a value for money product you won't regret buying
3. Fireglow Brisbane Round Gas Fire Bowl
Best gas fire pit
Specifications
Material: Glass reinforced concrete (GRC)
Size: H66xDia.58cm
Style : Firepit table
Fuel: Gas
Reasons to buy
+
Can use as a table top too
+
Great size for all gardens
+
Modern, on-trend design
Channel Love Island and romantic settings with this sleek stone gas fire pit. In a bowl shape and table design, keep warm whilst enjoying a date-night glass of wine once the kids have gone to bed. Made from high-quality glass reinforced concrete (GRC), which gives it a chic and expensive finish, this fire pit table not only looks good, but will stay looking great for years to come. Given its price, we'd be disappointed if it didn't.
Since it's a gas fire pit and not a wood-burner like a lot of others on this list, it comes with decorative Lava rocks so you won't lose the authentic feel, whilst staying (and smelling) clean. Easy to clean and easy to put away, Nova-Fireglow have provided you with a tailor-made cover to keep this best gas fire pit protected over night.
4. Solo Stove Fire Pit Bonfire
Best smokeless fire pit
Specifications
Material: Stainless steel
Size: H49.5 x W35.6 cm
Style: Fire pit
Fuel: Wood
Reasons to buy
+
Great for taking away on trips
+
Smokeless with minimal ash left over
+
Durable and sturdy design
Reasons to avoid
-
Not the most stylish
-
Expensive
This best smokeless fire pit is unlike any other - because it will give off no smoke and leave very little ash residue behind. How? It gets its power from logs to create a secondary burn and bright flame that won't leave you smelling like campfire. This means the Solo Stove is also super easy to clean up and pack away at the end of a fire pit party or bonfire warm-up. It's expensive, yes. But remember you're paying for the technology.
It's also completely portable. Reviews especially show that people love this pit for its lightweight and compact design that's suitable to pop in the boot and take away on camping trips or stakeouts in the forest. It might not look as stylish as others on this list and it'll stand out in any outdoor space, but we think this only adds to the futuristic feel.
5. Blomus Fuoco Gel Fire Pit
Best alternative fuel fire pit
Specifications
Material: Stainless steel
Size: H10xDia.32.5cm
Style: Bowl
Fuel: Gel
Reasons to buy
+
Easy to use
+
Sleek, contemporary style
+
Compact enough to be portable
+
Great value for money
Reasons to avoid
-
Not the best for large gatherings
If you want the aesthetic pleasure of an open fire but without all the chopping of logs and fumbling fire-starting, this fire pit runs on gel rather than wood and burns away leaving no residue.
It is in a dish of black, frost-proof pottery with a stainless-steel cover with a hole in the centre that controls the size of the flame. Since it's easy to store, clean and even comes with a long handled extinguisher to put the fire out, the price is reasonable. And the reviews agree.
6. Gardenline Square Fire Pit
Best square fire pit
Specifications
Materials: Steel with bronze paint finish
Size: H68.5 x W68.5 x D53cm
Style: Square
Fuel: Wood briquettes
Reasons to buy
+
Great for gatherings
+
Super affordable
+
Mesh cover for coveted design
Reasons to avoid
-
Bulky and heavy
-
Needs to be stored away
This Gardenline steel fire pit comes in three distinct parts that are simply placed together to form a space-age style pit that's certainly square in size. It looks a tad bulky, but it'll make a great centrepiece to your garden. The downside? You will have to move it indoors overnight or during the winter, which won't be light work.
Still, at super affordable price, it seems many have bought this best square fire pit with their supermarket shop. It's a best-seller for Aldi, and we can see why. Its generous size and rustic design, complete with a mesh cover is a garden party must-have, especially if there are kids about.
7. Cox & Cox Industrial Style Fire Pit
Best contemporary fire pit
Specifications
Material: Steel
Size: H66xW62xD62cm
Style: Round basket
Fuel: Wood
Reasons to buy
+
Great style upgrade
+
Contemporary, industrial design
+
Compact size
Reasons to avoid
-
Not the best for large gatherings
-
A little expensive, given its size
This most stylish fire pit from Cox & Cox will make a great addition to any garden. Its contemporary design that takes on an industrial, handmade finish, will instantly work to upgrade any space, whilst also shedding light and warmth.
Its basket brazier looks cool but also contains your logs as they burn, controlling the fire while you watch the glow. This best contemporary fire pit is also available in two sizes, but even the large might not be big enough if you're planning a large get-together. It's also on the pricier side, so unless you're happy paying on spending for style, then you may want to opt for more practical option.
8. HI-GEAR Corvus Fire Pit
Best fire pit for cooking
Specifications
Material: Stainless steel
Size: H55xDia.40cm
Style: Lidded bowl
Fuel: Wood
Reasons to buy
+
Adapt for barbecue or fire pit use
+
Useful lid to keep the flames contained
+
Compact enough to take away
+
Affordable
Want to be able to pack up your fire pit and take it with you for a camp out? This HI-GEAR Corvus model is lightweight and portable, so you can take it with you on trips. It doubles up as a BBQ, with an easy-to-remove grill grid, so you can cook up your dinner on it too. The saying 'get more for your money' comes to mind.
Finished eating? Sit back and enjoy the display. And it's even easier to put away - we guess you might not want to keep this one out all year round - just fold up its legs and store in your shed.
9. HOOLE CAST IRON FIRE PIT WITH GRILL & METAL POKER
Best small fire pit
Specifications
Material: Cast iron
Size: H23xDia.56cm
Style: Bowl
Fuel: Firewood
Reasons to buy
+
Small size for petite gardens
+
Great for camping trips
+
Simple and practical design
+
Affordable
Reasons to avoid
-
Not the best for large gatherings
This cute cast-iron fire pit from Hoole is small enough to be stored easily, lightweight enough to take away and just the right size for petite gardens or patio spaces. For this reason it's our best small fire pit. Take it away on camping trips, to your local park (law permitting, of course) or simply enjoy an evening outside at-home. It's simple and chic, offering just what you need for a little heat or light at night. Just don't invite all of your friends, as there might not be enough to go around.
Right now it's on offer, so a great bargain buy, but even at full price it's worth not having to hassle with heavier, larger fire pits. Many seemed to have picked up on it's gift-ability. Beautifully packaged in a Gardenesque box, look no further if you're needing a thoughtful gift for a loved one. An added bonus? It comes with a removable grill pan and metal poker.
10. The Forest & Co Steel Fire Pit
Best design for big gatherings
Specifications
Material: Steel
Size: H37 x W75 x D75cm
Style: Bowl
Fuel: Wood
Reasons to buy
+
Impressively large size
+
Authentic look that improves with age
+
Three sizes available
+
Great value for money
Large enough to keep the whole party warm, this fire pit is a great focal point for any garden soirée. The steel pit can hold a lot of logs so will spread the heat across a wide area while the sloping sides keep everything safely in the centre. And it will only improve with age as the surface oxidises over time to take on a warm rusted finish.
Sturdy, practical and pretty enough to get the authentic fire pit experience, it's at a great value for money price. Like the look but don't need a pit so big? There are a couple of smaller size options available.
---
How to choose the best fire pit for you
Given fire pits are often a big investment (even when you are choosing a more affordable option) and considering they'll take up a large space in your garden, or shed if needing to be stored, it's important to make sure you're buying the best fire pit for you. Price, size and whether they will go with your outdoor aesthetic are therefore a good place to start.
More so, you might be interested in some specific details, like whether there're okay to take away, if you need a gas can or can keep them outside all year round. There are a lot of fire pit options out there so pay attention to details. If you do, you're sure to enjoy a summer full of alfresco evenings and warm late night lounges.
Is cast iron or steel better for fire pits?
Cast iron is often deemed the superior choice for fire pits for its durability, affordable price point and heat retaining properties. Since you can either burn wood or coal in a cast-iron bowl you can create a lot more heat for warmth and marshmallow roasting. It's a thicker and denser metal than steel, which does take a while to heat up but it will hold the heat for longer.
How to use a best fire pit safely
One of the key things to remember when learning how to light a fire pit correctly is to place it on a level and stable surface. If using on a patio, put on another protective slab of stone or concrete at least 5cm thick, so your terrace won't be damaged by the heat. Always use the recommended fuel, such as wood. Don't throw in plastic which will melt and can cause fumes.
If you're including one of the latest fire pit ideas in your garden, position any fire pits and braziers away from the house or combustible materials. Keep children and pets away while it's lit or still hot, and don't leave it unattended or try to move it. Allow the fire to die down and peter out naturally. Don't pour on cold water as this could damage its structure.
How to care for your fire pit
When not in use: Most large metal fire bowls can be left outside. It is best to stand them on their side, leaning against a wall in a sheltered spot so water and debris doesn't gather in the bottom. Alternatively, buy a special cover (available from Amazon) (opens in new tab) for it. The metal may rust naturally over time, producing an oxidised coating that will protect the bowl and enhance its looks. The structural integrity should be unaffected.
After use: It's important to follow the right methods for how to clean a fire pit. Make sure you let your fire pit cool before emptying out any ash. It can also be a good idea to coat the surfaces with cooking oil to maintain it, and reapply a suitable heat-retardant paint as needed.
How we chose the best fire pits
Whilst we haven't had chance to test out these best fire pits just yet, we've chosen them based on a few factors, that prove them as stand outs from the rest. Features such as whether they're portable, gas or wood fuelled, possible to cook with or come with a cover, are generally things customers are looking for in a best fire pit. We've scanned reviews to see if these designs live up to expectation, as well as seeking out retailer recommendations.
We've compared and evaluated fire pits for their size, price and as always, style. Meaning many of the decisions we have made depend on their overall practicality and whether they'll make a stylish addition to your outdoor space. There is one option within the list, the Blomus 65079, which is powered by burning gel, that we are eager to test in the near future. We intend on trying this most since there aren't any other alternative fuel competitors. Come back and we'll inform you on how well it burns.
Louise is the Ecommerce Writer for Gardeningetc, sourcing the best buys to spruce up your outside space. When she's not on the lookout for the latest outdoor design inspiration, you'll find her in the winter garden of her East London flat; soaking up the sun on her outdoor patio set or tending to her ever-growing collection of balcony plants.