BBQ pulled pork recipe: served with smoky homemade BBQ sauce
This BBQ pulled pork recipe is so tender and full of flavour it's sure to be an instant hit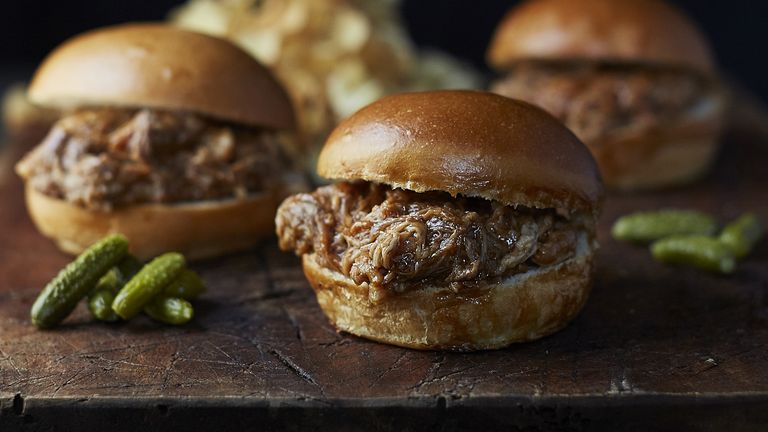 (Image credit: Kettler)
By Sarah Wilson published
BBQ pulled pork recipe anyone? These pulled pork sliders are such a versatile choice. As well as the perfect BBQ food that will go down well every time you have a weekend get together, you can also serve them up for a family dinner. We love this recipe which combines shredded pork with a smoky homemade BBQ sauce served in sweet brioche burger buns. Dish up a pile of these this weekend and there won't be any leftovers that's for sure.
This easy recipe serves four and once you've set up the BBQ you can relax while it does all the work. The homemade BBQ recipe makes up a decent sized batch of sauce so you should have plenty left over to spice up your sandwiches and casseroles with too. Bonus!
Keep reading for the full recipe, then head to our best BBQs buying guide if you're looking for a new buy to cook these tasty treats on.
With thanks to Kettler for sharing this recipe with us. It was cooked on the Everdure Fusion which has a sleek built-in rotisserie that's easy to use and can be set up in minutes. Use it to grill a suckling pig or chicken (which also works well in this recipe)
PULLED PORK SLIDERS
Ingredients:
1.8kg suckling pig
3 kg rock salt
For the BBQ sauce:
15g groundnut or rapeseed oil
3 cloves of garlic, peeled and finely chopped
1 banana shallot, peeled and finely chopped
¼ tsp ground ginger
¼ tsp powdered allspice
¼ tsp mustard powder
¼ tsp cayenne pepper
¼ tsp smoked paprika
210g tomato passata
100g cider vinegar
120g demerara sugar
1 tbsp Worcestershire sauce
1 tbsp golden syrup
½ tsp salt
¼ tsp black pepper
To serve:
Method:
1 Dry the skin of the pig. Using a sharp knife, lightly score the skin in a cross-hatch direction. Using the salt, massage the skin of the pig ensuring that it is covered in salt.
2 Place some of the salt on the bottom of a large container. Place the pig on top and sprinkle the remainder of the salt on top to cover. Allow to stand for two hours.
3 After the time has elapsed, remove the pig from the salt and scrub off the excess salt. Dry the skin with kitchen towels and place in the fridge overnight.
4 Set up the BBQ by filling the tray with charcoal and igniting it. In the meantime, rub vegetable oil on the surface of the pig. Place the pig on the middle setting of the rotisserie function and allow to rotate for one hour.
5 Move the rotisserie to its highest setting and continue to rotate for approximately three to 3½ hours while topping up the charcoal as necessary, making sure the heat is evenly distributed.
6 For the BBQ sauce, heat the oil in a saucepan over a medium heat. Add the garlic and shallot and sweat until soft (approximately seven minutes).
7 Put in the dry spices, and continue to cook for two minutes, stirring to incorporate them. Add the rest of the ingredients and cook for 20 minutes.
8 Pour the contents of the saucepan into a blender and blitz for 30 seconds until smooth. Pass through a fine sieve and allow to cool. Keep in an airtight container in the fridge until needed.
9 Lower the pig on the rotisserie back to the middle setting for the last 30 minutes of cooking.
10 When ready, shred the pork using two forks. Mix with BBQ sauce and serve in the brioche buns.
Sarah Wilson has been a lifestyle journalist for many years, writing about gardens since 2015. She's written for Gardeningetc.com, Livingetc, Homes & Gardens, as well as Country Homes & Interiors and Modern Gardens magazines.
Her own (small urban) garden is a work in progress - so many ideas, not enough space to cram them in. Hero plants include her ever growing collection of ornamental grasses, black bamboo and ferns, and the perennials like salvias and penstemons that come back reliably year after year. All very restrained though when in fact she'd love to pack her garden with gaudy dahlias and giant cannas, so these are top of her wish list for what to grow next.