Patio heater deals: stay warm outdoors this winter with these top offers
Socialising outdoors over the festive season? These patio heater deals will ensure everyone stays cosy, so take your pick from these top electric or gas buys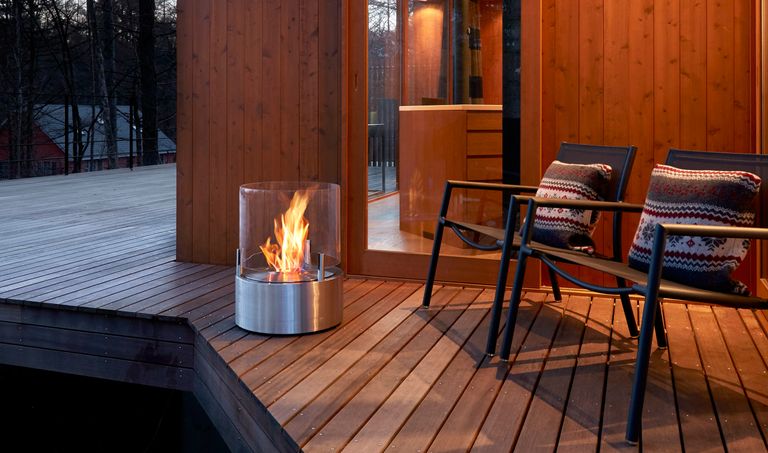 (Image credit: EcoSmart)
By Beth Murton
Planning an alfresco gathering this festive season? These patio heater deals are just  what you need to add some extra warmth to your patio over the coming months and beyond. After all, if you can only meet up with friends and family outdoors, you want to make sure everyone stays as warm as possible! 
There are some great deals to be had on the best patio heaters, but as you'd expect they're all selling out fast due to such high demand. We're constantly on the lookout for the best deals for you, and have rounded up the top buys available right now.
Whether you prefer the idea of an electric infrared heater that simply plugs in and is ready to go, or bigger gas models that will heat a large area, there are lots of options to fit your space and budget. We've even added some modern fire pits in our selection if you prefer the idea of having an attractive focal point in the centre of your space. Keep scrolling for the best patio heater deals, both in the UK and the US, and start warming up your garden by the weekend. 
Patio heater deals: quicklinks
Want to browse for yourself? Check the quicklinks to the sale sites below, both US and UK, or scroll on to see our top picks.
Patio heaters in the UK:
Patio heaters in the US 
Best patio heater deals in the UK
2KW Outdoor Quartz Electric Garden Patio Heater | £125.99 now £110 at Amazon (save £15.99)
Offering three different heat setting ranging from 650w to 2000w, this electric heater is a smart addition to your space. The height of the pole and the tilt of the heater can be adjusted to direct heat where you need it most. It's waterproof for outdoor use and also comes with a tip-over safety switch.
View Deal
Cilyberya 800W Electric Infrared Patio Heater | £156.99 now £120.99 at OnBuy (save £36)
With an IP65 rating making it suitable for outdoor use, this wall-mounted heater is made from high quality aluminum alloy for durability. The infrared rays heat up immediately, so you'll feel the warmth as soon as you switch the heater on.View Deal
Stainless Steel Outdoor Garden Freestanding Gas Heater | £278.99 now £240 at Amazon (save £38.99)
Offering 46,000 BTUs of heat output, you'll stay warm outdoors with this on your patio. It has a safety auto shut off if the heater tilts over or the gas run out. It also has wheels to ensure it's easy to move it around. View Deal
Holly Infrared Electric Patio Heater | £129.99 now £103.99 at Wayfair (save £26)
With a heat output of 1500w, this aluminium and stainless steel electric heater comes with a handy remote control. The silver and black finish gives it a sleek, modern look. It's also silent and economical to run with no fumes. A smart choice for your space. View Deal
Heatsure Wheeled Metal Outdoor Patio Heater | £309.99 at OnBuy
Fuelled by either propane, butane or LPG gas, this practical wheeled design has a heat output of 5000W-12000W. It's easy to move it around your patio, and the modern bronze finish gives it a stylish edge.
YZERTLH Portable Electric Fan Heater | £110.99 now £84.99 at OnBuy (save £26)
This portable electric fan heater is a good choice for small patios and will deliver heat where you need it most. Small in size, it's lightweight and easy to move around your patio. We recommend you bring this inside when not in use. View Deal
3kW IP44 Wall Mounted Electric Patio Heater | £279.99 now £249.99 at Primrose (save £30)
As this is IP44 rated, this heater is safe to be used outdoors. It's wall mounted and comes with the fixings and mounting bracket you'll need to attach it to the wall. There are two heat settings, a 2m power cord and a remote control for easy operation. View Deal
Square Cocoon Gas Fire Pit in Grey | £699 now £635 at Cuckooland (save £64)
With its contemporary design and concrete look this gives the appearance of a fire without having to deal with the hassle of a real one! It can be left outside all year round due to being made from composite materials, this also means they're resistant to extreme heat and cold. Comes with 4 logs and 4kg of lava stones.View Deal
Best patio heater deals in the US
Electric tower heater | $114.99 now $68.97 at Wayfair (save $46.02)
This electric tower heater provides the maximum 1500 watts of instant heat, with high heating efficiency to save energy. Not only is this heater silent in operation, but it also has an adjustable thermostat. The small design and convenient carrying handle make it easy to move anywhere you want.View Deal
EPROSMIN Outdoor Patio Heater Electric Heater | $379.99 now $359.99 at Amazon (save $20)
With three heat levels (maximum of 1500w) this electric heater has a heat range of three to five metres. The head and height of the heater can be adjusted, and it heats up in seconds. Comes with a tip-over function, which will automatically switch off the heater if it gets knocked over. View Deal
46,000 BTU Propane Standing Patio Heater | $699.99 now $470.98 at Wayfair (save $229.01)
Thanks to its wheels, you can move this gas heater where you need it with ease. It provides 46,000 BTU of heat output and has an auto switch off if it tips over. You can adjust the heat setting to choose the required heat output to suit the outdoor temperature. View Deal
Copeland Outdoor Patio Aluminum Propane Fire Pit | $938 now $389 at Wayfair (save $549)
Safe for use on a patio or a wooden deck, this propane fire pit is made from aluminum with a wicker rattan effect. Tempered glass beads fill the center of the design to create an eye-catching effect. A statement centerpiece to your outdoor living space. View Deal
Mr Heater portable gas propane heater | $139.99 now $114.99 at Target (save $25)
This easy portable propane heater is designed for decks, porches and other small spaces. Perfect for heating area up to 225 square feet, it features a swivel regulator and fold-down handle.
Demastus Outdoor Concrete Propane Fire Pit | $429.99 now $359.99 at Wayfair (save $70)
Enjoy 50,000 BTU of heat output from this fire pit table. The base of the table is big enough to hide the propane tank. It's easy to assemble and is perfect for a centerpiece to your outdoor living space. View Deal
More top deals: 
Not found the right design to suit your space or budget yet? Check out these other top picks at today's best prices. 
Looking for a fire pit rather than a patio heater? Check out these top buys
Read more:
All deals, prizes and latest news
Get the best tech deals, reviews, product advice, competitions, unmissable tech news and more!