Best fire pits 2022: 9 top picks for cosy alfresco evenings
Browse our selection of the best fire pits so you can keep cosy and extend alfresco living late into the evening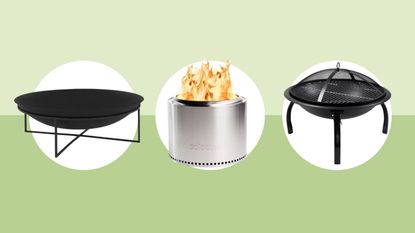 (Image credit: Future)
With one of the best fire pits, you'll be enjoying your outside space so much more. Whether it's making the most of late nights alfresco, relaxing under the stars, or having a garden party that goes on after dark, with a fire pit there's no reason to go back inside. Even as the darker nights come along, these buys will bring light and warmth to your outside space. A fire pit really can be the ultimate way to create a cosy atmosphere.
As well as being a heat source, they can make a stylish centrepiece for your garden, patio or terrace. From contemporary-style fire pits and sleek gas fire pits to table options and cast-iron types for an authentic look, there's one to suit every aesthetic. And if size is the deciding factor, then the best chimineas offer a smaller, fancier way to stay warm once the sun has set.
But with so many fire pits to choose from, finding the right one for you can be tricky. So we've done the research and rounded up a few of our favourites. Rated highly for their performance and design, they're sure to bring all the cosy vibes you're looking for this season.
9 of the best fire pits to buy this season
Why you can trust Gardeningetc Our expert reviewers spend hours testing and comparing products and services so you can choose the best for you. Find out more about how we test.
---
How to choose the best fire pit for you
Given fire pits are often a big investment (even when you are choosing a more affordable option) and considering they'll take up a large space in your garden, or shed if needing to be stored, it's important to make sure you're buying the best fire pit for your outdoor heating. Price, size and whether they will go with your outdoor aesthetic are therefore a good place to start.
You might also be interested in some specific details, like whether they are suitable to take away with you on holiday, if you need a gas can, or whether you can keep them outside all year round. There are a lot of fire pit options out there so pay attention to details. If you do, you're sure to enjoy a summer full of alfresco evenings and warm late night lounges.
Is cast iron or steel better for fire pits?
Cast iron is often deemed the superior choice for fire pits for its durability, affordable price point and heat-retaining properties. Since you can either burn wood or coal in a cast-iron bowl you can create a lot more heat for warmth and marshmallow roasting. It's a thicker and denser metal than steel, which does take a while to heat up but it will hold the heat for longer.
How do I use a best fire pit safely?
One of the key things to remember when learning how to light a fire pit correctly is to place it on a level and stable surface. If using on a patio, put on another protective slab of stone or concrete at least 5cm thick, so your terrace won't be damaged by the heat. Always use the recommended fuel, such as wood. Don't throw in plastic which will melt and can cause fumes.
If you're including one of the latest fire pit ideas in your garden, position any fire pits and braziers away from the house or combustible materials. Keep children and pets away while it's lit or still hot, and don't leave it unattended or try to move it. Learn how to put out a fire pit safely, by allowing the fire to die down and peter out naturally. Don't pour on cold water as this could damage its structure.
How to care for your fire pit
When not in use: Most large metal fire bowls can be left outside. It is best to stand them on their side, leaning against a wall in a sheltered spot so water and debris doesn't gather in the bottom. Alternatively, buy a special cover (available from Amazon) for it. The metal may rust naturally over time, producing an oxidised coating that will protect the bowl and enhance its looks. The structural integrity should be unaffected.
After use: It's important to follow the right methods for how to clean a fire pit. Make sure you let your fire pit cool before emptying out any ash. It can also be a good idea to coat the surfaces with cooking oil to maintain it, and reapply a suitable heat-retardant paint as needed.
How we chose the best fire pits
Whilst we haven't had chance to test out these best fire pits just yet, we've chosen them based on a few factors, that prove them as stand outs from the rest. Features such as whether they're portable, gas or wood fuelled, possible to cook with or come with a cover, are generally things customers are looking for in a best fire pit. We've scanned reviews to see if these designs live up to expectation, as well as seeking out retailer recommendations.
We've compared and evaluated fire pits for their size, price and as always, style. Meaning many of the decisions we have made depend on their overall practicality and whether they'll make a stylish addition to your outdoor space. There is one option within the list, the Blomus 65079, which is powered by burning gel, that we are eager to test in the near future. We intend on trying this most since there aren't any other alternative fuel competitors. Come back and we'll inform you on how well it burns.
Louise is the Ecommerce Writer for Gardeningetc, sourcing the best buys to spruce up your outside space. When she's not on the lookout for the latest outdoor design inspiration, you'll find her in the winter garden of her East London flat; soaking up the sun on her outdoor patio set or tending to her ever-growing collection of balcony plants.