The best football goal for gardens: keep the kids happy on their own pitch
Add the best football goal to your garden so kids – and grown-ups – can have fun and improve their skills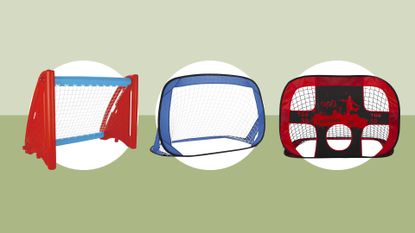 (Image credit: Future)
Investing in the best football goal is a top addition to a family garden. It'll turn a lawn into something more like a real pitch so kids and grown-ups can play. If one of your children is serious about the game, it can also provide them with the opportunity to work on their skills at home.
But what is the best football goal for kids of different ages? We're here to make choosing easy with designs for younger and older children. They'll suit gardens of different sizes, too, so you can add a goal even when yours is modest in dimensions.
We've listed our top choices below, and you can also scroll down for a guide to what to look for when you're buying. Want more ideas for keeping the kids active in the garden too? Head over to our best trampolines buying guide for more top picks.
The best football goal for gardens 2021
Why you can trust Gardeningetc Our expert reviewers spend hours testing and comparing products and services so you can choose the best for you. Find out more about how we test.
1. QUICKPLAY Kickster Academy Football Goal
Best football goal: easy to set up and to store, this design is available in a range of sizes
Specifications
Best for: Gardens of all sizes
Dimensions: From 6 x 4ft to 13 x 3ft
Reasons to buy
+
Quick set-up
+
Portable
+
Bag for storage and carrying
Reasons to avoid
-
Could rust if left out in rain
If you're looking for a goal you can use in the garden or take to the park or on holiday, this one will fit the bill.
High speed
The poles and base frame of this goal are pre-attached to make assembly easy and set-up in just two minutes is promised.
Tidy away
You can get the goal off the lawn and into its carry bag to store it when it's not being used. Or take it along with you to play away from home.
Flexible posts
Bear in mind that the posts of this design deform and return to shape when they're hit with the ball, so it's for fun and training rather than a football pitch experience.
2. Pilsan Miniature Football Goal
Best football goal for young kids: for three-year-olds and up, this colourful design will keep little ones busy
Specifications
Best for: Fun for the youngest
Dimensions: H86 x W119 x D65cm
Reasons to buy
+
Neat size
+
Easy to assemble
+
Lightweight
+
Fun colour combination
The youngest members of the family can practise shooting or goalkeeping in even a small garden with this model.
Early start
As it's suitable for kids of three and up, this goal will bring an extra dimension to garden play when they're small.
Self assembly
Yes, you will need to put this together yourself, but it's not difficult to do. Moving it into place is simple, too, because it's light.
Garden colour
In bold blue and red, this design won't be hard to co-ordinate with other garden play equipment.
3. SAMBA Locking Football Goal
Best football goal for serious garden games: this sturdy model will suit the keenest home players
Specifications
Best for: High usage
Dimensions: From 6 x 4ft to 12 x 6ft
Reasons to buy
+
Heavy duty uPVC posts
+
Locking parts
+
2.5mm twine net
+
12 month guarantee
Reasons to avoid
-
You might end up giving up a large chunk of garden
Football a regular garden activity for your household? This goal can stay out – and you can move it to mow the lawn.
Post strength
Designed to withstand hard shots, the goal posts are made from weatherproof high impact 68mm diameter heavy duty uPVC.
Lock down
The locking system of this goal is designed to keep its parts in place, but they can be unlocked easily as necessary.
Lawn care
The goal is light enough to reposition easily to give the area where it's situated a break from wear and tear or to cut the grass.
4. Bestway 2 Pop Up Goals
Best football goal for value: get two goals at a great price and make your garden a pitch
Specifications
Best for: Play without a big spend
Dimensions: H80 x W80 x L120cm
Reasons to buy
+
Quick assembly
+
For three-year-olds and up
+
Easy to store
Reasons to avoid
-
Adults need to put these up
Make a game easy by opting for this two goal package, which will result in just a modest dent in your bank account.
Be competitive
A family of players will be all set up to divide into teams if you opt for this design which offers two goals rather than just one.
Tidy up
If you don't want a goal sitting on the grass all the time, you'll like the fact that these are pop-up goals that can be stashed in a bag when they're not in use.
All the family
Kids as young as three years old can start to enjoy playing football with this design, but you will have to upgrade as they grow if they stick with the game.
5. Opti 3.5 x 3ft 2 in 1 Pop Up Target Training Football Goal
Best football goal for practice: younger kids can improve their accuracy with this training goal
Specifications
Best for: Training
Dimensions: H76.2 x W106.68 x D76.2cm
Reasons to buy
+
Quick assembly
+
Can be used indoors, too
+
Foldable for storage
+
Carry bag included
Reasons to avoid
-
Won't suit older children
Want your children out in the fresh air? This goal will encourage the youngest players to improve their skills.
Quick start
This goal is a pop-up design, so you can get the kids outside and occupied quickly, and clear your lawn again at the end of the day.
All in
You'll get a ball and pump along with the goal if you choose this design. There are also ground pegs for anchoring it to the lawn, and a bag to store or take it away with you.
Stay home
The design's suitable for inside your home, too, so they can carry on playing when the weather precludes going into the garden.
6. FORZA Steel42 Football Goal
Best football goal for durability: made from steel, this design is strong and weatherproof
Specifications
Best for: Leaving out
Dimensions: From 8 x 6ft to 16 x 7ft
Reasons to buy
+
Steel posts
+
Locking system
+
Freestanding
+
Tool-free assembly
This all-weather design can be left out in your garden and promises to neither rust nor corrode.
Year round
The goal is made with 42mm galvanised steel posts for strength and durability, and a 3mm twisted outside diameter HDPE UV-stabilised football net to allow you to avoid putting it away.
No holes
If you prefer not to put pegs into the ground, this goal could suit as it's freestanding. It can be lifted and moved as necessary, but it'll take two to do it.
Quick fix
Assembly doesn't require any tools, and locking is built in in order to absorb the impact of the ball.
How to choose the best football goal
The age of the goal's users, the size of your garden, and whether you want the goal up permanently will all influence which model works for you – as will your budget.
Age range
Think about whether you want a goal that's designed specially for young children or something with more enduring credentials. Those for little ones could fit better with other garden equipment, and some are designed for simple and compact storage.
One or two?
Generally, goals are sold as single items and this may be all you can fit in any case but some come as a pair, which you might prefer.
Permanent fixture
Don't judge a goal by its looks. A design may appear as if it could stay out whatever the conditions, but it may not be meant to be left out all the time, and to do so could invalidate the warranty. Make sure you buy an all-weather design if you don't want to have to store the goal away.
Portability
Some goals are designed to be easy to take down and pack, so you can add them to your holiday kit, or use them at the park.
Size matters
Don't just think about whether the goal fits when you're buying. You may want to move it around to give the grass in that area a chance to recover, making a smaller design more convenient. Look at the weight, too, if that's the case.
More garden ideas for kids:
Sarah is a freelance journalist and editor writing for websites, national newspapers, and magazines. She's spent most of her journalistic career specialising in homes and gardens and loves investigating the benefits, costs and practicalities of home improvement. It's no big surprise that she likes to put what she writes about into practice, and is a serial house revamper.