Best outdoor toys for toddlers: guaranteed to keep them entertained
We've rounded up the best outdoor toys for toddlers. Keep them entertained in the garden while you pop your feet up (well, for 20 minutes, anyway)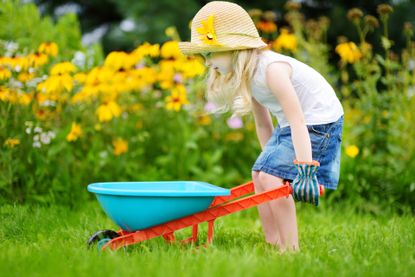 (Image credit: Getty)
Looking for the best outdoor toys for toddlers? We know that trying to keep them entertained is tough. With limited concentration spans and a whole world to explore, it can be tough to get them to stick to any activity for longer than a few minutes.
Spending time outside is great for their development, so we've rounded up the six best outdoor toys for toddlers. Don't worry if they don't use the toy exactly as it's intended to start with, just let them enjoy exploring it. As they get older, encourage them to engage in more imaginative play – a paddling pool could become a bath for dolls or have shark-infested water!
With a little luck they'll spend more than five minutes playing with these and you'll be able to enjoy a well deserved sit down. Want more garden game inspiration? Head over to our best trampolines to find your perfect buy.
The best outdoor toys for toddlers
Why you can trust Gardeningetc Our expert reviewers spend hours testing and comparing products and services so you can choose the best for you. Find out more about how we test.
1. TP Deluxe Wooden Mud Kitchen
Best outdoor toy for older toddlers: durable, good-looking and will last for years
Specifications
Material: FSC-certified wood
Measurements: H96xW97.5xD39.5cm
Recommended age range: 3+
Reasons to buy
+
Dozens of features
+
Durable and built to last
+
Attractive design
+
Can be used by up to three children
Reasons to avoid
-
It's more of an investment that some of the toys
Why didn't this exist when we were younger?! This TP Deluxe Wooden Mud Kitchen is perfect for older toddlers who love playing outside and getting messy making mud pies, which is pretty much all of them, then. We love how great it looks and that it's made from FSC certified wood.
What does it do?
Everything you could want from an outdoor kitchen! It has so many features, from the working tap and blackboard to the pots and pans. Mix up a leaf soup, bake a mud pie, write the menu for your garden restaurant on the blackboard. Honestly, we might play with this one ourselves.
Longevity
This is built to last for years and has enough features to keep appealing to your little one as they grow and start school. The wooden frame can be treated or painted to give it an upgrade.
2. Intex Mushroom Paddling Pool
Best outdoor toy for younger toddlers: fun paddling pool with cushioned floor and built-in shade
Specifications
Material: Vinyl
Measurements: H30xW89xDia.102cm
Recommended age range: 18 months+
Reasons to buy
+
Dedicated toddler pool with padded base
+
Built-in sunshade
+
Eye-catching colours
+
Can be used indoors as a ball pool
Reasons to avoid
-
They'll outgrow it by the age of three
A paddling pool is a must in warmer weather but larger options are too big for toddlers. This pool is the perfect size for little ones up to the age of three. It's padded base makes it comfy to sit on, and the built-in shade is handy on sunny days.
What does it do?
This inflatable pool can be used outdoors for water play and indoors as a ball pit. The padded base and built-in sunshade make it perfect for younger toddlers. The bright primary colours, smiley mushroom character, flowers and ladybirds are eye catching and encourage exploration.
Longevity
This size of this pool means most kids will need to upgrade to a larger model by the time they're three or four. You could continue to use it as a paddling pool for dolls or as a ball pit indoors.
3. John Lewis & Partners Garden Wheelbarrow & Tools
Best affordable outdoor toy: for toddlers who like helping in the garden
Specifications
Material: Plastic
Measurements: H51cmxW28cmxL28cm
Recommended age: 3+
Reasons to buy
+
Perfect for 'helping' in the garden
+
Toddler sized so easy to store
+
Eye-catching colours
+
Affordable
Budding gardeners can help you keep your outdoor space neat and tidy with this colourful set of garden tools. It's designed to improve gross motor skills, like balance and coordination.
What does it do?
Want to get your toddler involved in gardening but keep them away from dangerous tools? This is the solution. There's a watering can, secateurs, loppers, a dibber, rake and pick-axe, plus a wheelbarrow to carry them all in.
Longevity
This size of the wheelbarrow means most little ones will outgrow it by age five to six.
4. Little Tikes Cozy Coupe
Best classic outdoor toddler toy: Generations have loved playing in this colourful car with its working horn and toy store
Specifications
Material: Plastic
Measurements: H82.5xW40.6xD77.5cm.
Recommended age: 18 months+
Reasons to buy
+
Original ride-on toddler car
+
Durable design will withstand knocks and bumps
+
Great for encouraging imaginative play
+
Free membership to the Cozy Coupe Club
Reasons to avoid
-
Not easy to push on grass. Works best on paving
They'll be hitting the road in a proper car in no time. But for now, this is the best solution. This colourful red and yellow car is fun, durable and will provide hours of entertainment. Top tip: If you've got more than one child, you might want more than one car to stop squabbles!
What does it do?
Your toddler can push themselves along using their feet, or you can give them a helping hand using the handle. A working horn is sure to be a big hit, as is the storage space for taking teddy along for the ride.
Longevity
The Cozy Coupe is suitable from 18 months upwards. How long it lasts will depend on the size of your little one, but expect them to have grown out of it around the time they go to school. The resale value is good, though, so it's a sound investment.
5. Peppa Pig Campervan Pop Up Play Tent
Best affordable play tent: A pop-up, fold flat play tent featuring toddler favourite Peppa
Specifications
Material: Polyester
Measurements: H90xL85xD80cm
Recommended age: 24 months+
Reasons to buy
+
Great for Peppa Pig fans
+
Easy to assemble
+
Folds flat to store
+
Cheaper than most play tents
Reasons to avoid
-
Not the most sturdy, so can't be used on windy days
Show us a toddler that doesn't like Peppa Pig and we'll show you a Gardeningetc staffer who doesn't like chocolate cake. This fun campervan tent pops up easily and then folds down flat, although it might take you a few tries to master it.
What does it do?
What toddler wouldn't want to go on a road trip with Peppa and family? It's big enough for a couple of youngsters to play in, and the roll-up door and window hatch are great fun. There's a removable picnic blanket with foods printed on that's great for sparking little imaginations.
Longevity
There are play tents costing £250, so this one is a bargain. It'll provide hours of fun and last until they're school age. It's best used on non-windy days as it's not the sturdiest toy.
6. Eberhard Faber 20 Street Marking Chalks
Best for outdoor crafts: 20 chunky chalks that will let toddlers create mess-free outdoor artwork
Specifications
Material: Chalk
Measurements: 20 per pack
Recommended age: 3+
Reasons to buy
+
Perfect for little hands
+
Handy storage tub
+
Good selection of colours
+
Affordable
Reasons to avoid
-
The chalks can snap if dropped
Got a budding Picaso on your hands? Stop them scribbling on the walls by heading outdoors with this tub of chunky chalks.
What does it do?
There are 20 chalks in the handy storage pot. They're easy to hold and have a great colour pay-off. Can be used on most hard surfaces, although you could provide a blackboard if you want to limit the fun to a certain spot! They wash off, so just wait for it to rain.
Longevity
The chalks do snap if they're dropped, but you can carry on using the smaller sections. This Gardens etc writer bought a pot for her two-year-old last October and they're still going strong. Expect them to last 12 months with infrequent use.
How to buy the best outdoor toys for toddlers
Where to buy the best outdoor toys for toddlers
We don't need to tell you that little ones can be fussy. Ours had a meltdown about a knitted toy being in the wrong place yesterday! It means choosing the best outdoor toys for toddlers really comes down to what your kid enjoys most – do they like crafts, helping you or imaginative play? Use these factors to guide you:
How long will it last?
Toddlers grow up fast. Seriously, blink and they'll be leaving home. So it makes sense to choose toys that they will want to play with for at least a couple of years. In our books, the more you spend, the longer the item should last.
Maintenance
It's all too easy for your house and garden to get overrun with toys, so look for items that are either stylish enough to be on show permanently or easy to fold away for storage. Remember that wooden toys will need painting or treating if you plan on leaving them outside all year.
What is the best outdoor toy for toddlers?
Here's a quick recap – if you want the best outdoor toy for toddlers, we'd recommend the TP Deluxe Wooden Mud Kitchen. It looks great, has dozens of accessories and little ones will love the working tap for whipping up mud pies. It'll last for years and is made from sustainably sourced wood, making it an environmentally friendly choice, too.
Check out these garden ideas for kids:
Laura has been writing about homes and gardens for 14 years. She started out as a newspaper reporter, then was editor of a regional magazine, and editorial manager for a travel company. She started at Real Homes magazine in 2015 as Deputy Editor and then become Editor before taking on her current position, which focuses on video and events.