Best outdoor security camera: safeguard your home this season
The best outdoor security cameras to monitor your property whether you're home or away, from Ring, Ezviz, Arlo and more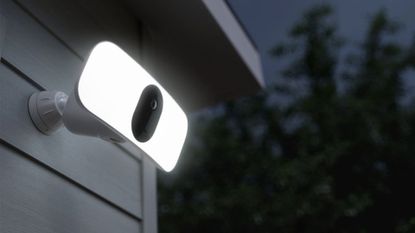 (Image credit: Arlo)
Gardening Etc Newsletter
The Home Of Outdoor Living
Thank you for signing up to . You will receive a verification email shortly.
There was a problem. Please refresh the page and try again.
Even though most of us can only dream of going on a long trip away right now, it's still vital to make sure our home security is the best it can be. Keeping safe is as important now as it ever has been, and you can give yourself that extra peace of mind with the best outdoor security camera for your home.
As well as acting as a deterrent to criminals who might otherwise target your home, these cameras will also allow you to view the action from outside should something happen.
Many will offer cloud storage so you can keep footage for longer, and outdoor cameras also boast weatherproof designs that ensure it will keep working through rain, snow, a heatwave or high winds.
Choosing the best outdoor security camera for your home can be a challenge, so we have assembled some of the leading products and looked closely at their offerings from wired and wireless installation, picture quality and reliability.
Scroll down to see what we thought and, if you're looking for more top picks for your garden or outdoor space, take a look at our roundup of the best outdoor projectors (opens in new tab).
The best outdoor security cameras in 2022
1. Ring Spotlight Cam
Best outdoor security camera overall
Specifications
Video: 1080p
Power: Wired, battery
Connectivity: Wi-Fi; Alexa
Reasons to buy
+
Superb HD video with night vision
+
Totally customisable motion detection
+
Intuitive app enables total control
Reasons to avoid
-
Wired version plugs in leaving potential weakness
Awarded the top spot in our guide, and the best option for garages, the Ring Spotlight Cam combines a security camera with a light, plus deterrent functionalities to boot. It's (now) pretty reasonably priced, too.
How it performs
The Spotlight Camera will shoot and record footage from the entrance to the garage in brilliant 1080p HD video. This is further supported by a 140-degree wide-angle camera lens which will cover the ground at the front and sides. As day turns to night, 1080p infrared night vision sets in which will ensure you're covered even with the lights off.
The integrated motion-activated spotlight works in harmony with the infrared night vision to give you that crisp video around the clock. Motion sensors are adjustable and you can even set an alert for each time motion is detected, so you're always in the know.
Anything else?
For added security, there's a security siren alarm to scare off intruders and two-way audio so you can communicate with anyone on your property all through the very impressive app. Available in wired or wireless options (there's a £30 difference between them) so you can opt for the best solution for you.
Gardeningetc rating: 5 out of 5 stars

2. ARLO Pro 3 Floodlight Quad HD 1440p WiFi Security Camera
Best outdoor security camera with floodlight
Specifications
Video: 2K
Field of view: 160 degrees
Power: Wireless
Weatherproof: Yes
Night vision: Colour
Reasons to buy
+
Fantastic 2K video
+
Built-in floodlight and siren
+
Wireless installation
+
Compatible with Alexa, Apple HomeKit, Google Assistant, IFTTT and SmartThings
Reasons to avoid
-
Will stick out on older houses
-
Battery will need to be recharged regularly
-
Local storage requires Arlo base station
The Arlo Pro 3 Floodlight builds on Arlo's reputation for creating some of the best security cameras with a floodlight option, which adds an entirely new level of safety to your outdoor system. It's also wireless, which means you can pretty much place it anywhere without worrying about connecting it to the mains power.
How it performs
The bright and generously-sized floodlight surrounding the Pro 3's camera allows it to record clear, full-colour video even in the pitch black of night, meaning you won't miss any of the action. It can also differentiate between cars, people and any animals that may be about, so it won't be set off by a stray fox or wandering cat.
The 2K video gives you a crystal clear view of whatever is going on and, unlike the Netatmo Presence floodlight camera below, night vision captures colour footage. The big downside is with storage, which requires you to subscribe for cloud access or purchase an Arlo base station (opens in new tab) and microSD card.
The clarity does mean zooming is a little more user-friendly, giving the camera an ability to 'auto zoom' into zones of activity it detects. You can customise these motion zones so as not to wear out the batteries looking at your neighbour's driveway, and the app also gives you the ability to change what types of notifications your receive.
You can even change how bright the floodlight is which, at 2000-3000 lumens, is incredibly bright by default. Left alone, the light will sit at 70% brightness, but you can shift this down as far as 5%.
Subscription
A subscription won't just get you cloud uploads for 30-days, but also the ability to integrate the camera with your Alexa, Apple HomeKit, Google Assistant, IFTTT or Samsung SmartThings home set-up. Then there's smart notifications and live streaming. Basically, Arlo makes it worth your while to sign up.
Anything else?
Arlo claims that the battery in the Arlo Pro 3 Floodlight will last six months, but this is probably a stretch if it gets frequent use. Because constantly removing and charging the interior battery could get tedious, you might want to look into purchasing a solar charger (opens in new tab) to make things a little easier.
Gardeningetc rating: 4.5 out of 5 stars
3. EZVIZ C3A Full HD WiFi Security Camera
Best outdoor security camera for large gardens
Specifications
Image definition: Full HD
Power: Wireless
Connectivity: Wi-Fi
Reasons to buy
+
Feature-packed, offering security, flexibility and remote access uses
+
Great build quality
+
Easy to set up
Reasons to avoid
-
Subscription to cloud services
If you have a large home or garden, then the Ezviz C3A is a security camera worth considering.
How it performs
Streaming live footage and saving footage in Full HD means that the image quality is really clear. The camera will also capture nighttime activity, so if you want to locate the camera near to the entrance to the cat flap or the dog's outside home you can see what they are up to at all hours of the day.
The security camera is powered by a rechargeable lithium battery which can last up to three months. This makes installation mega easy: not only does it avoid hard wiring but it means that if you change your mind on its location at a later date it can be easily removed by just releasing some screws.
Anything else?
Just as with some other security cameras in this guide, the Ezviz C3A allows you to communicate directly with the house via the microphone on your phone. The weatherproof camera can be used around the home and garden – as long as it's within Wi-Fi range. And it's all controlled via the Ezviz app, which does persuade you to sign up to cloud storage for a fee, but this is not essential to get the most out of the camera.
Gardeningetc rating: 4.5 out of 5 stars
4. KAMI Outdoor Full HD WiFi Security Camera
Best wireless outdoor security camera on a budget
Specifications
Image definition: 1080p
Power: Wireless
Connectivity: Wi-Fi
Reasons to buy
+
Easy to set up
+
Wide angle view
+
Long battery life
Reasons to avoid
-
Design protrudes a little
If you know you want a wireless camera for the shed and are looking for one on a budget, the Kami Outdoor Battery Camera could be just what you have been waiting for.
How it performs
The Kami Outdoor Battery Camera is truly wireless and operates on a single battery charge for up to six months. This makes set-up and installation really easy. Plus, actually using the camera can all be done via the Kami app across a stable Wi-Fi connection.
The footage is recorded in three definitions – Auto, SD and HD – which you can choose from in the Kami app. It's in black and white but no details are missed, and each time motion is detected you can opt to receive a notification or a six-second clip is saved down onto the app, onto a Micro-SD card or you can unlock a secure clear backup on the Kami Cloud.
Anything else?
To sign up to the cloud, you get up to one month of free storage and then it would be up to £149.99 per year (£12.50 per month). You can also add up to 5 Kami cameras onto the app, so that's more than enough to keep a watchful eye on your home. And engage with two-way comms, too.
Gardeningetc rating: 4.5 out of 5 stars
5. EZVIZ C3N Full HD 1080p WiFi Outdoor Security Camera
Best wired outdoor security camera on a budget
Specifications
Image definition: 1080p
Power: Wired
Connectivity: Wi-Fi
Reasons to buy
+
Incredibly clear colour nighttime footage
+
Two-way audio
+
Siren
+
Very reasonable price tag
Reasons to avoid
-
Wired
-
Requires a strong Wi-Fi connection
Next up on our list for the best outdoor security cameras is the Ezviz C3N. It's a great choice of camera which shoots and records in colour and is ideal if you're on a tight budget.
How it performs
Equipped with two built-in spotlights, two infrared (IR) lights and optical lenses, the C3N displays an incredibly sharp 1080p image, even on the darkest of nights. So that you can see in colour, the lights stay on unless you opt to have the lights come on when motion is detected or black-and-white footage which will turn off the spotlights.
To add to the accuracy of the night vision, the embedded AI algorithm will detect the option of human shapes in real-time so you can easily determine who (or what) has come onto the driveway.
Anything else?
The spotlights, two-way audio and siren can all be controlled through the intuitive Ezviz app. Available as a wired option, only. During the registration process, you are prompted to subscribe to CloudPlay storage (free for the first 23 days, then a fee from £2.99 will be incurred depending on your choice of plan), which will give you more options.
Gardeningetc rating: 4 out of 5 stars
6. Arlo Pro 2 Wireless Home Security Camera System
Best outdoor security camera system
Specifications
Video: 1080p
Power: Wired, battery
Connectivity: Wi-Fi; Alexa
Reasons to buy
+
Choose your own package
+
Built-in siren
+
7 days cloud storage for free
+
2-way audio
Reasons to avoid
-
Requires space for hub
-
Not cheap
The Arlo Pro 2 is a customisable home security camera system that can be used indoors or outdoors, allowing you to choose units based on your requirements.
How it performs
As one of the more expensive examples on our list, you'd expect the Arlo Pro 2 to offer something a little extra. That additional cost essentially comes down to the amount of devices that are involved here. There's your security cameras – a choice of 2, 4 or 5 – and the hub itself, which needs to be placed inside. The cameras are weatherproof, so are fine to position outside, but you'll need to find space for the main unit. From there you can connect your system however you want, with no restrictions on where you can place your cameras.
Anything else?
There's quite a generous amount of free cloud storage, and footage captured when the motion alert is activated will be stored for seven days. With a subscription, this becomes a month.
Gardeningetc rating: 4 out of 5 stars
7. NETATMO NOC-S-UK Full HD WiFi Outdoor Security Camera
Best outdoor security camera with floodlight (runner up)
Specifications
Video: 1080p
Field of view: 100-degrees
Power: Wired
Weather resistant: Yes (IPX7)
Night vision: Yes
Reasons to buy
+
Built-in 1000 lumen floodlight
+
105dB siren
+
Works with with Alexa, Google Assistant, Apple HomeKit and IFTTT
Reasons to avoid
-
Built design won't be hard to spot
-
Has to be hard-wired in
-
No two-way audio function
Our second favourite outdoor security camera, this wired option from Netatmo comes complete with a 1000 lumen floodlight and 105dB siren to help deter unwanted visitors and protect your property whether you're home or away.
Setting it up
Installing the camera is relatively simple providing you have an existing outdoor light that can be replaced. If so, the Netatmo Presence can be hooked up to the same wiring, ensuring that it is close enough to your internet hub to pick up a strong signal. If this isn't an option, our advice would be to hire a professional to install everything (assuming you're not a dab hand at electronics!).
How it performs
The floodlight is the unique selling point here, adding additional security that will really boost the use cases for your camera. You can also get a model of the camera with a loud siren that can be manually operated if you see something you don't like happening outside.
The security camera has a 100-degree field of view with a detection distance of 20m during the day. Infrared helps it see at night, picking up on motion and filming as needed. It can differentiate between things like vehicles, animals and people, and you can set custom motion zones – sparing you of any notifications about your neighbours or a wayward fox passing through.
The lack of a subscription is a real boon here, meaning you won't need to fork out additional costs for video storage. Instead, the Netatmo camera has a MicroSD slot for a card up to 32GB, or you can hook your account up to a Dropbox account or other FTP server for storage in the cloud.
How it's designed
You shouldn't expect the Netatmo Outdoor Security Camera to blend into the outside of your home, as it's designed as much as a deterrent as anything else. The sturdy casing does mean it will withstand harsh weather, however, with IPX7 standard protection and the ability to cope with temperatures between -20°C and 50°C.
How to choose the best outdoor security camera for your home
How do outdoor security cameras work?
A camera of this nature will operate via your home Wi-Fi or its own hub to live-stream footage of any outdoor activities. The majority of the cameras are available in at least a standard definition and go up to 4K ultra high definition – the higher the definition the clearer the image quality will be. The camera will work the same way during the day as it does at night time (if the camera offers nighttime vision).
You can then view the live footage using an app on your smartphone or tablet, or revisit recordings either saved in dedicated storage clouds or short clips which are triggered by motion detection.
What makes a security camera suitable for outdoor use?
All security cameras which claim to be suitable for outdoor use, including those which feature in this guide, are weatherproof and can be installed on a building's exterior. This does often mean that some handy DIY is required by either you or an electrician, depending on whether you opt for a mains-powered or battery-powered camera. They should also be placed high up the wall so they can't be stolen.
An outdoor security camera offers a great way to keep an eye on all your outbuildings (sheds, garages etc) or the driveway, especially when you're not at home so the footage can be used as evidence should the worse happen.
You've reached the end of the page. Jump back up to the top ^