The best wheelbarrow 2021: make light work of garden tasks
Owning the best wheelbarrow makes it easy to transport compost, plants, and other materials round your plot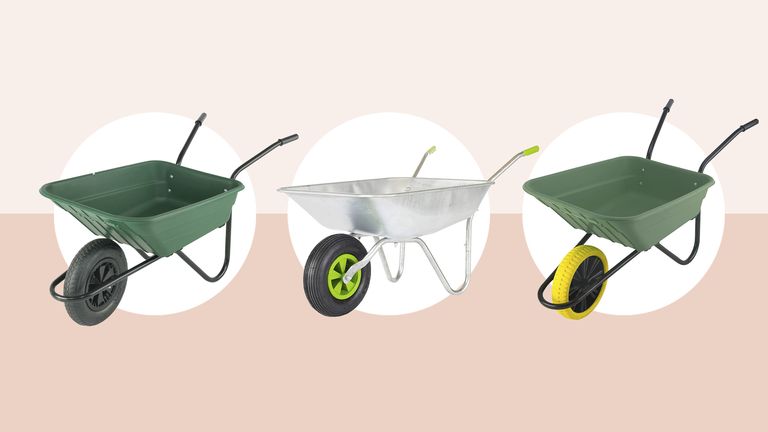 (Image credit: Future)
Investing in the best wheelbarrow can save you multiple trips up and down the garden when you're planting and tending to your outdoor space, and enable you to move the items that would be hard to lift on your own. 
The best wheelbarrow will be easy for you to manoeuvre, and robust enough for whichever jobs you're likely to throw at it. It also needs to fit through gateways in your garden. 
We've put together a selection to suit small gardens and large: just scroll down to find the top choices. Looking for more information on choosing? Skip to the end for our essential guide to wheelbarrows, then head to our best lawn mower buying guide for even more expert advice on the best kit for your garden. 
The best wheelbarrow 2021
1. Walsall 90L Multipurpose Polypropylene Wheelbarrow
Best wheelbarrow you can buy: lightweight, a good size, and easy to tip out, this design will suit plenty of gardens
Specifications
Best for: Most garden tasks
Materials: Polypropylene pan and steel frame
Capacity: 90 litres
Reasons to buy
+Lightweight+Heavy-duty frame+Pneumatic wheel+Good capacity
Reasons to avoid
-You'll have to pump up the tyre-Not for very heavy loads
If you're looking for a barrow with a good capacity, and that can cope with bumpy ground, this model will be right up your garden path.
Easy going
It's made from polypropylene so this barrow is light to move around the garden. It does have a steel frame, though, which gives it strength.
Rough ground
A pneumatic wheel will cushion the barrow if you have to push it over bumpy areas, making the ride smoother. Bear in mind that it can puncture, though, and you'll have to pump it up from time to time. 
Exit strategy
This wheelbarrow has a tipping nose to allow you to eject its contents easily whether that's leaves, or garden debris. 
Buy the Walsall 90L Multipurpose Polypropylene Wheelbarrow
2. Neo 65L Wheelbarrow
Best value wheelbarrow: you can move heavier loads with this robust steel design
Specifications
Best for: Transporting a variety of materials
Materials: Galvanised steel
Capacity: 65 litres
Reasons to buy
+Heavy duty+Pneumatic tyre+Soft handles
Reasons to avoid
-Weightier than plastic
Happy with a barrow that weighs more than a plastic version so long as you can move heavier loads? This is a model you'll like.
Steel structure
Made from steel, this wheelbarrow is strong and durable. The material is galvanised, which offers protection against rust. 
Load up
A 65 litre capacity isn't as generous as some of our picks, but if you're buying the barrow to push heavier items, you may not want any more space inside than this.
Smooth moves
There's a 33cm diameter pneumatic tyre on this barrow that makes it easier to move over bumpy ground. 
Buy the Neo 65L Wheelbarrow
3. Rhyas Twin Wheeled Wheelbarrow
Best wheelbarrow for stability: two wheels make it easier to move cumbersome loads round your plot
Specifications
Best for: Avoiding wobbles
Materials: Polypropylene
Capacity: 55 litres
Reasons to buy
+Stable design+Pneumatic wheels
Reasons to avoid
-Tyres need pumping up-Not ideal for small areas
Two wheels equals more stability, and this smart polypropylene wheelbarrow will deliver on that score.
Awkward work
When you're moving bulky loads, having a barrow with two wheels like this one is distinctly advantageous for added stability.
On manoeuvres
There is a downside to two wheels, however. These barrows can prove trickier to turn tightly and aren't best suited to work in small spaces.
Take the rough
The wheels on this barrow are heavy duty pneumatic versions, but pumping up will be required.
Buy the Rhyas Twin Wheeled Wheelbarrow
4. Gardebruk Wheelbarrow
Best big wheelbarrow: a 100 litre capacity and stable design makes this a garden workhorse
Specifications
Best for : All sorts of loads
Materials : Galvanised steel and powder-coated metal
Capacity : 100 litres
Reasons to buy
+Good volume capacity+250kg load capacity+Pneumatic tyre+Stable design
Reasons to avoid
-Takes up space when you're storing
This may be a barrow with one wheel, but it's designed to be stable, and made to last.
Goes through mud
The diameter of the pneumatic wheel of this barrow is 38cm to help it get through sticky areas of your plot.
Durability counts
With a powder-coated metal frame and a galvanised tub, this wheelbarrow promises to be rust and weatherproof.
On board
The load you put in the deep tray of this barrow should stay secure, and the design contributes to good stability.
Buy the Gardebruk Wheelbarrow
5. Walsall Wheelbarrows Shire Wheelbarrow
Best wheelbarrow for avoiding punctures: this lightweight model will avoid the hassle of wheel deflation
Specifications
Best for: Easy maintenance
Materials: Polypropylene and tubular steel
Capacity: 90 litres
Reasons to buy
+Puncture-proof wheel+Lightweight+Easy to manoeuvre
Reasons to avoid
-Some assembly required
No rough ground to negotiate in your plot? You might like to swap a smoother ride for a wheel that won't puncture.
No strain
With a tubular steel frame plus a polypropylene tray, this wheelbarrow won't be hard to push. A single wheel ensures it's easy to manoeuvre, too.
Less work
The puncture-proof wheel could save you time and effort, and if your garden doesn't have any tricky terrain you won't mind giving up the cushioning of a pneumatic wheel.
Garden helper
The weight capacity of this design is 125kg, which should be sufficient for most garden tasks. 
Buy the Walsall Wheelbarrows Shire Wheelbarrow
How to buy the best wheelbarrow
Pick between plastic and metal
Wheelbarrows are generally made from either plastic or metal. Additionally, there are some fabric designs available. Foldable, these are good if you really don't have much space but they aren't made to deal with loads like a plastic or metal barrow can.
The biggest advantage of choosing a plastic design is that it's lightweight and won't rust, although there is the possibility of cracking . A plastic design isn't made for the heaviest loads, so think about whether you plan to move landscaping materials and check the weight capacity.  
Metal barrows are heavier than plastic, although they needn't be unduly so. They're strong and can take weightier loads. They're robust but metal does rust. Galvanised designs resist this process.
Number of wheels
Most wheelbarrows have one wheel. This makes them easy to move round the garden. Be aware, though, that with a heavy load on board, listing to one side can happen and your resistance is necessary to keep the barrow level.
Want more stability? Choose a two-wheeled barrow to keep on track more easily with hefty loads on board. The downside, though, is that you can't turn so economically with a two-wheeler.
Think tyres
Pneumatic tyres make for easier going over rough ground, but can puncture. Go for puncture-proof or solid tyres to avoid the issue, but be aware that they won't damp down the bumps in the same way.
Consider capacity
You'll find wheelbarrows with capacities starting from around 50 litres to over 130 litres. A larger capacity barrow will be more bulky to store, so take this into account. 
Weight capacities range from around 60kg to more than 180kg; think about what you're likely to be carrying around in the wheelbarrow so you don't spend money on more weight capacity than you need. A barrow of leaves, for example, isn't heavy.
What is the best garden wheelbarrow?
If you want a wheelbarrow for all your gardening tasks that's light and manoeuvrable, we'd recommend the Walsall 90L Multipurpose Polypropylene Wheelbarrow. It has good capacity, a pneumatic wheel to cope with rough areas, and it's a value choice.
More garden tools advice: