Garden makeover: an uninspiring plot transformed into a modern cottage garden
With its beautiful cottage garden planting scheme and split-level layout, this rectangular plot is now a stunning space. Come and take a tour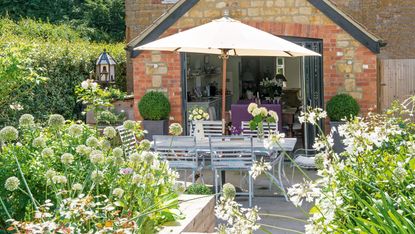 (Image credit: Future)
Dreaming of a modern cottage garden, the owners of this Dorset property turned their attention to the outside space after six years spent renovating the interior. As part of the renovation work, they had added a kitchen extension with bi-fold doors that opened out to a spacious patio area. But they were unsure what to do with the rest of the garden.
After some expert design advice, they decided to create a split-level design with steps from the patio up to a separate area for relaxing. The garden now combines the best of modern design with a nod here and there to the traditional. Keep reading to see how this once unpromising rectangle of lawn was transformed into a stunning modern cottage garden, then head over to our garden design ideas for more brilliant ways to transform your own outdoor space.
The plan for the redesign
The original garden was a dull rectangle that was dominated by a large apple tree, which took up lots of space and cast shade over everything so little grew. It had a sloping incline that went up towards the back of the garden and was mainly laid to lawn. Mike Reeves of Greenman Services (opens in new tab), advised the couple to introduce the new split-level design.
The owners knew they wanted to introduce lots of cottage garden ideas, but they also wanted the garden to be low-maintenance and to create the feel of a private space. They favoured a predominantly white planting scheme as they loved the simplicity this look offers. By cleverly splitting the garden into different areas this creates the impression that the plot is much larger than it is. This layout gives the garden character and divides it naturally into areas for eating, sitting and relaxing. The middle part of the garden is laid to lawn, with steamer chairs for lounging in the sun.
Redesigning the patio dining area
The patio feels enclosed and sheltered, thanks to the retaining walls surrounding the next level of the garden. To connect the two spaces and add a seamless indoor-outdoor moment, one of the best paving ideas is to use the same flooring inside and outside, so the owners opted for a smart flagstone tile. The patio feels like a natural extension of the home and the owners use it as an extra room. The smart furniture and oversized planters adds to the contemporary cottage garden ideas.
Opting for cottage garden plants
Borders packed with the best cottage garden plants make the garden look lush and established. Fully planted beds also stop weeds taking hold. Ferns, evergreens and annuals like sweetpeas, cosmos daisies and snapdragons fill the garden with structure and form to create a real cottage garden look. Sweetpeas look particularly good scrambling up an obelisk as well as drenching the air with scent. The owners stuck to a cool all-white palette as far as possible. You'll find lots more planting ideas in our guide to garden borders.
Making the cottage garden planting work
The garden is zoned into distinct areas. Climber-clad trellis fencing screens the garage and is covered with dainty clematis flowers, which are a hardy climber that's great for softening fences and other structures. Adding a rendered wall as part of the garden redesign provides privacy as well as a modern feel. Eventually it will be mostly covered by clematis and jasmine. It's painted in Farrow & Ball's Bone (opens in new tab), a good match to coordinate with the patio paving that doesn't compete with the greenery. Head over to our garden wall ideas for more inspiration for your garden boundaries.
Creating a curved pathway
Stepping-stone slabs in a cool neutral tone interspersed with gravel chippings is a great garden path idea for creating an informal and low-maintenance route through the garden, while the lush planting spills over to soften the lines. Stylish agapanthus add height and structure and are a great choice if you're looking for bee friendly plants in a cottage garden.
Mixing new and old
The garden includes some very individual touches to add personality. Eye-catching modern planters are dotted around throughout the space, filled with white powder puffs of agapanthus or clipped domes of evergreen foliage for a smart and modern look. An old stepladder, bought for a few pounds at a local market, has been turned into an eye-catching vertical plant stand. But what makes this garden so special is the mix of modern and traditional ideas.
Read more:
Lifestyle journalist Sarah Wilson has been writing about gardens since 2015. She's written for Gardeningetc.com, Livingetc, Homes & Gardens, Easy Gardens and Modern Gardens magazines. Having studied introductory garden and landscape design, she is currently putting the skills learned to good use in her own space where the dream is establishing a cutting garden.