Garden makeover: a low-maintenance courtyard transformed on a budget
Space and budget were limited for this contemporary garden makeover. Head this way to see how the clever courtyard revamp was done...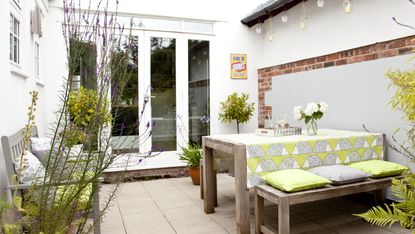 (Image credit: Future)
The courtyard of this small terraced house needed a garden makeover to bring it bang up to date and match the extension that had just been completed. The owners had been desperate for the extra space the extension would give them but weren't prepared for the devastating effect it would have on their garden.
They knew they would have to sacrifice a little outdoor space to accommodate their plans for the house, but expected the garden to survive the building work relatively unscathed, leaving them free to brighten things up with new furniture and pots. However, because of foundation and pipework excavations for the extension work, this wasn't to be the case, so they needed to come up with a fast and cheap solution to rescue their garden.
Working with a limited budget was going to be tricky but they hit on some genius ideas to help the revamp run smoothly. The result is a stylish contemporary looking courtyard and you would never guess that it was done on a shoestring. Read on to find out how they did it, then check out our garden design ideas for more inspiration.
THE ORIGINAL GARDEN AND HOW IT LOOKED BEFORE
After a much-needed single-storey extension was added to this small house the building work left the garden looking much the worse for wear. But there was very little money left for the stylish garden makeover the owners dreamed of. The building works had left little more than a pile of rubble in the garden, which became a dumping ground for broken furniture, bins and anything else there wasn't room for in the house. It certainly wasn't a garden to linger in.
THE PLAN FOR THE REDESIGN
The owners had never had a garden before, so designing one from scratch was daunting, especially as they soon discovered they couldn't afford the additional landscaping costs.
The revamp needed to create an inviting, low-maintenance courtyard garden that would be great for entertaining and relaxing in the summer. When the doors were thrown open they wanted the garden to feel like a natural extension of the interior space.
A light, bright colour palette was needed to make the cramped space feel bigger. They were also desperate for some year-round storage for their bulky bikes and sports equipment, which was currently stored in the house.
Want to know how much to budget for your garden? Head over to our guide on how much does landscaping cost to get the lowdown.
Using salvaged materials to cut costs
Luckily the couple's builder took pity on them, and not only levelled and prepared the dug-up area outside the doors to the garden, but also produced old paving stones for them to use to create the patio.
Originally destined for landfill, they weren't exactly what the owners had in mind, but they were free and allowed them to step outside onto a level surface after months of exposed foundations. In fact, once laid and meticulously power-washed, they were pleasantly surprised by the smooth looking result and this inspired them to hunt for more bargains.
Find out how to use salvage for garden upcycling ideas in our feature and save money on your project too.
CREATING A DINING SPACE
Entertaining was always going to be the key use of space in the revamped garden, so the couple needed some decent furniture to help create a stylish look.
The dining table and benches were spotted in the local newspaper's classified ads section. They cost £300 and needed a good scrub, but were really good quality. The look was completed with a homemade tablecloth featuring a hedgehog motif and matching plain cushions in a cool grey and green colour palette that was picked up elsewhere.
REMODELLING A GARDEN BENCH
Investing in one of the best garden benches was out of the couple's price range, so instead they picked up a secondhand buy on Freecycle.
Despite needing a slat replacing it was soon transformed with a coat of the best exterior wood paint. Cool neutral grey is the perfect colour choice for an urban garden, working in harmony with the blue planting theme.
Sourcing from Freecycle left money in the kitty for a neat designer drinks table to sit alongside the bench. Something of an impulse buy, it nevertheless adds a touch of cool styling. The wall lights were another bargain from eBay.
Want to give your outdoor furniture a new look? Our guide to painting garden furniture explains how to get the best results.
Adding a bamboo screen
The garden still lacked impact, but then inspiration came in the form of a magazine article featuring a simple potted screen. This idea was perfect for defining their patio area and screening the shed from view.
Wanting to replicate the look, it took them only three weeks to track down some large zinc planters on Gumtree that were perfect for the job. These were planted up with bamboos and the result is a modern and stylish screen effect.
They also managed to rescue some terracotta pots from a neighbour's skip, which were planted up with agapanthus to complement the airy bamboos.
Creating much needed storage space
With half the garden now neatly paved, the remaining concreted area, although a great base for the proposed new shed, was both ugly and no longer level with the pavers. So a sleeper step was added together with a layer of gravel to disguise the concrete, a cheap solution that really makes a feature of the change in levels, and adds visual interest to a small space.
The arrival of the generous shed, accessed via the house or side alley, also allowed the removal of bikes from inside the house, while the cramped spare room was relieved of piles of surfboards and wetsuits.
Spare fabric was stapled to the windows of the shed so that their possessions were hidden from view when sitting in the garden. Then the shed was painted the same shade of grey as the garden bench to create a sleek and co-ordinated look.
ADDING ACCESSORIES ON A SHOESTRING
This garden is all about the finishing touches. Most of the accessories were picked up on eBay, Gumtree and Freecycle. But some were homemade too as the owners love a bit of upcycling.
String was wound around these large pickle jars to make simple hanging candle-holders to add ambience at night time. The perfect finishing touch to this effortlessly stylish revamped courtyard space.
Head over to our garden lighting ideas for more ways to brighten up your patio space.
Read more: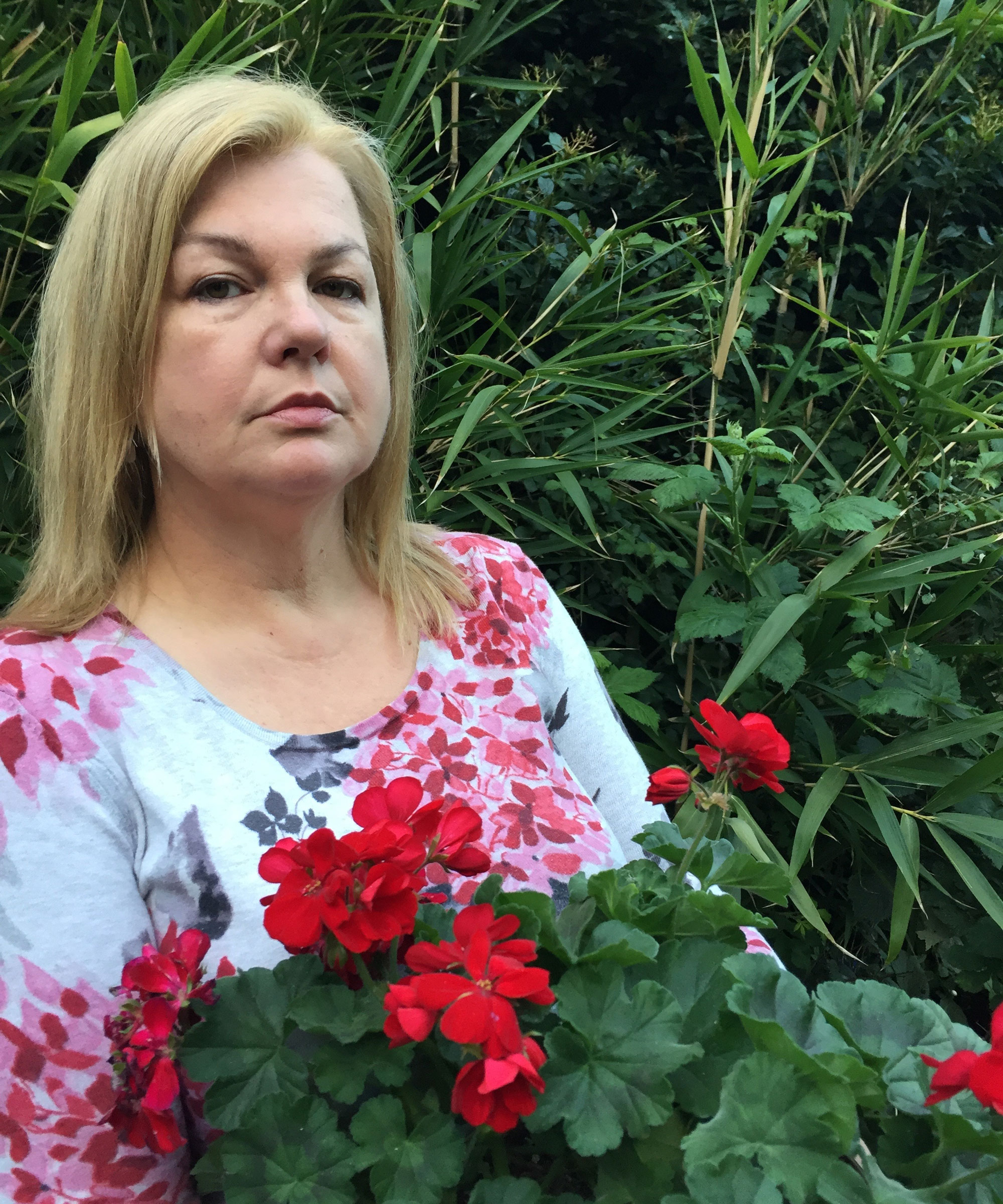 Lifestyle journalist Sarah Wilson has been writing about gardens since 2015. She's written for Gardeningetc.com, Livingetc, Homes & Gardens, Easy Gardens and Modern Gardens magazines. Having studied introductory garden and landscape design, she is currently putting the skills learned to good use in her own space where the dream is establishing a cutting garden.