Garden makeover: a small plot transformed into a stylish space for entertaining
This courtyard-style space was in need of a modern garden makeover. Take a tour to find out how it was done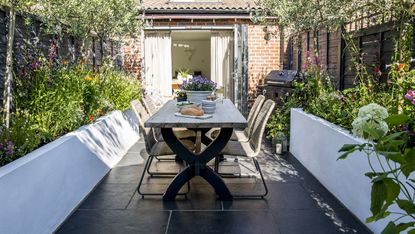 (Image credit: Future)
A smart garden makeover turned this uninspiring plot into a multi-purpose space for entertaining. After a kitchen extension for the property, which is a mid-terrace house in Berkshire in the UK, the owners decided to turn their attention to the garden.
Filled with overflowing sheds and random clutter, it was also looking much the worse for wear after a team of builders had spent months tramping through it. Working with such a small space can be tricky to get right, especially when it's essentially a rectangle. But this transformation shows how easy it is to switch up a space as long as you stick to a few basic guiding principles.
Choosing exactly what you want to use the garden for is key. Making entertaining the focal point of this garden with the table taking centre stage is key to its successful revamp. Sleek raised beds lift the planting to eye level for maximum appreciation, while also offering a sense of privacy as the property is overlooked. A stylish summerhouse forms an integral part of the smart redesign, and careful accessorising adds those all-important finishing touches.
Keep reading to find out how it was done, and don't miss our other garden design ideas if you're looking for more inspiration for your outside space.
The original garden and how it looked before
The small 10 x 4 metre garden was an uninspiring rectangular plot that had somehow ended up with three overflowing sheds and lots of divided up spaces. It suffered from the 'corridor' effect where the garden was simply a route to the shed.
It was also overlooked by neighbouring houses so there was no sense of privacy. It was such an unwelcoming space that the garden was rarely used. When the house was upgraded with a one-storey kitchen extension the garden became a complete mudbath from the building works, so it made sense to revamp the outside at the same time. This needed careful thought as it's such a small space.
The plan for the redesign
The first thing the owners wanted to do was open up the garden into one whole space instead of it being divided up into several areas, which made it feel cramped. The revamped space needed to work for entertaining and relaxing in, as well as creating an outdoor work space.
They needed a workshop for their interior design business so planned to turn their shed into a stylish summerhouse where they could both work and relax.
They wanted to include a large table as the focal point for entertaining family and friends, and for their garden to feel more secluded with the right sort of garden privacy ideas and planting to screen out neighbouring properties overlooking the garden.
Making the most of a small space
As the plot was compact, it was important to include plenty of innovative small garden ideas to ensure the layout works visually. The owners opted for a formal-looking design with a large summerhouse at the end and symmetrical raised beds to frame a central dining area.
The focal point of the space for entertaining is a weathered wooden table that cost just £80 on eBay and was remodelled to suit the owners' taste. The paint was stripped off, then it was scrubbed with bleach and left out in the sun, with the process repeated several times. Finally it was sealed with clear matt exterior varnish and the legs were painted to match the summerhouse.
The last big job was laying black limestone slabs between the raised beds. The resulting look complements the space perfectly.
Choosing raised beds for easy planting
Once the extension was finished foundations were dug for the raised beds. These help to define the space and raise the plants to eye level so they can be appreciated more.
The beds were built from breeze blocks, which were rendered then painted white to help bounce light around the space. They were lined with membrane and gravel added in the bottom for drainage.
Plants were chosen to fill the raised beds with colour throughout the seasons, and the planting was done by the team at Distinguished Gardens. The paint shade used on the fences was customised using a mix of Urban Slate and Smooth Pebble from Cuprinol's Garden Shades range.
Styling up the summerhouse for outdoor living
Several sheds were replaced by one large stylish summerhouse with big windows to throw plenty of light into the interior. This space is used for both relaxing in and working from home.
In summer the doors are thrown open and this makes the summerhouse feel like a natural extension of the rest of the garden rather than a separate space.
Carefully chosen furniture and accessories create the feel of an extra living room and the floor is painted for a more polished finish. It's also a great studio space for working from home.
Head over to our garden office ideas for more ways to create a work from home space in your garden.
Making a relaxing space with cosy accessories
The new summerhouse space is packed with stylish she shed ideas. It's dressed with cosy accessories to create the feeling of an extra room, just as you would use artwork, rugs, throws and cushions inside the house.
The owners sourced vintage pieces from car boot sales and online shops. It's always good to add a statement piece, and this original hanging chair from the Seventies was an eBay find. It's easy to create a boho style like this with secondhand finds. Don't forget to add plenty of houseplants for that on-trend feel.
Using bold paint to create interest
Think feature walls are just for inside the house? Think again. The summerhouse in this garden features a high-impact black wall that adds a stylish note to the interior, especially when paired with a few carefully chosen accessories.
Inky black, deep charcoal, graphite grey and midnight blue shades all work well to create a contemporary look with a touch of Scandi style about it.
Head over to our best exterior wood paint guide for advice on finding the right product for your garden painting project.
Adding garden lighting for the finishing touches
This garden makeover was principally to create a space for entertaining and relaxing so garden lighting ideas were key to get the most out of it.
The best outdoor lights lift a garden at night and festoon lighting always adds a magical touch whether you use it to style up a contemporary or more traditional looking garden.
More ideas for small gardens: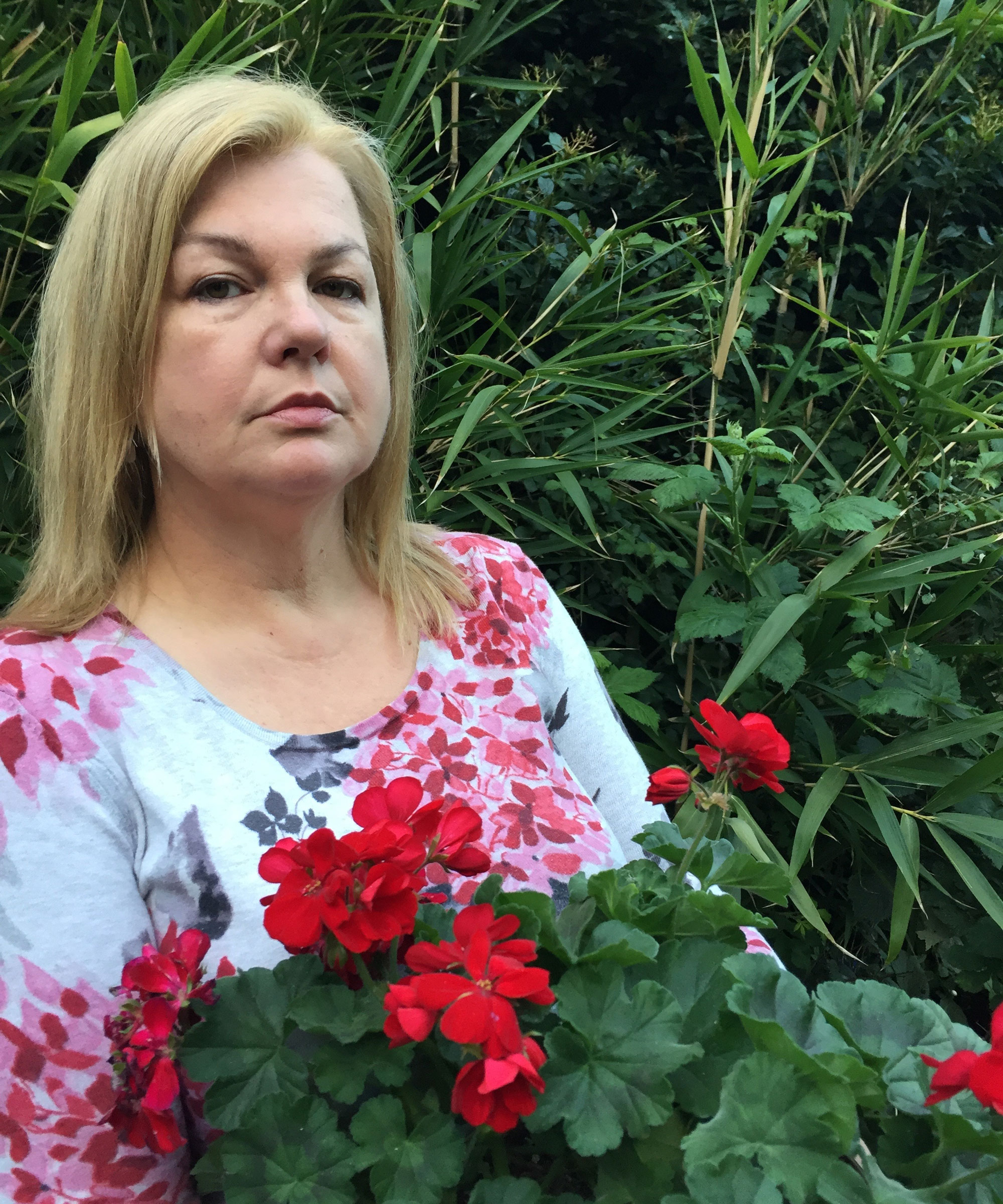 Lifestyle journalist Sarah Wilson has been writing about gardens since 2015. She's written for Gardeningetc.com, Livingetc, Homes & Gardens, Easy Gardens and Modern Gardens magazines. Having studied introductory garden and landscape design, she is currently putting the skills learned to good use in her own space where the dream is establishing a cutting garden.