Decking railing ideas: 12 stylish and practical ways to surround your deck
Take a look at our decking railing ideas – from contemporary glass and metal to traditional wood, they're all you need to surround your seating area in style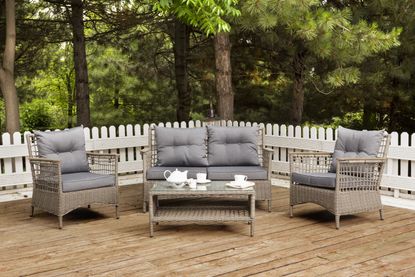 (Image credit: trismile/Getty Images)
Our decking railing ideas are the perfect finishing touch to your outdoor seating area. They're a great way to add an extra dose of style to your deck and, of course, they're practical too. And, there are tons of varieties available to match your personal taste and accompany your plot beautifully.
Perhaps you've already swooned over our decking ideas and are planning on installing your own this year. Or, maybe your existing deck is looking a little tired and in need of some TLC. Either way, adding a railing will instantly transform the space and make it feel complete. And, it will make it feel like more of an exclusive 'zone' to the rest of your plot.
But, decking railing is not just for aesthetic appeal. Debs Winrow, Creative Director at Garden House Design comments on their functionality. Not only do they stop people from falling off, she says, they also can create a useful wind barrier too. So, they're a great choice for providing more shelter for you, your decking furniture, and your plants. Do bear in mind that there are some regulations and requirements for decking balustrades, especially for decks that are up high, so make sure your plans adhere to these before going ahead.
So without further ado, take a look at our favourite decking railing ideas. From contemporary designs to more traditional, you'll be sure to find one you love.
1. Go for a classic look with wood
One of the most timeless decking railing ideas is a simple, classic, light-hued wood. It makes a subtle yet stunning border around this deck, creating a neat boundary between the raised flooring and the surrounding foliage.
We love how it complements the quaint she shed, almost transforming the deck into its own little porch area. The gaps between balusters allow light to filter through, too, creating an open feel.
To give it a touch of colour and a boost of protection against the elements, you could add a wood stain. Sadolin has a good range.
2. Match your railings and furniture
We love the pastel blue-grey tone of this deck rail. By painting the outdoor table and chairs in the same colour, the country-style space is given a modern edge with a pulled-together look. Notice how the colour enhances the vibrant blue of the nearby agapanthus, too.
The glass panels let in the leafy view whilst providing shelter against strong winds – perfect to nestle potted plants alongside.
If you're tempted to paint your own decking railing, take a look at our best exterior wood paint for more advice.
3. Embrace the view with glass
If you're lucky enough to have a show-stopping view, then why not choose glass railings to make the most of it?
This stunning ocean vista can be enjoyed from the decking all year-round with this beautiful curved balustrade. With an additional handrail, you can take it all in safely and enjoy the fresh air. A simple, streamlined look, but sometimes that's all you need.
4. Try a white picket-fence style
The white picket fence is a classic choice, it's neat, orderly, and looks great in any garden for a dose of country-chic charm.
We love how this one has been jazzed up with its wide, horizontal beams, and used as a decking balustrade. It looks fabulous as a barrier between the darker deck and the evergreen foliage beyond – adding brightness to the space.
Pulled together by the rattan furniture (so on trend, as you'll already know if you've read our garden trends advice), this is a polished set-up that's ready to entertain.
5. Play with patterns for added interest
Add a bit of pizazz to your deck with a patterned wooden border. These cross-hatched panels are great for adding an element of fun, and are a feature point in themselves.
A beautiful addition to a larger space, it's a fabulous architectural twist on a classic design.
6. Paint in grey for an on-trend look
If you haven't already heard, we totally love grey – it is, in fact, the 2021 garden trend you need to know about. So, naturally, we love how this simple wooden balustrade has been lifted with a coat of paint.
It provides a boost of sophistication to this family-friendly outdoor space, and looks great alongside galvanised planters and pots full of ornamental veg.
It zones the lawn away from the deck's kitchen garden perfectly. Take a look at our guide to growing vegetables in pots to start your own.
7. Create a sheltered spot with woven panels
Decks are great for sloping plots – they provide a level surface to perch your garden furniture on safely. However, if your deck is on a hill, it may well be more exposed to strong wind. And no-one wants their lovingly-made alfresco lunch blowing off onto the lawn.
So why not opt for a little more shelter when it comes to the perimeter of your deck? These tall, woven panels are just the solution to prevent the wind's bluster, yet are positioned at a height where you can still enjoy the view over the top.
The natural, wicker material softens the look – they won't feel imposing, even on small decks. A great choice for a stylish garden with a rustic vibe.
Want to add more shelter to your seating area to protect it from the weather? Check out our covered deck ideas for inspiration.
8. Opt for metal details
You may prefer a metal look to your deck railing, for its timeless look. These slimline balusters have a pleasing yet subtle curve.
Positioned between a simple wooden structure, the finished look is traditional but with a contemporary edge. And doesn't it make a stunning backdrop to the bright pink hydrangeas in front too.
9. Use glass panels for a subtle divide
This easy-on-the-eye design allows you to admire your garden from the shelter of your deck easily. Ideal for modern garden ideas, it makes a subtle feature that will elevate any outdoor seating area. Perfect for a raised decked area overlooking a lawn.
The glass panels look fabulous alongside wood, but to up the contemporary vibe further, consider pairing with metal.
10. Try a long-lasting composite rail
This composite balustrade has no visible fixings, resulting in a super-sleek design. Made of aluminium, it's then powder-coated in a chic grey tone – so you can count on it for durability.
They're a fuss-free, low maintenance and hard-wearing choice for busy families, who still want a stylish border to their deck. Take a look at our best composite decking to complete the look.
11. Add a tiki vibe with rope...
We love the easy-going, tropical-island feel that Dani from @theblossom_x has added with this simple rope-style rail. 'We chose the style with the railings and ropes as we wanted the corner to be a separate area from the garden but not too closed off,' she says. 'We added the little step for our puppy!'
Dani adds, 'I also wanted a tiki feel to the garden and I feel like this gives it a little bit of that, but if we want to switch it up, we can.'
It would make the perfect accompaniment to a beach-themed plot, and if that's the theme you're after, why not take a look at our tropical garden ideas too?
12. Go for a low wall for a more permanent boundary
If you're not sure about railings, then how about using a wall to border your deck? This mid-height, white-washed style looks stunning against the backdrop of boats and blue sky, whilst providing shelter for the potted plants beneath.
It adds a feeling of privacy, without spoiling the views and we think it makes a wonderful alternative to a more traditional balustrade.
Head over to our garden wall ideas for more inspiration for your garden boundaries.
What is the cheapest type of decking railing?
Wooden decking is often the cheapest type of decking railing available.
'Some simple timber systems are remarkably elegant and cost effective,' says Zoe Goff, Decking Expert at Richard Burbidge. 'These can start from as little as £31 per metre for handrail, baserail and infill.'
You can then customise them to suit your style. 'There are a wide variety of infills available – turned spindles or more contemporary plain balusters,' says Zoe. 'Metal, glass, or timber panels are a great option for those looking for an element of privacy.'
How do I improve my decking railing?
In regards to improving timber deck railings, Leigh Barnes from Jacksons Fencing says, 'Preservation is the best form of defence. So, when it comes to decking railings or balustrade, they should be manufactured from high quality timber that has been kiln dried to reduce its moisture content and pressure treated to ensure protection from rot and insect attack.'
'Safety is a priority, so ensuring the pales are always secure and do not become loose, bow or warp over time is important,' they add. 'If rot or damage has occurred to the wood, then the integrity of the railings could be compromised, affecting its longevity.'
Don't forget that there are some fantastic, protective wood stains available on the market which will help your decking last longer against the elements. They can add a fresh new look, too.
Zoe Goff, Decking Expert at Richard Burbidge says, 'Decking balustrade will last for years when appropriately maintained. However, it is simple and cost effective to replace decking balustrade if you need to – all Richard Burbidge systems have been designed with ease of installation in mind.'
'Easy to fit twist brackets are available to make the job even easier and give peace of mind when it comes to strength,' she adds.
Does decking need railing?
'At ground level, decking does not need railings,' says Zoe Goff, Decking Expert at Richard Burbidge. 'However, when decking is over 600mm from the ground it does need balustrade and there are many systems available.'
'Even at ground level though, railings are great way to partition sections of your garden or landscape and offer an element of privacy.'
Leigh Barnes from Jacksons Fencing also says, 'Where decking is raised, railings should be installed for safety purposes as standard to prevent falls.'
For added safety, they recommend that decking height is kept under one metre from the ground, and that the decks are cleaned periodically to remove moss and lichen which can become slippery. 'Alternatively, slip resistant decking boards are an option,' they add.
To keep your decking looking its best, head over to our guide on how to clean decking for our expert tips.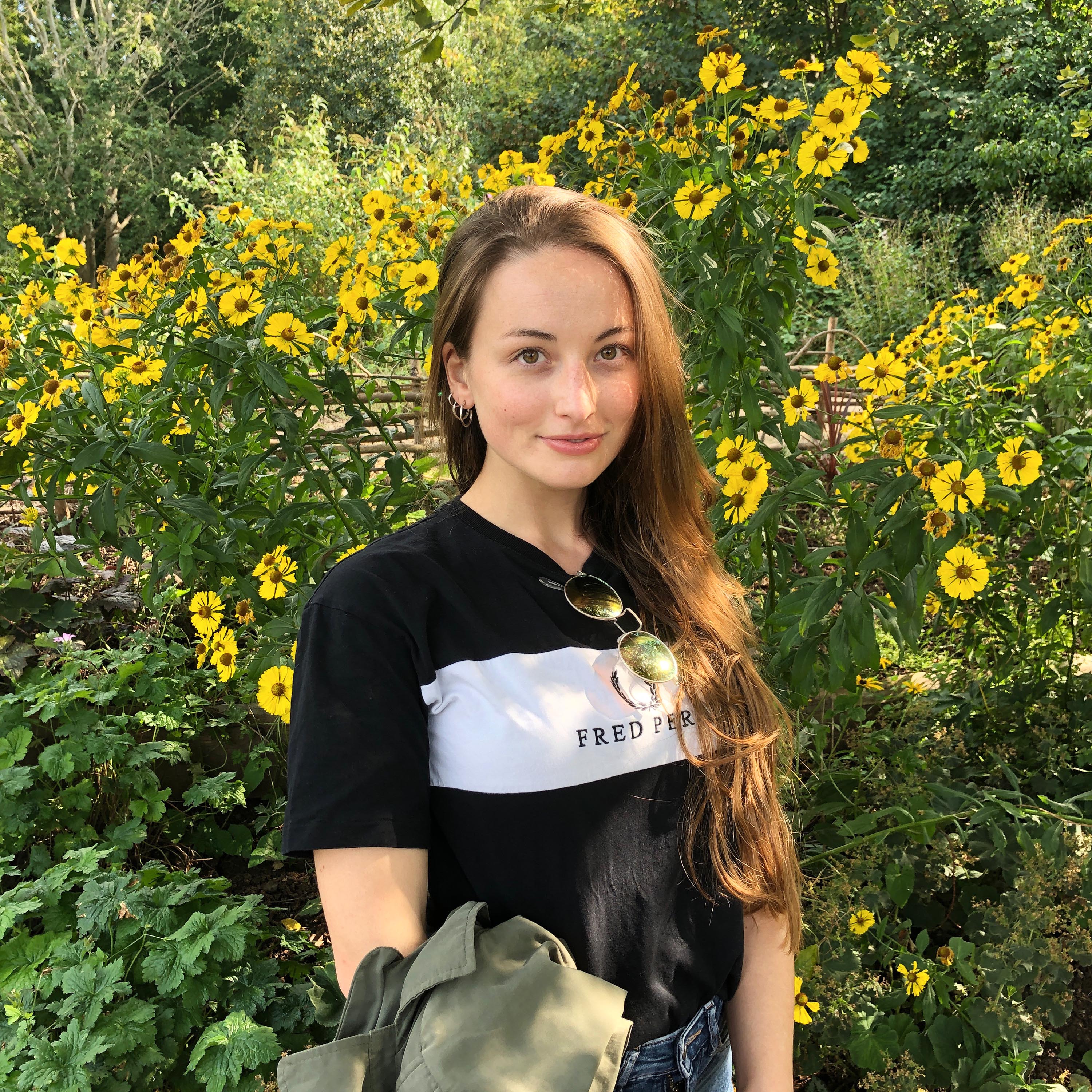 The garden was always a big part of Holly's life growing up, as was the surrounding New Forest where she lived. Her appreciation for the great outdoors has only grown since then. She's been an allotment keeper, a professional gardener, and a botanical illustrator – plants are her passion.