Garden play area ideas: 10 ways to create fun-filled environments for little ones
Are you looking for garden play area ideas? Take a look at these suggestions – from inspiring climbing equipment to making the most of nature and more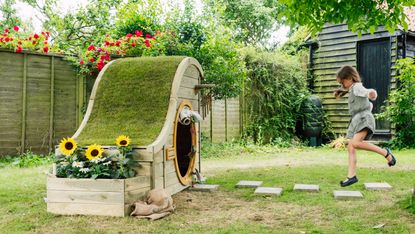 (Image credit: Plum Play)
Our garden play area ideas are just the ticket for keeping kids occupied for hours outdoors. And as you'll see, they can be surprisingly stylish too, meaning the overall look of your garden needn't be sacrificed.
From awesome play centres that blend effortlessly into your plot, to sunken trampolines for all the family to enjoy (yes, mums and dads included!) we've rounded up some of our favourite garden play area ideas. We know your kids will love them (and you'll love the extra you-time whilst they're busy playing). So read on, and get inspired to bring a little more excitement to your plot.
And whilst we're on the subject, why not check out our garden activities for kids, for even more fun-filled ideas? Your little ones will be running outside to play in no time, whatever the weather.
1. Add a climbing frame that complements the space
For a clever way to keep kids entertained in your plot without losing style points, check out the idea above. Designed by Tom Howard Garden Design, this play centre blends beautifully with the rest of the contemporary space.
Fresh foliage trained up the slatted side softens the look and will become even more effective as it establishes. The grey hue of the climbing frame itself ties together with the fence, and can you spot the clever storage solutions inside? Perfect for clearing away playtime clutter at the end of the day.
2. Encourage treetop fun
Treehouses are a fabulous way for adventurous kids to let loose as being up high lets their imaginations run wild. It also provides a secret den for them to make their own, or hang out in with their friends.
Sticking to a natural finish keeps things looking cohesive and authentic, although a handful of brightly
coloured planters adds a jolly element to the scene. Looking for more inspiration? Our treehouse ideas feature has lots of lovely designs.
3. Opt for equipment with a natural look
This design incorporates tons of fun features for little ones to get creative. Including a wind chime, a planter for their own flowers, a table set-up for mud kitchen ideas and even a drawing board tucked away, something like this is a worthwhile investment for any plot.
Plus, its curved top offers a contemporary detail that feels unique. Topped with a run of turf as shown, a living roof is created which fits with the surroundings perfectly.
4. Go for a classic playhouse for hours of fun
Sometimes you just can't beat a classic, and this play house is exactly that. With quaint window boxes, a sweet stable door and even a miniature bench, little ones will love whiling away the afternoon in a space that's exclusively theirs.
We also love how a wooden structure arches over the scene, framing the evergreens behind and adding a contemporary twist – great for lovers of our modern garden ideas.
5. Opt for space saving equipment for little ones
A space to hide, slide, and climb – this wooden play centre offers it all, in just one piece of equipment. And, it's low height makes it a great choice if you're looking to keep younger adventurers entertained.
A pared-back colour palette of sky-blue, vibrant red, and natural wood adds a Scandinavian charm that looks chic in any plot. It's a fabulous alternative to the best climbing frames in our buying guide (although take a look at them too, just in case).
6. Blend a play area with a sleek seating set-up
This gorgeous design by Tom Howard demonstrates how an area devoted to play can still look sleek and on-trend within a wider space.
It complements the nearby seating area with its cohesive blend of materials, whilst being neatly tucked out of the way. And inside the area is everything active kids need for hours of energetic fun – from swings and monkey bars to climbing frames.
7. Add a mini bell tent for a cosy place to play
This lovely design is the perfect spot for story time. Or, with just a sprinkling of imagination, can be transformed into a magical fairytale castle, spaceship or submarine.
With its soft colour palette of neutral hues it makes a pretty feature for any patio or courtyard. As it doesn't take up much space, it's a gorgeous play area solution if you're also after small garden ideas. Plus, if rain is forecasted, it can be taken indoors – it'll look just as stunning in a bedroom or nursery.
8. Get back to nature with log stepping stones
Authentic play is something to be encouraged in little ones, especially nowadays when screens are such a big part of our lives. But you don't always have to rely on expensive play equipment to do so.
Sometimes just a few logs laid out as stepping stones can create an exciting obstacle course, or be used as miniature benches to perch on and make crafts. So, get creative with your garden play area ideas and introduce natural textures that won't cost a fortune. You might find further inspiration in our tree stump ideas.
You could also give kids a space to grow their own flowers or veggies. It will offer them a valuable sense of responsibility whilst teaching them about the wonders of nature. A bug hotel is another fun feature for a garden play area – check out our guide on how to make a bug hotel to get started.
9. Sink a trampoline into your lawn
Have you been eyeing up the best trampolines in a bid to keep the kids occupied? We're not surprised – they're a failsafe way to get them outside and burning off steam.
But they're not always a subtle addition to a plot. But there's a simple solution if you're worried it could become something of any eyesore in your space – sink it in the ground. You can then enjoy an uninterrupted view of your lawn, whilst the kids get to bounce to their heart's content. You might even be tempted to join in yourself...
10. Create a makeshift den for sunny days
If you don't want to install a permanent play area in your garden, then why not opt for a make-shift den instead? True, it's generally more suited for sunnier days, but warmer weather is just around the corner. And kids will enjoy being involved in the building process.
It's a great solution if you're on the lookout for budget garden ideas, as all you really need is an old sheet, some comfy cushions, and a washing line. The simplicity won't stop kids from having a wonderful time. Or, you could opt for a kit, this one above includes extras such as bunting, tent pegs, and a kaleidoscope.
How can I make my backyard fun?
'When creating your garden play area, use your imagination when decorating as a way to spark theirs,' suggests the team at Homebase. Here are a few top tips to try:
Add fun lighting solutions – try light-up animal ornaments and toadstools, or, as Homebase suggests, wind strings of fairy lights around trees. It will elevate evening play and create a magical atmosphere.
The Homebase team also suggests to add bunting along fences. It's a lovely detail and will also fit in beautifully if you're a fan of our cottage garden ideas.
You could also get creative with a lick of paint – try painting sheds and walls in vibrant colours, or transforming a lacklustre wall into a stunning mural. Older kids can put their stamp on the space by joining in with the decorating.
Don't forget to include a comfy seating space for both kids and adults to relax, eat outdoors, or read together. We've got lots of suggestions for creating a plot that has something for everyone in our family garden ideas feature.
Homebase also suggests to add raised beds (or planter tables for smaller plots), so kids can get involved growing their own goodies.
What do you put on a playground floor?
Of course, a soft landing is crucial for most garden play area ideas, to avoid any nasty accidents. One of the best ways to do so is by using wood chippings. When applied to the right depth they can offer a soft surface, as the team at Homebase says. Pop it around climbing frames, swings, and treehouses to protect little ones.
Turf, and even some forms of composite decking can also provide more forgiving surfaces. For an alternative option, you can find rubber paving slabs available to buy.
Head over to our guide on how to make a child friendly garden for more tips.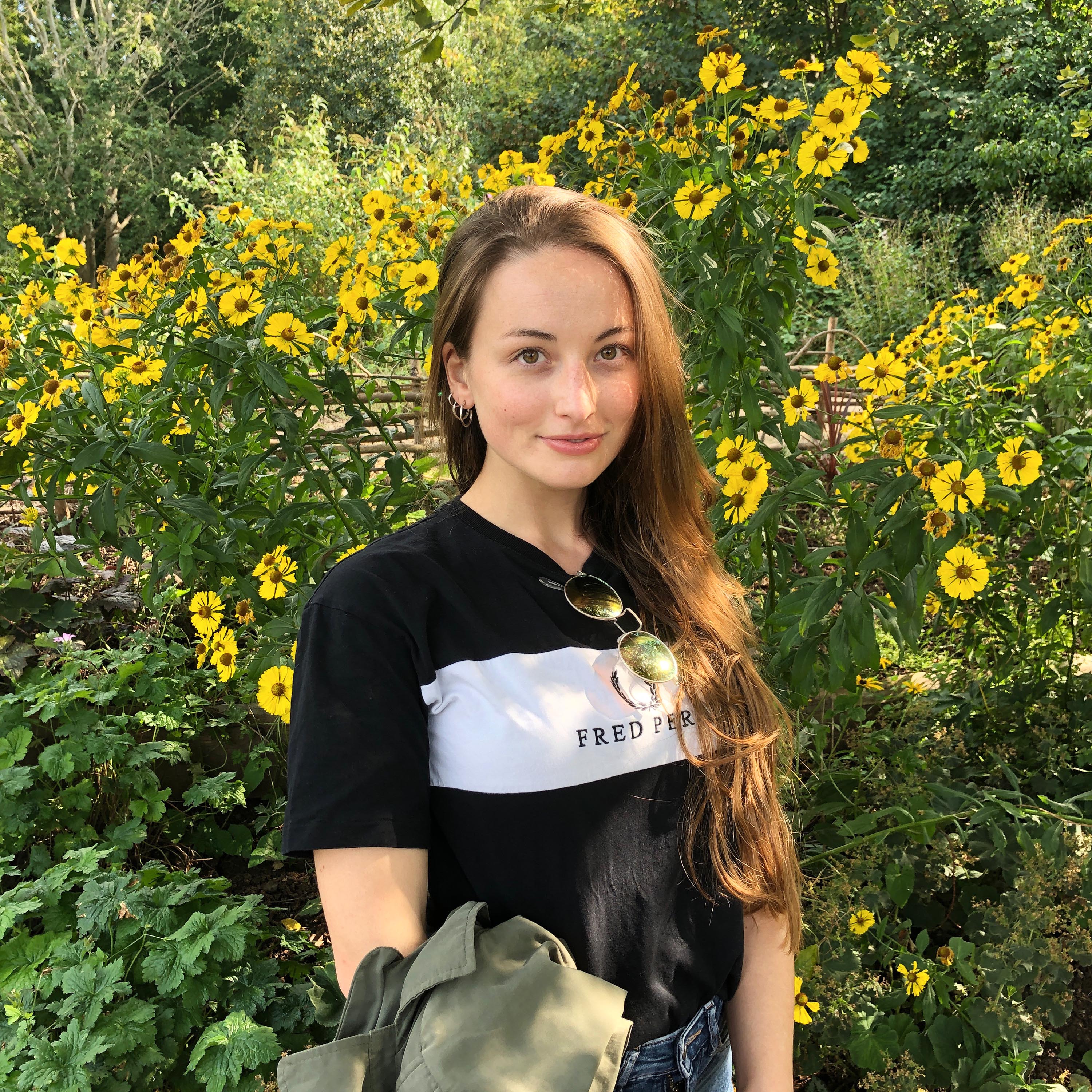 The garden was always a big part of Holly's life growing up, as was the surrounding New Forest where she lived. Her appreciation for the great outdoors has only grown since then. She's been an allotment keeper, a professional gardener, and a botanical illustrator – plants are her passion.